How Filipino Lumpia Differ From Your Chinese Takeout Classic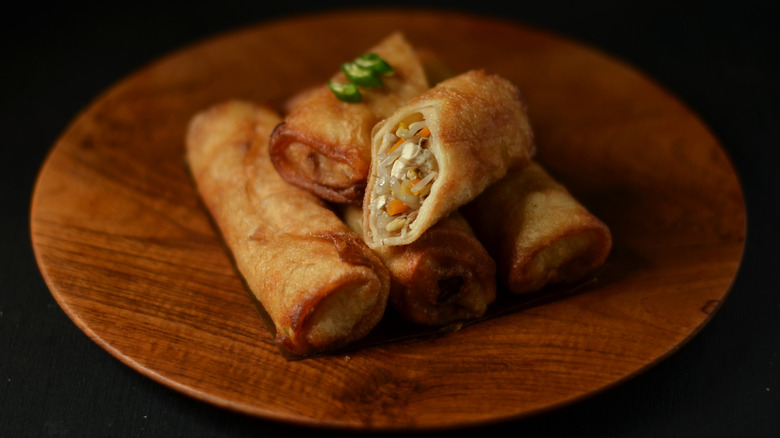 MadeSurya/Shutterstock
Delicious, crispy, and featuring a wide variety of fillings, Lumpia is a versatile Filipino dish that is sure to satisfy almost any diner, whether you're familiar with the rich variety of Filipino cuisine or not. If you've never heard of lumpia, the dish consists of a light spring roll wrapper that is filled with a variety of ingredients including pork, shrimp, veggies, and beef. Lumpia can be served fried or fresh. 
Advertisement
Lumpia is most often compared to egg rolls, a classic Chinese-American takeout dish that consists of an egg roll wrapper that is filled with meat and vegetables and fried, however, the two dishes are not interchangeable, and understanding what makes each unique can help you to appreciate both for their individual qualities. Perhaps the biggest difference between the two dishes is in their origin. Egg rolls, while they have roots in Chinese cuisine, are a uniquely American innovation. The egg roll was most likely invented in the 1930s in New York City by a local restauranteur.
Lumpia, on the other hand, is a collection of similarly prepared dishes whose origins date back as far back as the 7th century, when Chinese traders introduced the spring toll to the Philippines. In the centuries since its introduction to the Philippines, Lumpia has become one of the nation's most iconic foods. But the difference between Lumpia and egg rolls extends beyond their differing origin stories.
Advertisement
Lumpia and egg rolls: a tale of two wrappers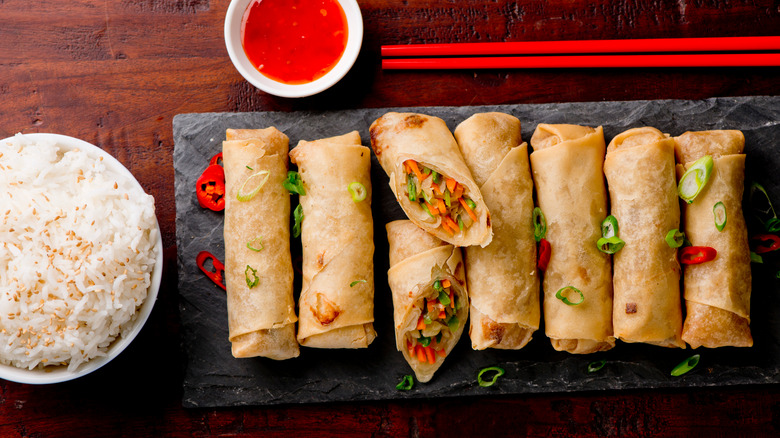 Marie Sonmez Photography/Shutterstock
Though lumpia and egg rolls do have their similarities. Both are cigar-shaped wrapped foods filled with various ingredients, there are some pretty big distinguishing factors between egg rolls and lumpia.
Advertisement
For one, lumpia wrappers are lighter in texture than egg roll wrappers, consisting of a mixture of flour, water, and salt, that form a thin and crispy wrapper when fried in oil. Egg roll wrappers, on the other hand, are usually thicker and denser because it uses eggs. Another difference is in the filling. Lumpia fillings vary widely, and can even include sweet dessert variations as well, while egg rolls tend to consist of the same primary ingredients. Most egg rolls consist of a protein (usually pork) combined with cabbage and carrots. Lumpia can also include cabbage and carrots, though this is not always the case.
Dessert varieties of lumpia include banana and coconut fillings. Another delicious variation of lumpia is Ube Turon, which combines the delicious purple tuber popular in the Philippines with cheese. The two ingredients are then wrapped in the spring roll wrapper and fried. When it comes to lumpia, there is a whole world of variations to explore.
Advertisement
Filipino cuisine beyond lumpia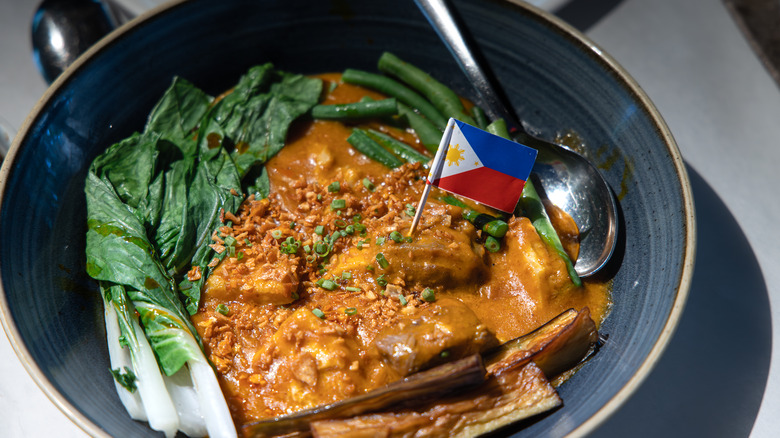 Bugking88/Getty Images
Though lumpia is perhaps one of the most iconic Filipino foods due to its delicious and familiar crispy wrapping and variety of fillings, it is far from all the Philippines has to offer. Other foods, such as chicken Adobo, which showcases Spanish influences on Filipino cuisine, or Pancit, a noodle dish with Chinese influence, showcase the rich blend of cultures that combine to create the unique landscape of Filipino cuisine.
Advertisement
However, if you'd like to explore some of the Philippines' native cuisine, there is plenty to discover. Foods such as kare-kare, which is a stew consisting of vegetables, ox-tail, and a delicious peanut sauce, originated before colonial influence. This is not to say that other classic Filipino dishes, such as the Spanish-influenced chicharrones, are any less Filipino. What makes the nation's food so distinctive is its blend of Spanish, Chinese, and indigenous cultures, which creates flavors unique and delicious.