The Best Way To Cook Bacon Is Also The Easiest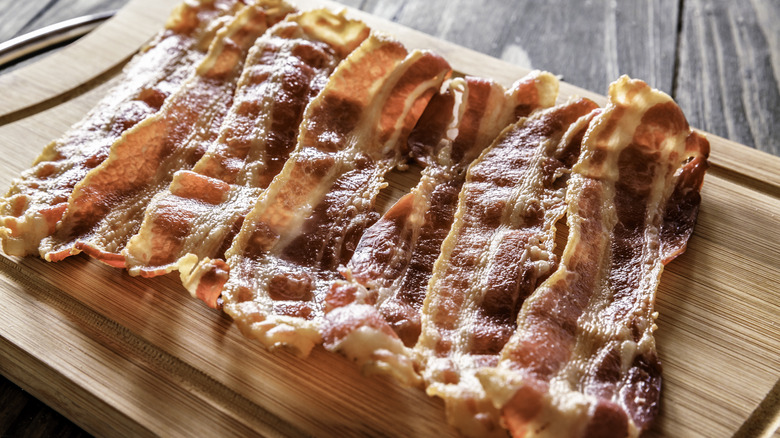 Apomares/Getty Images
If there's one food that needs no introduction, it's bacon. This salty, savory delight is as much of a pop culture icon as it is a delicious snack, and a plate of bacon and eggs is about as American as apple pie. In fact, folks in the United States love bacon so much that we eat about 18 pounds of it per year on average. Whether it's a BLT sandwich, sticky sweet maple-cinnamon candied bacon, a side of bacon-wrapped balsamic Brussels sprouts, or any of the dozens of bacon recipes out there — whatever variety you prefer, people just can't get enough of bacon. But once you're making a lot of the stuff, you can start to see the problems with this breakfast staple. Depending on the method used, bacon can be a mess to make.
Advertisement
Frying up a few slices of bacon in a skillet can produce delicious results, and the leftover fatty oil is a treat to cook eggs in. However, this scrumptious technique can mean disaster for your kitchen. After minutes of bacon fat splattering everywhere while it cooks, it's not uncommon for the kitchen floor, the backsplash, and the stove to be covered with oil. Cooking bacon this way also requires time and constant attention from the chef so they can flip the strips right on time and ensure nothing burns. And while there are certainly faster ways to cook it, like popping it in the microwave, the absolute best and easiest way to cook bacon without sacrificing its incredible taste and texture is to put it in the oven.
Advertisement
Cooking bacon in the oven is a breeze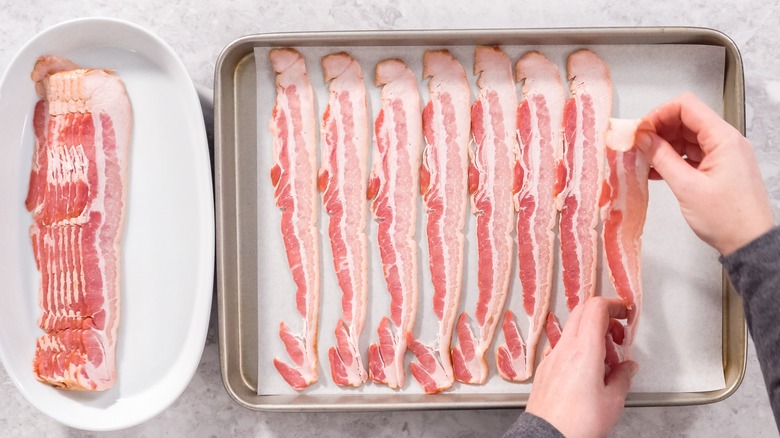 Arina P Habich/Shutterstock
To cook your bacon in the oven, start by preheating it to 400 degrees Fahrenheit. While you wait for the oven to heat up, grab a baking sheet and line it with a layer of either aluminum foil or parchment paper. Once the oven is done preheating, place the bacon-laden baking sheets inside, and let it cook for anywhere from 10 to 20 minutes. The first time you use this method, you should check the bacon regularly to see how long it takes to get to your desired level of crispiness. When you figure out that time, write it down so that in the future you can just set a timer and let it cook. The bacon will be quite hot once you pull it from the oven, so let it rest for a few minutes before you dig in.
Advertisement
If you like your bacon chewy and tender, keep it in the oven for just 10 to 12 minutes. For extra crispy bacon perfect for chopping up and incorporating into something like tuna salad, let it cook for the full 20 minutes. For some truly restaurant-worthy slices, cover the bottom of another baking sheet with foil or parchment paper and press it over the bacon so it comes out perfectly flat and tender. Since everyone's oven is a little different with slight differences in actual temperature and efficiency, cook times will vary from kitchen to kitchen, so experiment until you figure out the perfect formula.
A hands-free cooking method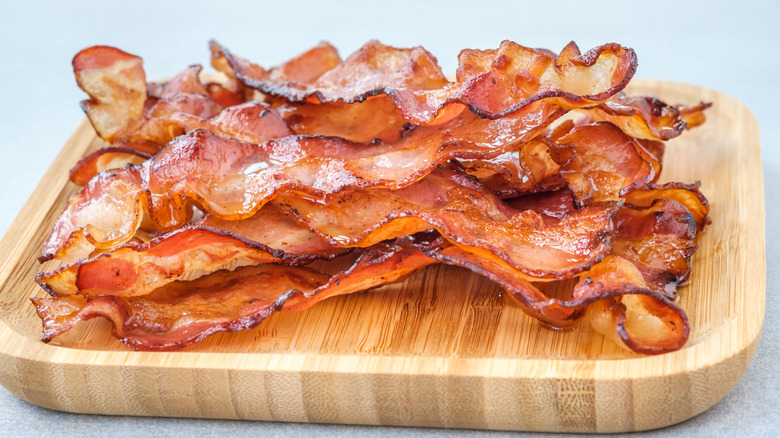 Alexpro9500/Getty Images
Cooking bacon in the oven dramatically cuts down on the mess you'll have to clean up afterward — all of that buildup grease should pool in your baking sheet instead of splattering all over your stovetop. In fact, because it is being baked rather than fried, the bacon's rendered fat won't splatter and bubble up so vehemently. Putting the bacon on a layer of foil or parchment paper will also limit the mess left on the baking sheet. If you use heavy enough foil, you may not even have to wash the baking sheet at all.
Advertisement
Additionally, since the oven does all the work, this bacon-making technique frees you up to tackle other tasks. Even if your bacon only cooks for 10 minutes, that's plenty of time to fry some eggs and make your coffee so your entire meal is ready once the bacon is done. Or, if you're planning on making a sandwich, you can toast some bread right alongside the bacon. Making bacon like this is also ideal for cooking in bulk. It's much easier to feed a large group since many more bacon slices fit onto a baking sheet than in a frying pan. So even if the easier clean-up doesn't sway you, if you're cooking for a crowd, using the oven is your best bet. There are countless ways to make bacon, but only the oven will get you delectable, tasty slices without the mess.
Advertisement