What Is The Difference Between Pickling And Fermenting?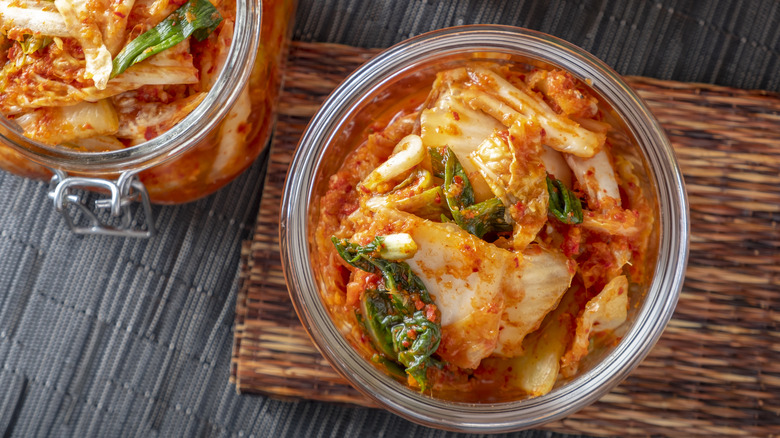 4kodiak/Getty Images
Pickled and fermented foods are both known for adding a burst of vibrantly sour flavor to a variety of dishes (think: pickled onions to top tacos or kimchi on fried rice). Though certain foods can be both fermented and pickled, there are some key and significant differences between the two preservation methods. Most notably, pickled foods are preserved using a hot, acidic solution (commonly made of vinegar) to extend their shelf life and add tartness, whereas fermented foods transform with the presence of both naturally occurring and sometimes added microbial bacteria under the absence of air.
Advertisement
In pickling, foods like cucumbers, carrots, cauliflower, and mushrooms are submerged in hot vinegar, which softens them and prevents the growth of harmful bacteria, so that food will last longer. The process, which provides a nice salty, tangy flavor, can also be done in a relatively short time. Quick pickling can result in acidic foods that are ready in a matter of hours or days. 
Fermentation, on the other hand, does its magic via the work of bacteria, which transform carbohydrates into acid or alcohol, creating a unique depth of flavor (from tangy to umami) and a prolonged shelf life. Fermentation — as anyone who's made sourdough knows — takes a little while longer than pickling. While some fermented foods like sauerkraut can come together within a week, others like wine or miso paste are given weeks, months, or decades to ferment.
Advertisement
Types of fermented vs. pickled foods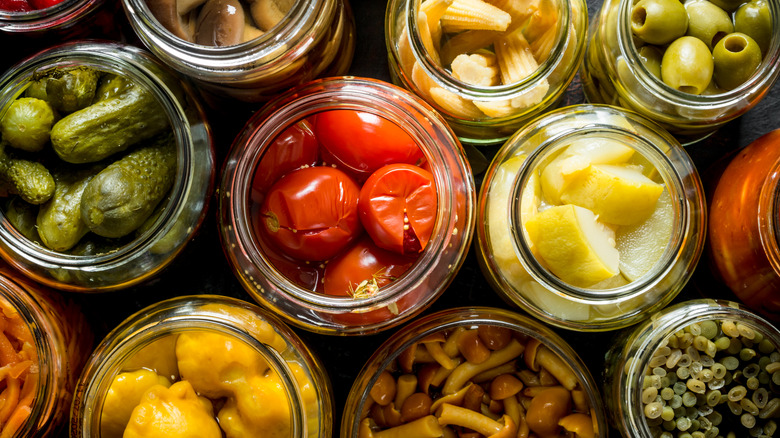 Olesia Shadrina/Getty Images
Compared to pickling, fermentation encompasses a wider range of foods including breads, soy sauce, and cheese — all of which have undergone a chemical reaction with bacteria. This can be added yeast or simply letting cultures develop naturally in the food with the intended goal of altering the taste, texture, and shelf life of the finished product. For instance, to make miso paste, cooked soybeans are mixed with water, salt, and koji (a strain of mold used to make the condiment), and the mixture is allowed to ferment over time. The result, as with other fermented foods — and even beverages like kombucha — is a preserved aliment with a complex flavor. Further, according to Healthline, these foods have beneficial health properties, like probiotics, which promote gut health and immunity.
Advertisement
Pickled foods that haven't also been fermented, unfortunately, don't carry the same potential nutritional benefits, but that's not to discount their flavor, nor the utility of the method. While fermentation requires a bit more know-how, quick pickling can easily be done at home. It typically just involves heating vinegar, salt, sugar, and spices like dill and coriander seeds in a saucepan, then pouring the mixture into mason jars filled with cleaned and cut cucumbers (or other veg) to create delicious, briny snacks or toppings that can last for months on the shelf and weeks in your fridge. 
What about foods that are both fermented and pickled?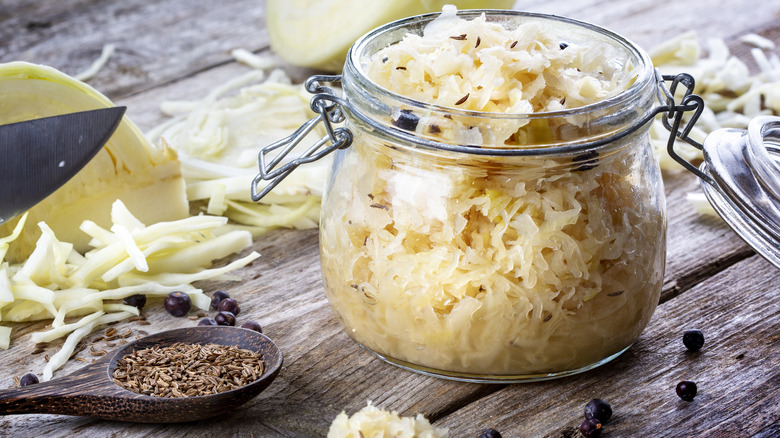 Ollo/Getty Images
While there are some key differences between the preservation methods of fermentation and pickling, there certainly are some foods that fall into both categories. Take sauerkraut for example. To make the acidic condiment perfect for its use as a tangy topping for hot dogs or Reuben sandwiches, no vinegar is added like it would be to make pickled cabbage. However, when shredded cabbage is salted and allowed to ferment in a mason jar over the course of several days, its natural juices are released, creating a salty brine — giving sauerkraut its pickle-y, fermented nature.
Advertisement
When making sauerkraut, fermentation takes place when the natural bacteria in the cabbage convert the veggie's sugars into lactic acid, in a process called lacto-fermentation. This lacto-fermentation process is the same chemical reaction by which other sour foods like kimchi are made, which is why it's easy to mistake one for another when sampling — the taste of vinegar-soaked and preserved pickled foods. The best way to get familiar with the taste difference is to sample them. And to get a handle on the unique processes — try your hand at making your own fermented and pickled foods at home. Cabbage and cucumbers are cheap enough to experiment with, after all.