Repurpose Sourdough Bread Discard To Give Coffee Cake A Nice Tang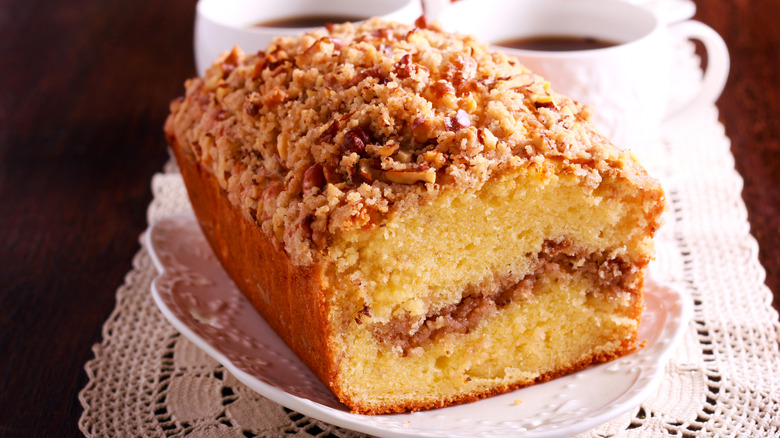 Manyakotic/Getty Images
The perfect slab of coffee cake is buttery, rich, and tender, with an ample topping of crumb coating. While there are a variety of ways to make the breakfast treat unique (think: swapping in cardamom in place of cinnamon in the crumble or mixing fresh fruit into the batter), there's a sure-fire method to boost the cake's flavor with a pleasant tanginess: Simply add in some discard from your latest batch of sourdough bread.
Advertisement
If you, like many of us in the last few years, have taken to making the bread at home, along with its yeasty starter culture, you also likely have a bunch of excess starter, which is often referred to as discard. The starter is a fermented combination of equal parts flour and water, which requires regular feeding with more flour and water to develop. This creates an expansive, bubbly mixture with bacteria, acids, and active yeast, key to the rise and signature flavor depth of a good sourdough bread. For best quality, you must continually remove a significant portion of the starter (half, to be precise) before nourishing it each time.
Some may throw out this discard, however, and seriously miss out on an opportunity to add a complex taste and an element of sourness to other baked goods. When it comes to coffee cake, for instance, this tart, tang is the perfect complement to the buttery cake. And adding in the discard is easy.
Advertisement
How to add sourdough discard to your recipe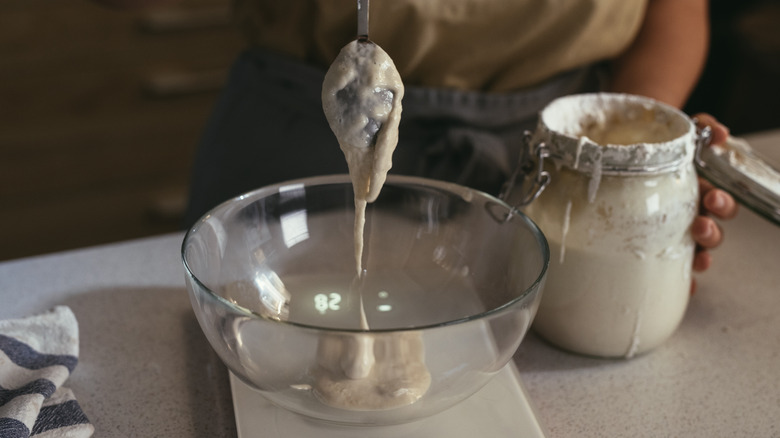 Freshsplash/Getty Images
To add sourdough discard to your coffee cake recipe, simply add about a cup of the fermented flour mixture with your wet ingredients when making the batter. Start by creaming butter and sugar together, then mix in your eggs, vanilla, and sourdough discard. Combine these with your dry ingredients, including flour, leavening agents, salt, and other spices. Then transfer the batter to a baking pan, top with a generous amount of crumb coating, and bake until it's beautifully set and fragrant.
Advertisement
If you're working off a coffee cake recipe that wasn't designed with sourdough bread discard in mind, don't fear; you can make some straightforward recipe adjustments to account for its addition. Since discard is made up of equal parts flour and water, you can subtract the flour and water in your recipe according to those ingredient amounts in your bread discard. Do note, however, that sourdough discard has been removed from the starter and the feeding process, so it won't produce carbon dioxide bubbles. This means you shouldn't expect discard to help with your coffee cake's rise as it bakes, so it's important to keep the leaving agents like baking soda and baking powder in your recipe to give the cake its lift and open crumb structure. It will impart its signature sour flavor, of course!
Advertisement
Tips for keeping your starter discard fresh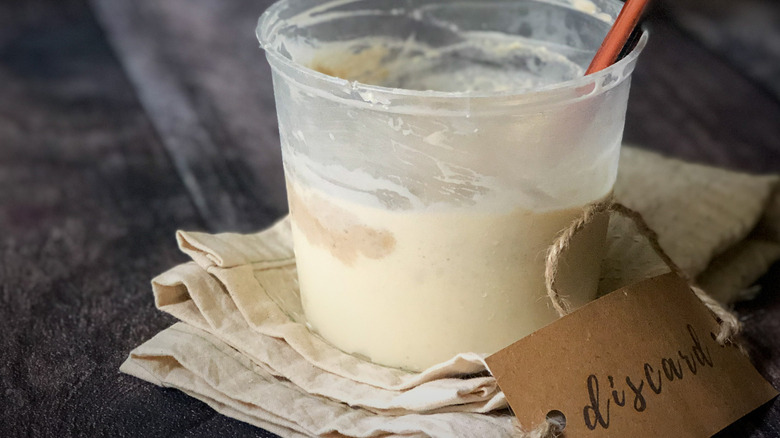 Nabilah Zahra/Shutterstock
To compile discard for all your coffee cake baking needs (not to mention its wonderful use in a variety of pizza dough, cracker, and even pie crust recipes), you can simply keep it in a jar in the fridge. When you feed your sourdough bread starter, just remove the discard portion and store it in a covered container in the fridge, adding and mixing in more discard if you accumulate it throughout the week.
Advertisement
Since the flour and water mixture will continue to ferment, it's important to keep it under refrigerated temps so that it won't become overly pungent in flavor. If you don't think you'll use up your discard in a week or two, you can also store it in the freezer. When you're ready to make your coffee cake, thaw the discard completely in the fridge beforehand (just don't heat it, as this will ruin the cultures). When the discard is incorporated into your coffee cake batter and baked, the result will be a sweet breakfast or dessert with a hint of yeasty tang — all thanks to the repurposed bread byproduct.