Are Metal Utensils Safe To Use On Cast Iron?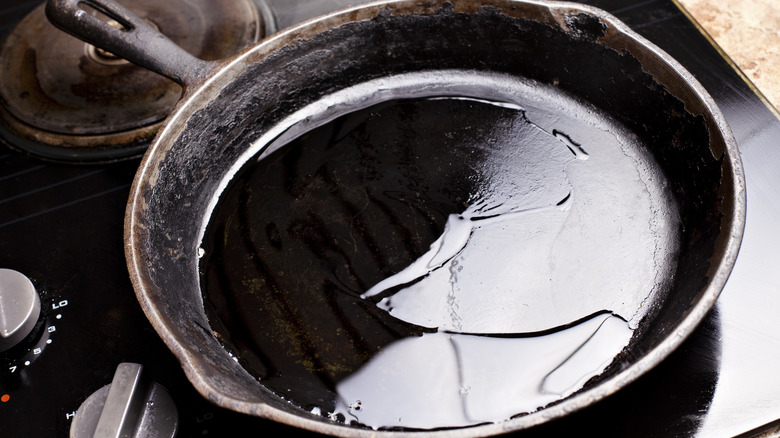 Nicolasmccomber/Getty Images
If you're the proud owner of a cast iron pan, you want to look after it (they can get expensive, after all). So when you're cooking with one, you might instinctually lean away from using any metal utensils, whether it be tongs, a spatula, or just a spoon, just in case it damages the pan. However, if anyone has ever told you that metal utensils shouldn't be used on cast iron, it turns out that they're mostly wrong.
Advertisement
Cast iron cookware is very tough; and while it's not completely invulnerable to damage, won't be hurt by using metal utensils. Some cooking guides even cite metal utensils as among the best options for using with cast iron cookware. The main concern here is that metal tools can more easily chip off the protective seasoning that takes so much time and effort to build up. But seasoning (where oil is effectively baked into the surface of the pan as a protective layer) is a chemical process that integrates the oil and the metal, and generally can't just flake off. If you're using metal utensils on cast iron and chips are coming off, it's most likely blackened fragments of food, particularly if the pan hasn't been thoroughly cleaned. In short, while there are pans that definitely don't play well with metal utensils — teflon and other nonstick cookware in particular, since metal scratches off the nonstick surface — cast iron isn't in the same category. 
Advertisement
Make sure the pan is well-seasoned, though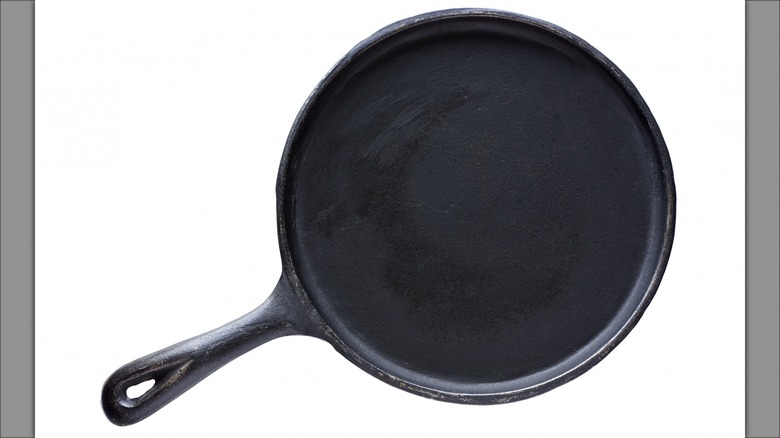 Benedek/Getty Images
While it's generally fine to use metal utensils with a cast iron pan, there's still a little bit of nuance on the topic. If your cast iron pan is brand new and you've only just seasoned it, it's probably a good idea to opt for more gentle utensils for the first few times you're using it (wood or silicon are safe bets). This allows the seasoning to settle in, toughen up, and prevents you from accidentally denting or damaging the metal under the still-thin seasoning. The same applies to pans that are older but have been re-seasoned after losing most of their coating because pans in this state are just as vulnerable to rust and getting things stuck on them.
Advertisement
For these same reasons, it's not a good idea to use metal utensils at all if you're cooking with an unseasoned cast iron pan. But this isn't particularly useful advice, because more importantly, you shouldn't be cooking with unseasoned cast iron at all. It's a recipe for allowing the pan to get rusty, or for food to get firmly stuck onto it.
But metal is bad for some other types of cookware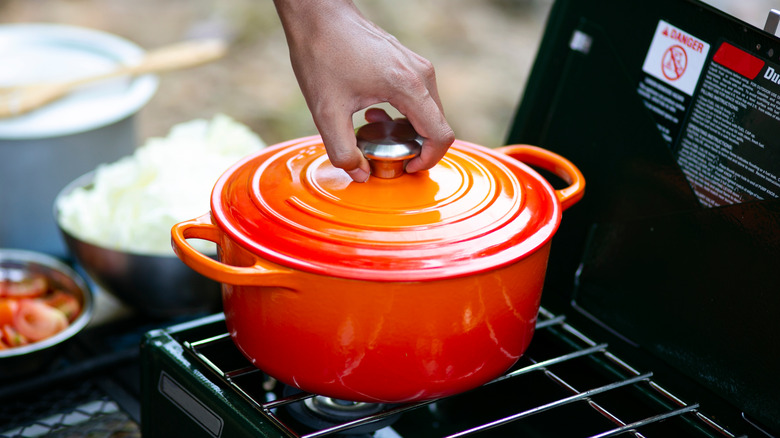 udeyismail/Shutterstock
The myth that "metal utensils are bad for cast iron" was probably a misunderstanding of sorts, translated over from situations when metal isn't a great idea (like nonstick pans). But there is actually one type of cast iron cookware that isn't that well-suited for metal utensils: enamel-coated cast iron.
Advertisement
Enameled cast iron pots, pans, and skillets (Le Creuset's iconic and colorful cookware is a great example) feature a cast iron base with a porcelain enamel coating, comparable to the glaze that's applied to pottery. This enamel is considered pretty tough, so there's some debate here. Some sources say that it's okay to use metal utensils, as long as you avoid hitting or jabbing the pot firmly, as this could cause cracks or damage. Others note that these pans are more liable to scratches and damage, so while metal utensils will be fine if you're extra gentle. But since you surely shelled out for these it's probably better to stick to something like wood or silicon, particularly if you want to guarantee they'll stay in pristine condition. 
Advertisement