All featured products are curated independently by our editors. When you buy something through our retail links, we may receive a commission.
Some foods are saddled with unfortunate names. Other foods, though they may be delicious, have the bad luck to look pretty terrible. And then there are those humble underdogs that combine the two misfortunes, chief among them the sloppy Joe. The saucy ground beef sandwich's name conjures up a disheveled, grease-stained, possibly chain-smoking fry cook with no love for cleanliness. Its appearance could be likened to wet dog food (and that's if you're being kind). And yet, not only are sloppy Joes truly tasty, they're an iconic American dish, right up there with hot dogs and hamburgers. But where did they come from?
Well, as with the origins of so many beloved food and drinks, that's up for debate. The three institutions that are variously credited with inventing the sloppy Joe are: an obscure café in Sioux City, Iowa; Sloppy Joe's Bar in Key West, Fla.; and Sloppy Joe's Bar in Havana, Cuba (bet you didn't see that coming).
Cuban Connection
Working backwards from that short list, Sloppy Joe's Bar in Havana opened in 1918, helmed by Spanish bartender José Abeal y Otero, who had previously worked at bars in New Orleans and Miami. He didn't immediately christen his own place Sloppy Joe's—but the lore goes that his American friends, who already called him Joe, also commented on the rather messy state of his establishment, and the new appellation was born.
Along with cocktails and cigars, the bar offered sandwiches, including one that inspired the creation of the Reuben-meets-club-sandwich-esque sloppy Joe enjoyed in New Jersey—which has no resemblance at all to the more widely known ground meat sandwich by the same name. Some sources say José also served a sandwich that was similar to that more famous sloppy Joe, which is at least possible, since it combines elements of two Cuban classics, ropa vieja (shredded beef in tomato sauce) and picadillo (ground beef with spices). However, there's no concrete proof of this readily available—a vintage-looking illustration of the place featuring a tray of round-bunned sandwiches in the bottom corner is tantalizingly inconclusive (they're certainly not sloppy, but that could be due to artistic license…)—so we must go on hearsay alone.
What is certain, though, is that Sloppy Joe's in Havana became a haven for American drinkers during Prohibition (from 1920 to 1933), and attracted many famous fans, including Ernest Hemingway. He first visited Cuba in 1928 and became enamored of the place, but was perhaps equally fond of Key West, which brings us to origin theory #2.
Floridian Finesse
In Florida, Hemingway frequented a bar run by a man named Joe Russell, who also became a fishing buddy of his, and even served as a model for Freddy, the bar owner and boat captain in the author's "To Have and Have Not."
Russell's bar initially opened—officially—on the very day Prohibition ended: December 5, 1933. (What a coincidence that it was all ready to go at a moment's notice, eh?) It was originally called the Blind Pig, and then the Silver Slipper, but at Hemingway's suggestion, it was eventually renamed Sloppy Joe's after the Havana hot spot. The Key West bar is still around today, and in fact is on the National Register of Historic Places. (Cuba's Sloppy Joe's Bar, incidentally, closed down in 1965 under Fidel Castro's government, but reopened in 2013.)
The Florida Sloppy Joe's serves hundreds of those familiar shirt-staining sandwiches every day, and has served them since early on. In 2015, their brand manager Donna Edwards told Mashable that their version "was born out of what was being served in Havana. We took it and Americanized it by making it the sloppy Joe and not just a loose-meat sandwich. But it's something that definitely developed from that idea."
However, speaking of loose meat, we come to the next possible (and perhaps most likely, and most widely accepted) origin of the sloppy Joe as we know it: the loose meat sandwich of the American Midwest.
Loose Meat Leads
Loose meat sandwiches are made from seasoned but un-sauced ground beef, piled on a bun and topped with pickle chips (and sometimes onions), plus mustard or ketchup for those who desire condiments. It's kind of like a burger that hasn't been formed into a patty. These date back to at least 1924, when they were served as "tavern sandwiches" at Ye Old Tavern in Sioux City, Iowa (which at the time was operating under another name, but was rechristened in honor of its signature tavern sandwich in 1934).
The "loose meat" moniker was adopted in subsequent years to refer to the style of sandwich in general, and what may be the most famous example of it was created by Floyd Angell, who debuted the Maid-Rite sandwich in 1926, also in Iowa. He began opening franchises soon after, so there were plenty of places in the area making loose meat sandwiches by the 1930s—which is when a cook allegedly named Joe allegedly added tomato sauce to the meat and thus created the first sloppy Joe.
It seems a natural evolution, yet no one can say with absolute certainty who invented the sandwich that became a staple of school cafeterias and home kitchens ("The Encyclopedia of American Food and Drink" posits that there "is probably no Joe after whom it is named–but…Joe is an American name of proletarian character with unassailable genuineness"), or exactly when, or where, it came to be. Sometime in the early 1930s and probably in the United States is a pretty good bet, and as close as we may ever get to the whole truth of the matter.
Sloppy Joe's Rise to Stardom
What can be proven is that the sloppy Joe's popularity steadily increased over the ensuing decades. Like other cultural icons ranch dressing and Oreos (among many others), it now has the distinction of having its own "holiday"—National Sloppy Joe Day, observed (or not) on March 18 each year. But before it become so enshrined, sloppy Joe recipes started appearing in cookbooks from 1949 onward, and then in 1969, there was Manwich, the tomato-based sauce to which you just added cooked ground beef.
In early ads, they leaned heavily on the slogan: "A sandwich is a sandwich, but a Manwich is a meal." In more recent years, they faced backlash for a tone-deaf 2011 ad campaign that Change.org said glorified "violence against gender non-conforming men." In between, they aired this refreshingly ungendered commercial with the infectious jingle you'll probably be singing to yourself all day now:
Of course, they're still going strong (one source says ConAgra sold over 70 million cans of Manwich in 2014). And while the brand has always been Manwich, it's also always been a shortcut to sloppy Joes—even during the times when their product label has touted it simply (if not a touch disingenuously) as "Sandwich Sauce."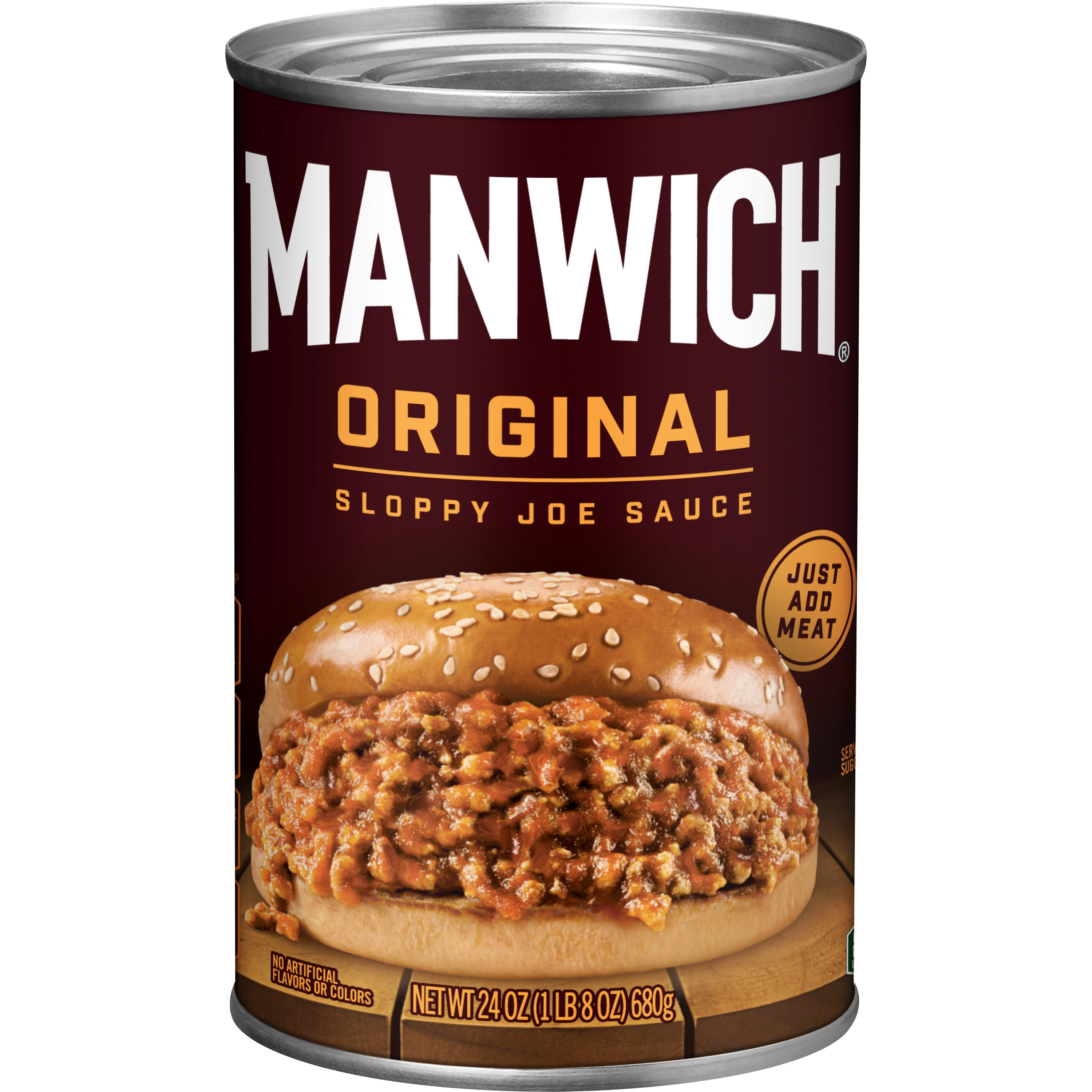 Manwich Original Sloppy Joe Sauce, $1.78 at Walmart
In case you're feeling inspired...
Buy Now
Sloppy Joe Nicknames
Made-from-scratch sloppy Joes are also known by other names—barbecues; slush burgers; yum yums; dynamites or torpedos (differentiated by being served on a hoagie roll, with peppers in the sauce); wimpies; and sloppy Janes (these feminized spin-offs seem to use ground turkey instead of ground beef)—but regardless of what you call them, they're all gloriously saucy and messy and impossible to contain in a bun for long.
If you're not sure your grown-up palate would appreciate the childhood charms of these slovenly sandwiches, perhaps one of the following variations might sway you. Just be sure to grab a stack of napkins before you sit down to eat, and prepare yourself for sloppy joy.
If you're looking for a healthier alternative to red meat, consider ground chicken. Buffalo chicken sloppy Joes are an inspired choice, but our homemade tomato sauce hews closer to the classic recipe—and yet is so much better than the canned stuff you might recall from earlier years. Get our Chicken Sloppy Joes recipe.
Whether or not the loose meat sloppy Joe has roots in Havana, this is a fun Cuban sandwich-inspired take with swiss cheese, pickles, and (nontraditional) crumbled chorizo that adds a nice spice. Add sliced ham and yellow mustard for the full Cubano effect. Get the Sloppy Cubanos recipe.
Vegans can luxuriate in the messy bliss of sloppy Joes too, by replacing the usual ground beef with lentils—and substituting an anchovy-free version of Worcestershire sauce as well. Get the Vegan Sloppy Joes recipe.
The Philly cheesesteak is a thing of beauty, and a thing of contention. Purists might balk at it in this form (and argue about what specific ingredients it ought to contain), but look long enough at that melty provolone and your stomach's likely to start rumbling. Get the Philly Cheesesteak Sloppy Joes recipe.
Red curry paste and coconut milk make for a fantastic twist on both the standard sloppy Joe and the Vietnamese banh mi. Don't skip the fresh, crunchy toppings, which contrast perfectly with the meat and add a lot of brightness to the sandwich. Get our Red Curry Sloppy Bahn Mi Sandwiches recipe.
Sloppy Guiseppes? Yes, please. Serving marinara-sauced beef on top of garlic bread is a brilliant move, and the addition of fresh basil and mozzarella will make you do a genuinely heartfelt chef kiss in your kitchen. Get the Italian Sloppy Joes recipe.
Taco-seasoned sloppy Joes are definitely a thing (and are basically the same as the long-gone Bell Beefer from Taco Bell, in case you've been missing it) but putting the meat in a taco shell is the obvious next step, and makes for a saucy yet crunchy bite. Sloppy Joe nachos are an equally good choice, but using taco shells at least gives you a chance at containment. Get the Sloppy Joe Tacos recipe.
The precise sloppiness of any given Joe is up to the cook, of course; you can always add more or less sauce, depending on how you like it, but cementing the slop between crisp slices of bread with gooey cheese helps hold it in place either way. Get the Sloppy Joe Grilled Cheese recipe.
Also known as Hula Joes, these use ground pork instead of beef, and bring bacon and fresh pineapple to the mix, along with jalapeño and garlic for a little heat. They're perfect on sweet Hawaiian buns, and probably a far cry from anything you ate as a kid—but still in keeping with the free and fun-loving spirit of classic sloppy Joes, wherever they came from. Get the Hawaiian Sloppy Joes recipe.
More Of Our Favorite Origin Stories
All featured products are curated independently by our editors. When you buy something through our retail links, we may receive a commission. For more great hand-picked products, check out the Chowhound Shop.
Header image courtesy of Ruslan Mitin/Shutterstock.
See more articles