All featured products are curated independently by our editors. When you buy something through our retail links, we may receive a commission.
Canned goods, condiments, and eggs are just a few pantry essentials we hear about most often. And while making a last-minute black bean omelette with yellow mustard sounds delicious interesting, we'd be remiss to not include the mighty chocolate chip as part of a list of ingredients you should always have on hand.
Pies, breads, cookies, desserts…the possibilities are endless. Why? Because versatile chocolate tastes delicious in pretty much anything. It can also elevate any boring, uninspired baked good from familiar and drab to innovative and fab. In celebration of National Chocolate Chip Day on May 15 (Because that's apparently a thing. Get into it.), we've rounded up 11 ways to incorporate chocolate chips into everyday recipes. Your sweet tooth will thank you for the culinary upgrade.
Related Reading: The 15 Best Chocolate Chip Cookie Recipes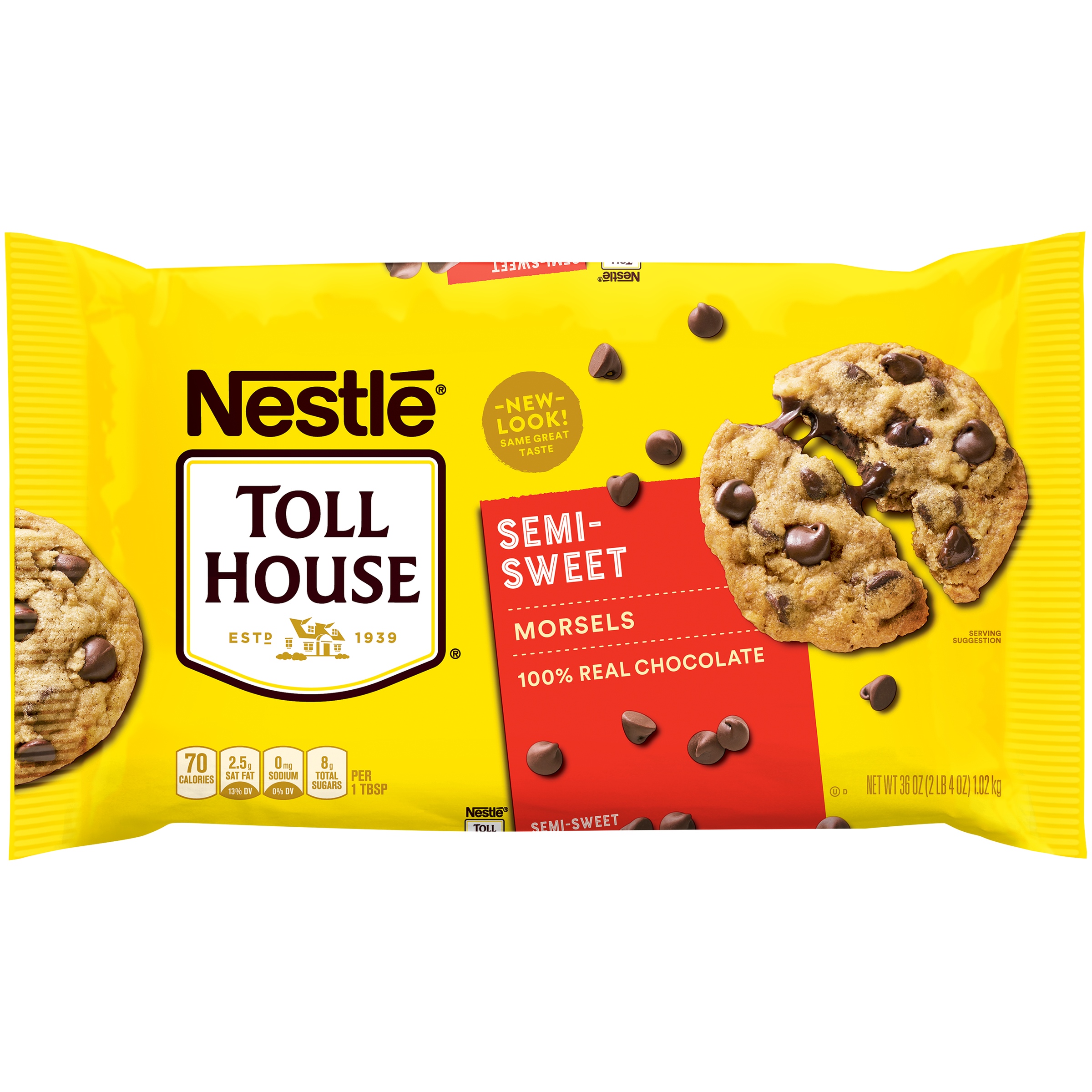 Nestle Toll House Semi-Sweet Chocolate Morsels, $7.20 at Walmart
This 36-ounce bag ought to hold you for a while.
Buy Now
These may be the healthiest treat on the list, and the easiest. There's no baking required, and no eggs or flour are involved (of course, they still contain butter, sugar, whole milk, peanut butter, and chocolate chips). They're thin, though, so one or two aren't that bad! Unless you sandwich them around ice cream, which we definitely recommend. Get our No-Bake Oatmeal Cookies recipe.
Read More: The Best No-Bake Summer Desserts
Breakfast always gets an upgrade with the inclusion of chocolate chip pancakes. In fact, they're essentially mandatory on the weekends (with a mimosa and side of bacon, of course). Get our Chocolate Chip Fluffy Whole Grain Flour Pancake recipe.
Cinnamon rolls are already stellar, stand-alone treats, but chocolate chips up the ante with this decadent variation of a morning staple. Needless to say, these are worth getting up early for. Get our Chocolate Brioche Cinnamon Roll recipe.
If you're looking for a moist cake with a long shelf life, look no further than this applesauce-based concoction that is lighter on calories, but heavy on flavor. You'll be saving a trip to Starbucks, but you'll also have to get a Bundt pan. Get our Applesauce Chocolate Chip Bundt Cake recipe.
There's no denying that the best way to sip a sweet is in milkshake form and this chocolate chip and date combo certainly delivers. You can also line the inside of your glass with chocolate syrup, but your nutritionist didn't hear that from us. Get our Chocolate Chip Date Milkshake recipe.
Combining two of our favorite desserts into one makes entirely too much sense. Look at all those lovely layers. Can your taste buds handle the complexities? Get the Chocolate Chip Cookie Cake recipe.
Baker tested, monkey approved. Your standard loaf of banana bread gets all the love with the presence of chocolate chips in each bite. It will have you swinging from vines. Get our Chocolate Chip Banana Bread recipe.
If you're craving Thin Mints and it isn't Girl Scout cookie season, we're sure this ooey-gooey brownie alternative will more than suffice. Just be sure to hide them from your family. Get our Chocolate Mint Brownies recipe.
Looking for a reason to drink more tea? Look no further than this icing-heavy chocolate chip scone that pairs perfectly with a green or English breakfast. Get the Chocolate Chip Scones recipe.
Coffee just found a new BFF with this chocolatey take on your favorite buttery indulgence. Oh, how we love how this cookie crumb-led. Get the Chocolate Chip Coffee Cake recipe.
Chocolate chip cookies, a timeless classic, are pretty much fail-proof. What more can we say? Get our Chocolate Chip Cookie recipe.
Related Video: Expert Tips for Perfect Chocolate Chip Cookies
See more articles