All featured products are curated independently by our editors. When you buy something through our retail links, we may receive a commission.
Flowers are more than looks, you know. They're not just for perfumes either. You can eat many of those pretty petals in all sorts of ways. So consider taking your midsummer seasonal eating to another level with our guide on how to use edible flowers.
After tasting food and tea across Asia for years, Jason Cohen started his Flower Pot Tea Company based in New Rochelle, New York, in February 2017. He spoke to us about it in May of that year, and still sells rose butter tea cakes along with his blooming teas and tisanes today.
The tea cakes are soft, chewy, and a little sticky-sweet inside, made with real crushed rose petals—not rose water, extract, or rosehips like many other rose products are. "When you bite it, you can see that," Cohen said. "It has that texture to it. That's the thing that really tastes like what you think. It tastes like a rose and smells like a rose."
You can find macarons, gelato, and other sweets in rose flavors (such as the rose-vanilla marshmallow from Whimsy & Spice)—along with jasmine and lavender flavors, as well as hibiscus. But rose is less commonly used in desserts, and especially in savory dishes, in the United States compared to how frequently it appears in the food of the Middle East.
Then again, munching on flowers at all is unusual for most people in the U.S.
Tea is a more familiar way to consume blossoms. Cohen's signature drink, The Enlightening Lotus Tisane, is technically not a tea because it contains no tea leaf essence. The ingredient list is simple: lotus flowers. The tisane's golden honey aroma evolves with a subtle herbaceous finish. He found the tea-quality flower at a single plantation in a Buddhist monastery in China.
If you'd like to branch out (or bud out) into making food with flowers, keep reading for tips, ideas, and recipes.
Tips for Selecting Edible Flowers
Above all, make sure to get food-grade quality flowers. If you buy nonorganic ones, you could be eating chemicals and pesticides that aren't approved for consumption, even worse than the pesticides used in conventional foods. Also, you can use the flowers from the herbs you're growing already, such as cilantro, arugula, chives, marjoram, sage, and thyme. Snip the blossoms with some of the herbs themselves and toss them into salads or on top of pasta or rice dishes.
When eating flowers, make sure to display their beauty before you gobble or guzzle them. "The main thing with flowers is to create an experience with the food. Even adding flowers to your salad can create a texture or a subtle taste," Cohen told us. "Blindfolded, you might not be able to identify it, but otherwise you see it and smell it, and that transforms the dish."
Get more great tips on choosing edible flowers from NYC florist Ode à la Rose, including notes on seasonal allergies, and the best time of day to pick your own petals for the table.
Types of Edible Flowers and How to Use Them
Desserts and green salads are the easiest ways to use flowers in your food—try this beautiful Nasturtium and Tomato Salad with Dates and Pistachios, or simply add some blossoms to a standard mixed green salad like you see above. But play with flowers all sorts of ways in the kitchen. Freeze little bright bits of flower petals into ice cubes for dressing up all your drinks, from cocktails to lemonade, or use a mix of vibrant blossoms to liven up simple cream cheese sandwiches.
In most instances, you'll want to remove pistils and stamens from the flowers and eat only the petals, but sometimes the leaves are also good eating, and in the case of pansies, for one, you can even leave the pistils and stamens intact for a more pronounced flavor.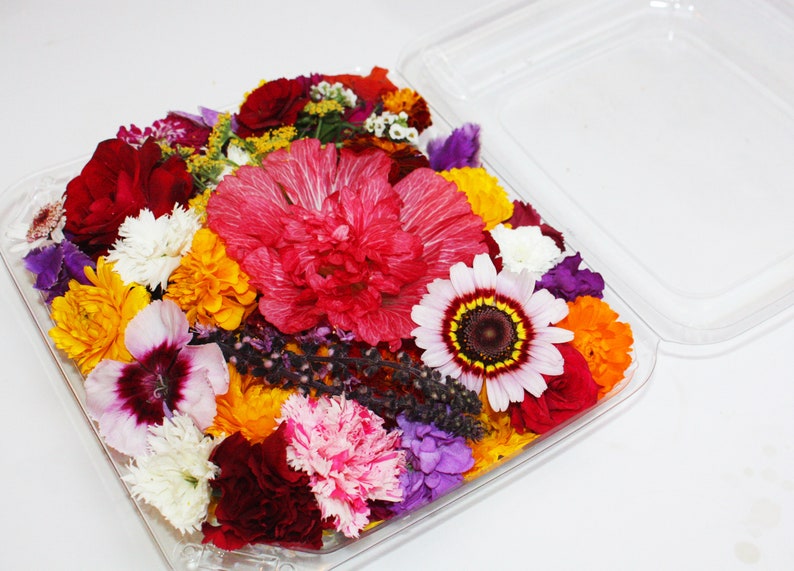 Gourmet Sweet Botanicals' Edible Flowers Premium Assortment, $15 on Etsy
These ship overnight from California, so they'll be expensive, but they're also gorgeous enough to warrant a splurge.
Buy Now
These are the most common edible flowers, with ideas on some delicious ways to use them:
Rose: These fragrant petals can accent braised dishes, enhance creamy desserts, and embellish salads. Try a rose petal jam, cupcakes, or ice cream.
Violets: The flower buds of sweet violets can add depth to desserts with their flavor and beauty, as well as salads. Closely related pansies and violas have less flavor, but are vivid and more easily available and work in the same ways. Make a violet syrup for your baked goods, or use the candied flower petals to garnish them.
Nasturtiums: These blossoms are some of the most colorful and useful, especially in salads. Their peppery bite resembles watercress (hence pairing them up in this Risotto with Nasturtium Blossoms and Watercress recipe). Consider them for poultry, soups, and vegetable dishes too—even blending into a composed butter.
Hibiscus: This popular edible flower is often used in Jamaican drinks because of its surprisingly meaty texture and tangy taste. Besides alcoholic and nonalcoholic drinks, try them in cakes and even hibiscus enchiladas.
Lavender: Cooking with lavender is a little more common, but if you overdo it, your food can taste soapy. You were warned. Grind it into sugar when baking or infuse it into a liquid (including custards for desserts like this Double Lavender Honey Ice Cream recipe). Herbes de Provence is a French spice mix that includes lavender and can flavor roast lamb or grilled chicken. Like the others, try sprinkling it onto desserts and salads too for a pretty and flavorful garnish.
Geraniums: These multi-faceted petals impart flavors ranging from minty and fruity to spicy and rosy. They're talented flavor mimics of nutmeg, orange, apple, lemon, and strawberry. Make some cookies or pound cake with them. Or try this fragrant rice pudding with geranium leaves.
Carnations: More commonly seen in bouquets, carnations are edible, but only their petals, which have a slightly spicy and peppery flavor. Allegedly, they were a secret ingredient in the original recipe for Chartreuse liqueur. You can use them to garnish salads or desserts, or try steeping them in a sweet wine.
There are other delicious options out there like cucumber-flavored borage and bright calendula (also known as poor man's saffron)—even exquisite micro orchids you can sprinkle in salads or use to garnish tropical drinks—but beware that there are also several toxic flowers you should steer clear of.
Edible Flower Recipes
Start your edible flower odyssey with some of our recipes, both original creations and ones shared with us by chefs.
You've heard of dandelion wine, but this is a bolder floral drink by far. You'll want to swill this flower-infused beverage for the bright red color alone, but it also tastes lovely. Just steep dried hibiscus flowers in your favorite high-quality tequila to get a sangria-inspired mixed drink we'll call a margarita. Please garnish with the flower in some way. Make use of it visually. (And for a non-alcoholic sipper, try our Agua de Jamaica (Hibiscus Punch) recipe.) Get our Hibiscus Margarita recipe.
A Persian food classic, these preserves may not retain the bright colors of fresh roses, but they're bursting with floral flavor. Try them with bread and butter (as you would any jam), or with shortbread cookies or ice cream, or use to make your own rose tea cakes. Get the Rose Petal Preserves recipe.
Zucchini blossoms are often stuffed, battered, and fried, or added to a Zucchini Blossom Frittata (even pizza), but they're also great for a veggie taco filling. Try them in quesadillas too. Get our Zucchini Blossom Tacos recipe.
This is a super cheffy recipe (makes sense, as it's from Dan Hunter of Brae), but even if you don't want to get that precise, it's still a wonderful pairing of spring flavors with bright colors and contrasting textures and temperatures. For a simpler iteration, sprinkle some pea flowers over a roasted asparagus tart, or combine them both with silvered radish in a salad. Get the Spring Asparagus with Pea Flowers and Frozen Radish recipe.
A simple eggplant soup, while delicious, is not the prettiest dish in the land. But a garnish of colorful flowers saves it from looking boring and adds additional pops of flavor too. Try the same trick with other soups, including chilled ones (like a bright green pea soup or an avocado-cucumber soup) that are perfect for eating in the garden in warmer weather. Get Daniel Patterson's Roasted Eggplant Soup recipe.
Another one from Australian chef Dan Hunter, this may be too complicated for a weeknight dinner, but it demonstrates that flower leaves can be great ingredients too; nasturtium leaves are peppery just like their blossoms, and make great little wrappers for things like rice (think dolmas) or shrimp paste. Get the Prawns with Nasturtiums and Finger Limes recipe.
These gorgeous glasses of Champagne-drenched raspberry sorbet are both drinks and dessert—and are infused with floral flavor thanks to a lavender syrup and lavender buds sprinkled on top at the end. Get our Champagne and Sorbet Float with Lavender recipe.
You can make a simple syrup with any edible flowers you like; the process is the same, but the amount of petals will depend on the type. See our guide to making floral syrup.
Cooking with Flowers, $5.69 on Amazon
'Sweet and Savory Recipes with Rose Petals, Lilacs, Lavender, and Other Edible Flowers'
Buy Now
This post was originally published by Amy Sowder in 2017 and was updated by Jen Wheeler.
Header image courtesy of Shutterstock
See more articles