All featured products are curated independently by our editors. When you buy something through our retail links, we may receive a commission.
You know how there's a holiday for everything? Well, National Pretzel Day is April 26. It's a good excuse as any to finally tackle that pretzel recipe you've been meaning to try, or to use pre-made pretzels in plenty of other dishes. (Coincidentally, it's also a great day for dips, though the official Chip and Dip Day is March 23. We're just saying, plain mustard is only the beginning—and it has its own day too, of course: National Mustard Day is observed on the first Saturday in August). We know these holidays are kinda bogus, but when you think about it, what makes a holiday real anyway? We answer this pressing questions and provide you with enough pretzel recipes to have a crazy Pretzel-palooza. Time to get twisted.
Who invented food holidays?
The federal government recognizes only 10 holidays, like Independence Day and Thanksgiving. Then there are national observances, like Mother's Day and Rosa Parks Day. These other food-related and random wacky holidays—like Hanging Out Day (4/19) and Bulldogs Are Beautiful Day (4/21)—are listed on Days of the Year. They come from one-time proclamations on the city, county, state, or national level, product marketers, local lore and history, and just random people. Of course, we at Chowhound like to celebrate those food days most of all (you can find those on Foodimentary). So, Pretzel Day! Yay!
Pretzel Making at Home, $1.99 on Amazon
Over 50 pretzel recipes, including creatively shaped, filled, and topped versions.
Buy Now
Is it worth making pretzels at home?
A go-to food of baseball season and of mall food courts year-round, pretzels are definitely worth learning how to make at home, instead of just heading to Annie's or some such place. Make them soft and chewy, or hard and crunchy. The trick to making their signature chewy, brown exterior is to dunk the dough in boiling baking soda water.
If you're not up for attempting the classic knotted pretzel shape, go with sticks, twisty sticks, or buns. And try pretzel pizza crust, pretzel dogs, and pretzel desserts too. There's something for every skill level and palate below!
Pair these big, squishy pretzels with your favorite beer. They're also good for dipping in a sweet or hot mustard, maybe even a fondue. Make it feel like Oktoberfest any time of year. You'll need (or at least want) a stand mixer for these. Get our Soft Pretzels recipe.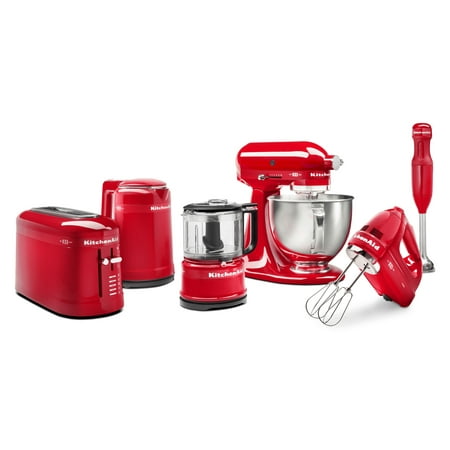 KitchenAid Queen of Hearts Collection, $49.99-$399.99 at Walmart
Browse the 100th anniversary limited-edition KitchenAid Queen of Hearts collection.
Buy Now
It's for good reason that hot fudge is a classic ice cream topping, but this recipe from Humphry Slocombe has that sweet sauce plus the more alternative addition of salty, crunchy potato chips and pretzels, and frosted peanuts too. Get the Sweet and Salty 420 Sundae recipe.
In the race to come up with variations on pizza, some chefs turn to the crust. Pretzel crust is the answer, clearly. Ashley of The Recipe Rebel shows you how. Get the Pretzel Crust Pizza recipe.
If you're new to making bread, this recipe has a good basic dough. To get that signature malty flavor we all love about pretzels, you dip the dough in a baking soda solution. Get our Soft Pretzel Rolls recipe.
Take a regular caramel apple, inject it with chocolate, and then stick pretzels into the caramel goo all around that apple. Now bite into the crisp, juicy, sweet-sour apple, get a creamy dose of caramel and salty crunch from the pretzels, and light up when you reach the chocolatey treasure inside. No matter what happens in your day, it's a good one if you've had this. Why wait for Halloween to roll around? Get our Chocolate Caramel Apples with Salted Pretzels recipe.
These itty bitty pretzel knots are kissed with honey and Sriracha for that sweet and spicy pairing that so often works. It's by Sommer of A Spicy Perspective. Get the Honey Sriracha Pretzel Knots recipe.
Sometimes you just want a little nibble, a bite. You can have that desire met with these chewy-soft, gorgeously browned, salted pretzel bites, perfect coffee-table nibbles, whether you're watching the game or throwing a party for any other occasion. Serve them with mustard sauce, and to really gild the lily, thread them on cocktail picks with gruyere cheese cubes and prosciutto rolls. Get our Soft Pretzel Bites recipe.
Why are soft pretzels getting all the love? There's something so satisfying about the salty crunch you get with pretzel sticks, and these rods created by Stephanie of Girl Versus Dough are like that feeling, supersized. Get the Hard Pretzel Rods recipe.
Crushed pretzel crusts are great for all sorts of no-bake desserts, from chocolate mousse pies to Key lime bars, but this creamy peanut butter concoction from The Farmer's Daughter is a nice nod to the classic move of dunking pretzels straight into the jar of Jif. We're thinking we might add a drizzle of chocolate on top too. Get the Peanut Butter Pie with Pretzel Crust recipe.
Like corndogs but better (yeah, we said it)—and easier than hand-shaping actual pretzels too; all you have to do is make Joy Food Sunshine's pretzel dough and wrap it around your favorite hot dog, whether kosher, ballpark, or veggie. Get the Pretzel Dogs recipe.
Whether you make your own pretzel rods or just crush up a bag of your favorite store-bought brand, using them to coat chicken tenders like Creme de La Crumb is a genius idea. Plus, they're baked instead of fried, so not that far off from a healthy dinner. Get the Baked Pretzel-Crusted Chicken Tenders.
In less than 15 minutes and with only four ingredients, you can make your own honey mustard sauce for dipping pretzel dogs, regular hard and soft pretzels, and pretzel-coated chicken fingers—or spreading onto sandwiches with ham or corned beef, for that matter (with pretzels on the side if you want). Get our Honey Mustard Sauce recipe.
All featured products are curated independently by our editors. When you buy something through our retail links, we may receive a commission. For more great hand-picked products, check out the Chowhound Shop.
See more articles