A savory and sometimes spicy breakfast will always be my first choice to start the day. For me, pancakes should only be eaten when wrapped around sausage, and oatmeal can be for dinner. Most people might be part of the sweet camp, but here are three easy noodle breakfasts that might just turn you into a savory morning meal believer.
Stir-Fried Bacon Noodles
A gateway "noodles for breakfast" recipe. The bacon fat coats the noodles, while the ginger, maple syrup, soy sauce, and sesame oil make it easy to say good morning.
Ingredients:
8 ounces flat rice noodles, prepared but still firm
4 strips bacon, cut into 1-inch squares
1 tablespoon neutral oil (like grapeseed or canola)
2 garlic cloves, minced
1 tablespoon minced ginger
4 scallions, sliced
1/2 teaspoon maple syrup
1 teaspoon sesame oil
2 tablespoons water
1 to 2 tablespoons soy sauce
Eggs, for frying (optional)
Instructions:
1. Cook the noodles per the instructions on the package and hold in a bowl of cold water.
2. Fry the bacon with the oil in a large pan over medium heat for about 5 minutes until almost fully cooked but not crispy. Drain off 75 percent of the fat (add it to a smaller fry pan and use it to cook up some eggs!). Put the large pan back on the heat. Add the garlic and ginger and cook for a few more minutes.
3. Add the scallions, maple syrup, sesame oil, water, and soy sauce. Stir together for 1 minute.
4. Drain the noodles, add to the pan and stir everything together, then remove from the heat, and serve (topped with that fried egg if you please)!
Breakfast Pad Thai
Everything goes well with fried eggs, but break the yolks, stir them into noodles, and something unexpected happens—the Surrealists called it the spark. Add some Sriracha and you won't need to worry about what's for lunch.
Ingredients:
1 tablespoon soy sauce
2 tablespoons rice vinegar
1 teaspoon paprika
1 teaspoon maple syrup
2 tablespoons oil
4 garlic cloves, minced
8 ounces flat rice noodles, prepared but still firm
2 cups mung bean sprouts
1/4 cup salted peanuts, crushed
4 scallions, sliced
1 lime, quartered
Sriracha, to taste (optional)
Instructions:
1. Cook the noodles per the instructions on the package and hold in a bowl of cold water.
2. In a bowl, mix together the soy sauce, rice vinegar, paprika, and maple syrup.
3. In a large frying pan over medium heat, add 1 tablespoon of the oil and fry some eggs. Carefully remove the eggs from the pan and set them aside. Add the remaining 1 tablespoon of oil and the garlic and sauté for 1 minute.
4. Toss in the noodles and sauce mixture, and then toss in the bean sprouts and peanuts. Finish by squeezing 2 of the lime wedges over the top. Garnish with the other 2 wedges of lime.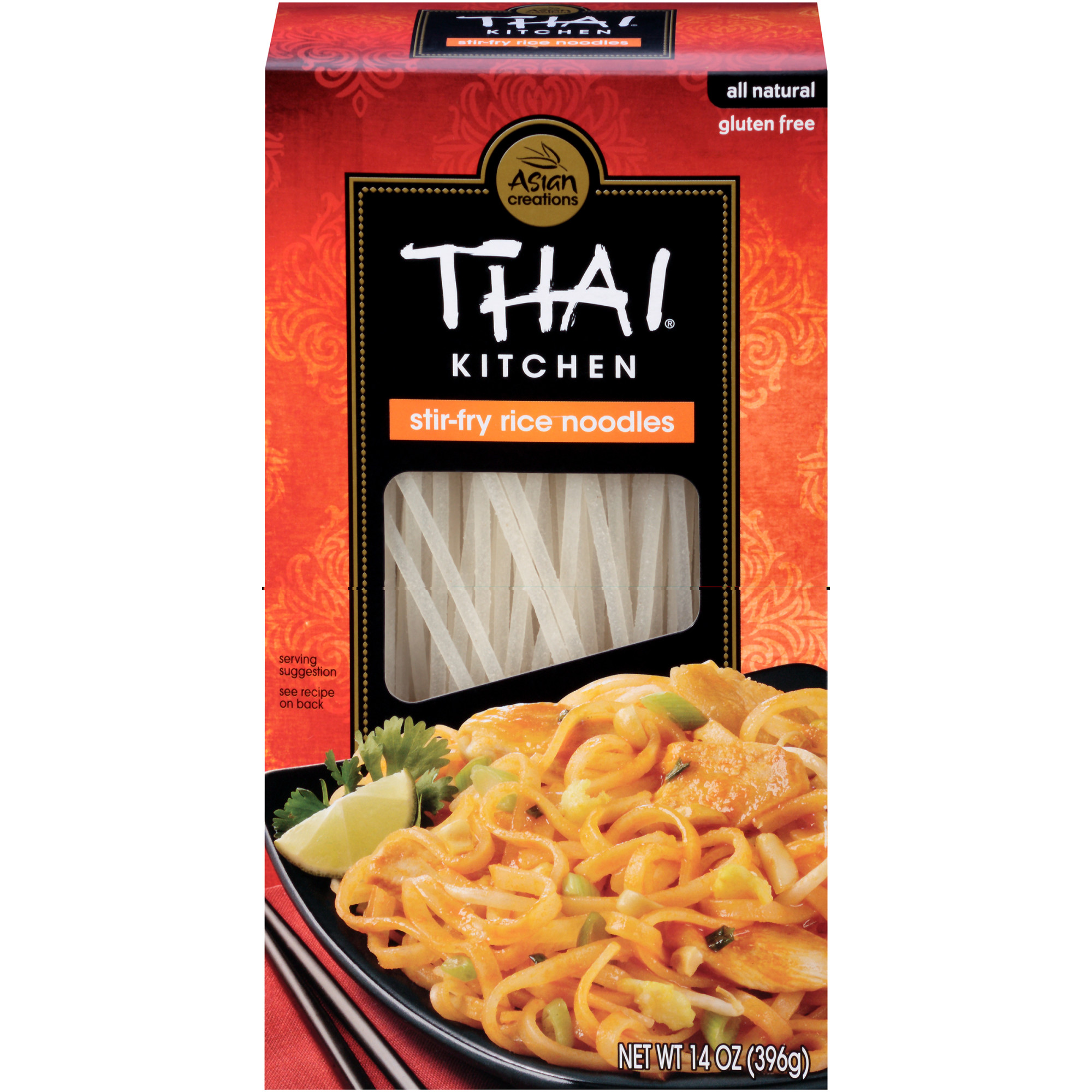 Thai Kitchen Gluten-Free Stir Fry Rice Noodles, 2 boxes for $9.52 at Walmart
These flat rice noodles are perfect for all sorts of southeast Asian stir-fries and salads.
Buy Now
Gentle Waking Soup
Sipping miso broth in the morning is something I didn't grow up with. There's nothing wrong with the jalapeño pancakes and Karo corn syrup of my childhood, but if I was introduced to miso at breakfast as a toddler, perhaps I would have grown up with a bit more charm?
Ingredients:
6 ounces buckwheat noodles, prepared but still firm
3 medium carrots
5 cups water
8 ounces extra-firm tofu, cut into large cubes
3 1/2 tablespoons white miso paste
4 scallions, chopped
1/4 cup dried seaweed, broken into small pieces
Instructions:
1. While you are preparing the noodles, use a peeler to slice the carrots into ribbons.
2. Bring the measured water to a boil and add the carrots and tofu. Simmer for about 3 minutes.
3. Take a ladleful of the carrot-tofu cooking water, and in a bowl mix it together with the miso paste.
4. Add the miso mixture and prepared noodles to the pot.
5. Add the seaweed and scallions, then serve.
So simple, yet so comforting.
King Soba 100% Buckwheat Noodles, 3 packs for $14.98 on Amazon
These are a great gluten-free choice, but be sure to check the label on your miso if you need to keep the recipe GF (look out for barley, wheat, and rye; rice, millet, and buckwheat are okay).
Buy Now
For more noodle know-how, see How to Make Bun Bo Hue, What Is Vermicelli?, What Is the Difference Between Pho and Ramen?, and How to Make Gluten-Free Pasta from Scratch. Plus, get all of our noodle recipes, for breakfast, lunch, and dinner!
All featured products are curated independently by our editors. When you buy something through our retail links, we may receive a commission. For more great hand-picked products, check out the Chowhound Shop.
Photos and styling by Chris Rochelle
See more articles