When To Refrigerate Pecan Pie And When To Leave It Alone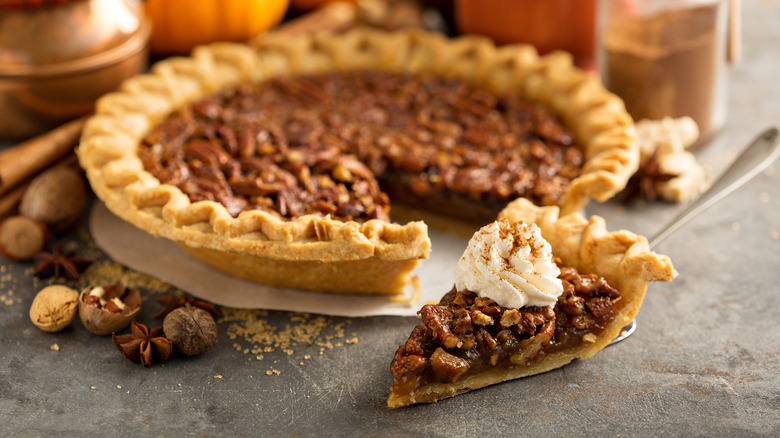 Elena Veselova/Shutterstock
Pecan pie earns its spot as one of the star dishes at the Thanksgiving table (or any dessert table, for that matter), in large part due to its velvety, set syrup filling dotted with crunchy nuts. If you're preparing to make one of these beauties, or have just embarked on crafting pecan pie, you might be wondering: to refrigerate or not to refrigerate? Luckily, we have answers. If your pecan pie filling is made with eggs, you'll need to refrigerate it for food safety purposes, and best freshness. If your dessert is egg-free, however, just like with fruity pies, you can leave it out on the counter overnight without worrying about spoilage.
Advertisement
We understand, it might be tempting to leave your classic pecan pie or bourbon-spiked variety of the dessert out at room temperature to save fridge space, especially when you're preparing a bunch of food for guests. However, the eggs in the recipe require the baked pie to be refrigerated. If you're baking a vegan version of the treat, made with flaxseed or other egg substitutes, you don't necessarily have to store it in cold temps. Of course, egg-containing or not, your pie will last longer in the fridge (up to four days for eggy varieties), maintaining the freshness of both the filling and its flaky, tender crust.
Eggs are typically used to bind together pecan pie filling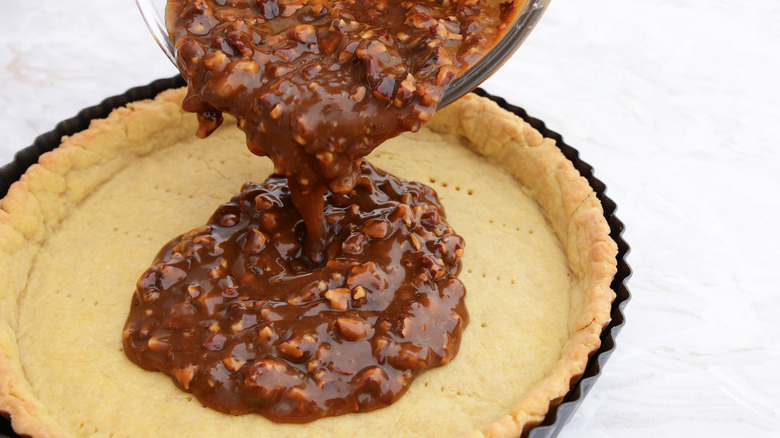 Sarahdoow/Getty Images
If you're making a classic take on pecan pie, chances are, you'll need to refrigerate it, since traditional pecan pie recipes contain eggs (usually two or three) to help bind together the filling ingredients. In a typical recipe, corn syrup, eggs, brown sugar, vanilla, salt, spices, and melted butter are whisked together until smooth and thick. The mixture is then mixed with whole or chopped pecans or poured directly into a pie shell atop an even layer of the nuts. 
Advertisement
The result after baking is a syrupy filling that further sets as it cools and as it sits in the fridge. The eggs help create the creamy and rich filling – and maintain both moisture and emulsification — that contrasts perfectly with the toasty baked pecans and flaky crust. This makes for an extra decadent, sweet bite of pie. 
When crafting your pecan pie, after baking and letting it cool, cover, seal, and refrigerate it within a couple of hours, considering it has eggs (and to help the filling set beautifully). When you're ready to serve the pie, let it come to room temperature before slicing and handing out large slabs of the dessert, and serving with homemade whipped cream. If warm pecan pie served with vanilla ice cream is your thing (we don't blame you), you can also heat the pie in the oven before serving it.
Advertisement
For egg-free varieties, you can leave your pie out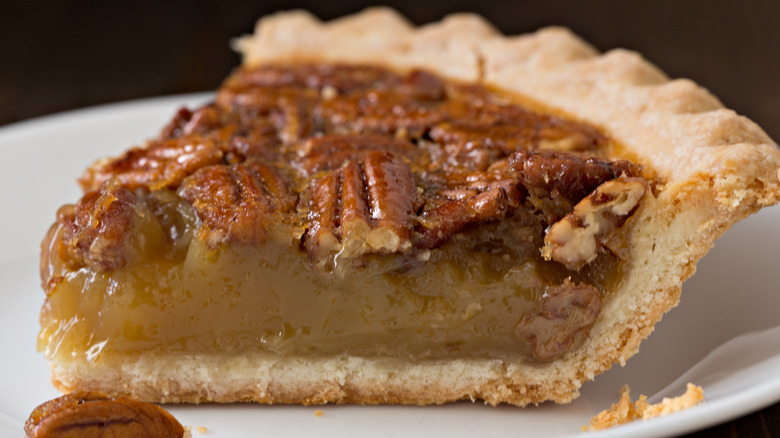 Debbismirnoff/Getty Images
Of course, there are egg-free varieties of pecan pie, and it's now easier than ever to make satisfying plant-based desserts. To replace the eggs in a pecan pie, you can simply make the syrupy filling with a blend of coconut milk (or other plant-based milk like almond milk), sugar, syrup, vanilla, salt, ground flaxseed, and coconut oil. The same methodology to making a flaxseed egg applies, and the ground seed helps the mixture gelatinize. Some bakers also prefer to add in a bit of starch, too, (such as tapioca or arrowroot) to help with the binding properties.
Advertisement
Your pie might be slightly less custardy without the eggs, but the filling will still be sugary, rich, and set. If you're baking up an egg-free, vegan, or plant-based pecan pie, in these situations you can leave your pie out at room temperature for a couple of days. While this is food-safe, if you don't think the whole pie will be eaten within this timeframe, then you can store it in the fridge and where the USDA says it will stay fresh for up to a week.