How Is Brooklyn-Style Pizza Different From A Standard New York Slice?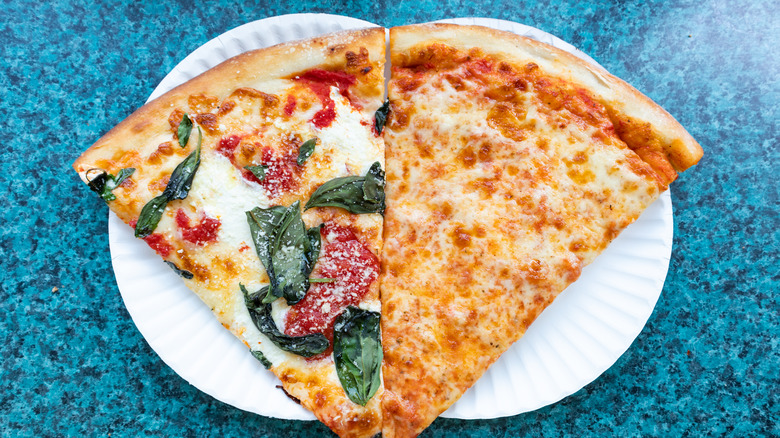 James Andrews/Getty Images
Among the most iconic foods in the world is delicious, wonderful pizza. With its gooey cheese, seasoned tomato sauce, pillowy dough, and any number of savory fixings, the magic of pizza lies not only in its diverse toppings but also in the perfect harmony of textures. Throughout the centuries, pizza has transcended cultural boundaries in a way few other foods can. It seems like no matter where you travel, pizza is there waiting to greet you. Even in the United States alone, there are multiple styles of pizza that can match any taste, from indulgent Chicago deep dish to artisanal California pizza. However, at the risk of being controversial, there is no American style of pizza as iconic as the New York slice.
Advertisement
Since Italian immigrants brought their pizza to New York City at the beginning of the 20th century, the Big Apple's pizza has evolved into a dish all its own. When you visit New York, it's hard to resist at least sampling one of their hand-crafted pies. You may also hear whispers of something called "Brooklyn-style" pizza. While the borough certainly has its own unique pizza culture, even its residents will tell you that the differences between Brooklyn and regular New York-style pizza are small, if not nonexistent.
Brooklyn-style pizza isn't really a thing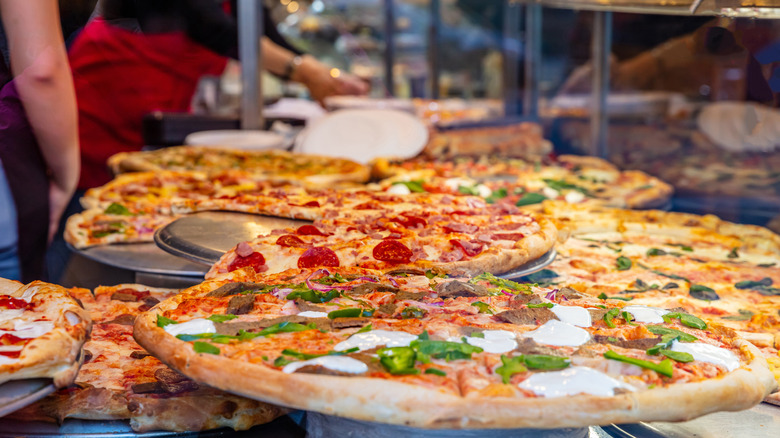 rawf8/Shutterstock
It's hard even for pizza enthusiasts to find much distinction between Brooklyn and New York-style pizzas, but there are a few things that one could argue set the two varieties apart. If New York pizzas are big, Brooklyn pizzas are huge, averaging over a foot and a half in diameter. This is to accommodate large slices that can be eaten folded up. Both styles have thin, crispy crusts, but Brooklyn pizza is a bit thinner and crispier. The edge of the pizza is usually a bit thicker than the base, again to make it easier to fold and eat on the go.
Advertisement
If you had to separate the two, Brooklyn pizza seems to have a slightly more homemade quality than the slices found in the rest of the city, but it also depends on where you look. The busiest parts of Manhattan tend to have more grab-and-go style pies, where hungry people in a rush can quickly pay a dollar for a slice and continue with their day. But throughout the borough, especially in areas like Harlem and Little Italy, you can find pizzerias that take as much care with their recipes as any place in Brooklyn. The truth is, there was no such thing as Brooklyn-style pizza until a certain pizza chain invented it to market their new pie.
Brooklyn-style pizza was created by Domino's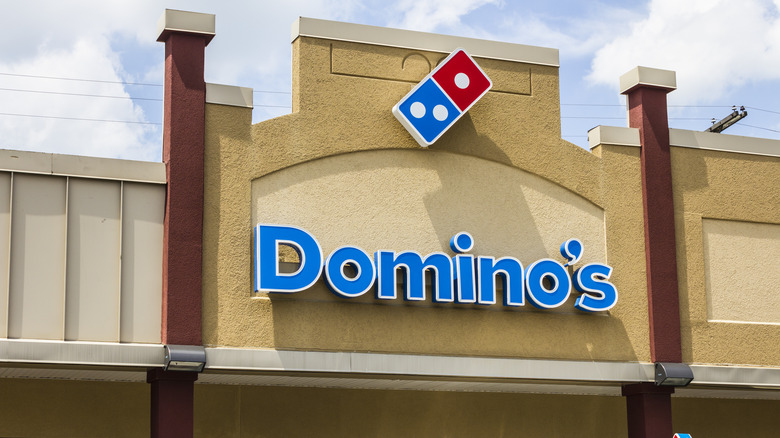 Jetcityimage/Getty Images
Unveiled by Domino's in 2006, Brooklyn-style pizza is little more than a marketing tactic to cash in on the allure of New York slices. Compared to Domino's traditional hand-tossed pizza, the Brooklyn-style pie is thinner so it can be folded up, and the crust has been dusted with cornstarch to make it crispier (which is not really a thing most Brooklyn pizza makers do). The pizzas are only available in large and extra-large sizes, presumably to replicate giant Brooklyn pies. 
Advertisement
When the Brooklyn-style pizza was initially released, the New York Times spoke to a Domino's spokesperson about the inspiration behind the pie. The chain seemed to be playing off the idea that Brooklynites prefer thin pizzas that can be easily folded, which may be true, but folding pizza is a practice employed by New Yorkers across the city. Overall, it seems that Brooklyn's image and social cachet — a Domino's spokesperson said, "Brooklyn has such a big personality" — was enough reason to name a pizza after the borough.
So the next time you find yourself in New York City, don't go around asking for Brooklyn-style pizza, or you might get some crazy looks. Instead, take a tour of the best pizzerias in all five boroughs, and see if you can find a difference. After sampling both dollar slices and recipes that have been developed over generations, your conclusion will most likely be that pizza bought anywhere in New York City is the same: savory, cheesy, tasty perfection.
Advertisement