The Best Way To Store And Reheat Leftover Fried Chicken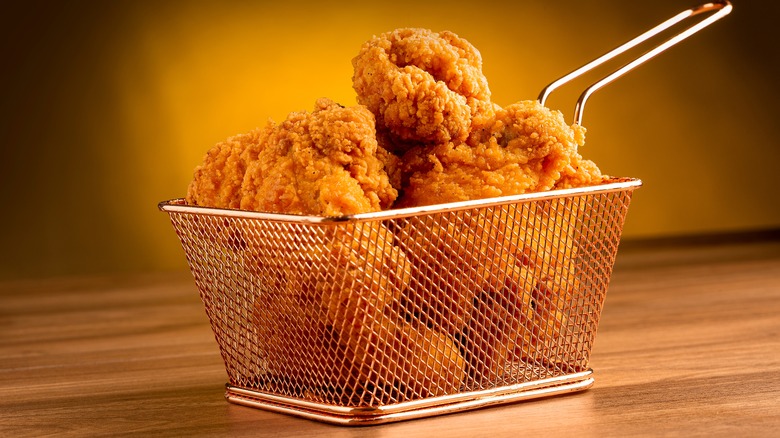 WS-Studio/Shutterstock
Whether it's lightly coated and fried Japanese karaage or classic American buffalo wings covered in a deliciously tangy sauce, fried chicken is a beloved dish enjoyed around the world. With an irresistible combination of golden-brown coating and tender, juicy meat, this comfort food is known for its flavorful and seasoned breading, which creates its iconic crispy exterior. 
Advertisement
In most cases, fried chicken is best enjoyed fresh when the meat is moist and succulent and the skin is at its most crunchy and delectable. After fried chicken sits the meat can dry out while the skin can turn tough and chewy. Zapping it in the microwave only makes these problems even worse. Without the right techniques, the mouthwateringly crispy texture of fried chicken can quickly become soggy and unappetizing. It's also easy to dry the chicken out, so the interior loses its juicy, flavorful appeal. You may be tempted to accept the fate of sad, mushy chicken, but don't give in to simply popping it in the microwave just yet.
Thankfully, there are ways to refresh leftover fried chicken so that it retains its original texture, but things can go south if it's not stored and reheated properly. Good fried chicken is worth saving, and with a bit of extra care and attention, you can transform your cold leftovers into the homey, delicious meal it started as.
Advertisement
Store leftover chicken in the refrigerator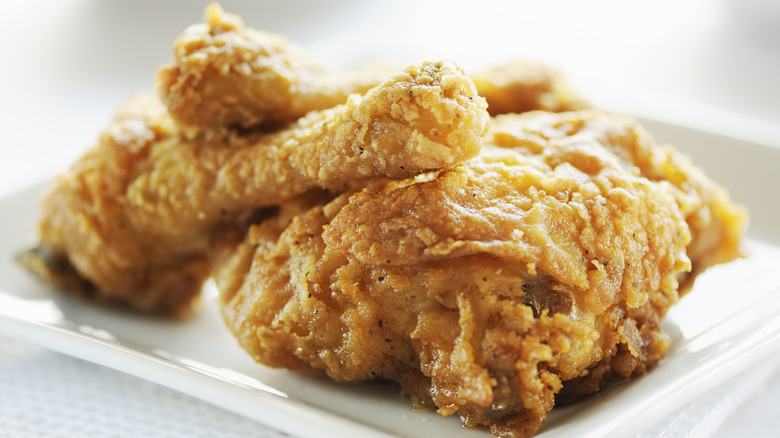 Easybuy4u/Getty Images
Getting the most out of your leftover fried chicken starts with storing it the right way. To start, never put fried chicken (or any food really) into a storage container while it's still hot — doing so can create condensation within the container that will make the chicken soggy from excess moisture. Instead, let the chicken cool to room temperature before stowing it. While your chicken is cooling down, grab a clean airtight food container. Put a layer of paper towels around the bottom and sides of the container to soak up any juices from the chicken; this will help it stay crisp. After you put the room-temperature chicken in the container, lay another paper towel on top of it before you seal everything up. Once in the refrigerator, the chicken should stay good for three to four days, according to the U.S. Department of Agriculture. 
Advertisement
If you don't want to dirty a reusable container, you can store leftover fried chicken in a resealable plastic bag. Once the chicken is inside, create a make-shift vacuum seal by folding the bag over itself to remove any excess air. Or, you can simply wrap the fried chicken in a few layers of aluminum foil. If you choose this option, be sure that there aren't any air bubbles or tears in the wrapping to better seal in moisture and flavor. 
Reheat the chicken in the oven or air fryer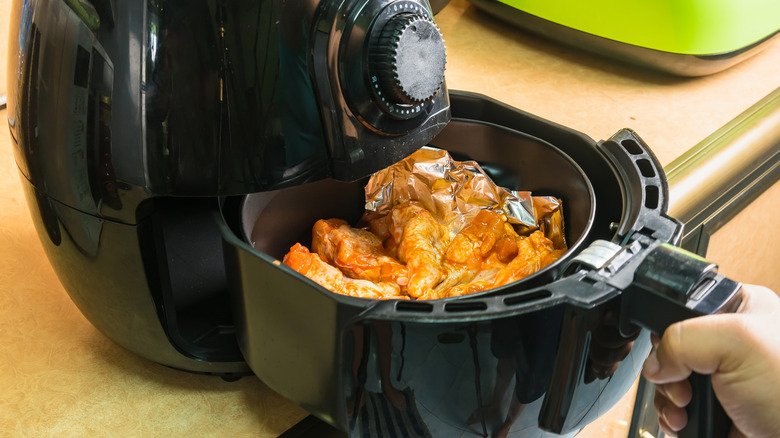 Bubbers BB/Shutterstock
For many, the simplest way to reheat leftover fried chicken is likely the microwave. While this appliance is super convenient, it certainly won't leave you with fried chicken that tastes fresh. To reheat fried chicken in a way that retains its delicate texture without drying it out, you have a couple of options — try your oven, deep fryer, or air fryer instead. 
Advertisement
Perhaps the easiest method is to warm up your fried chicken in the oven. To do so, while preheating your oven to 350 degrees Fahrenheit, place the chicken on a baking sheet and cover it in a layer of aluminum foil. Once preheated, put it in the oven until it crisps up. This will typically take around 12 minutes, but it may need more or less time depending on if those leftovers are mostly small wings or thick thighs. 
If you're up for some extra work, it's also possible to simply deep fry your leftover fried chicken again. Heat up a pan of oil to 300 degrees Fahrenheit and cook each piece of fried chicken for just a couple of minutes on each side to heat it through. It's certainly the more involved method, but the result will (again) be a super crispy spread.
Advertisement
The absolute easiest way to revitalize cold fried chicken is via an air fryer. Air fryers work faster than traditional ovens and are well suited to crisping up food that may have lost its crunch. Preheat your air fryer to the same 350 degrees before adding the fried chicken (sans aluminum foil). Let it cook for about two minutes, open the basket and flip the chicken over, then cook for another two. Just don't cook your chicken for too long or it may end up dry.