What Is The Difference Between Bacon And Pancetta?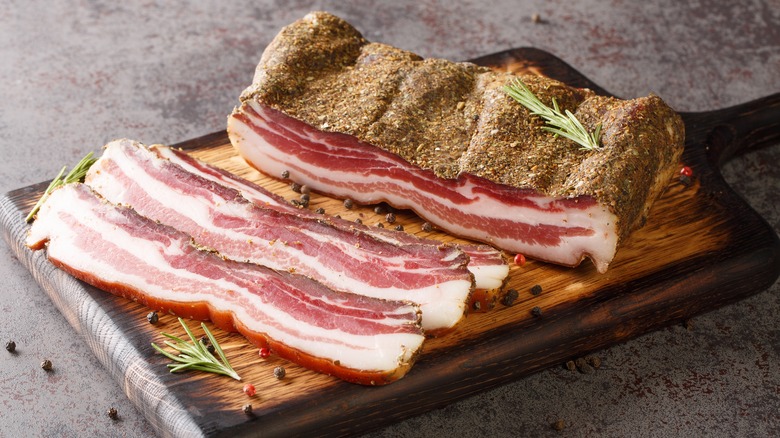 AS Foodstudio/Shutterstock
Bacon and pancetta are both delectable pork products, but they are not quite the same thing, even if pancetta is sometimes referred to as "Italian bacon". Though they are both from the belly portion of the pig, the key difference is that bacon is smoked, while pancetta is not. The underlying pork taste is therefore more pronounced with pancetta since there's no smoky taste to compete with.
Advertisement
Pancetta is also a salt-cured product, and may also add in other flavors like a mix of herbs and spices —up to and including pepper, garlic, thyme, bay leaves, nutmeg, and juniper berries, alongside a little sugar to cut through the intense saltiness that curing can cause and prevent the meat from getting too dry. (Sugar is also used for the same reason when making bacon.) Importantly, bacon must be cooked before you eat it; pancetta can be eaten raw but also tends to be cooked as well.
Smoking versus curing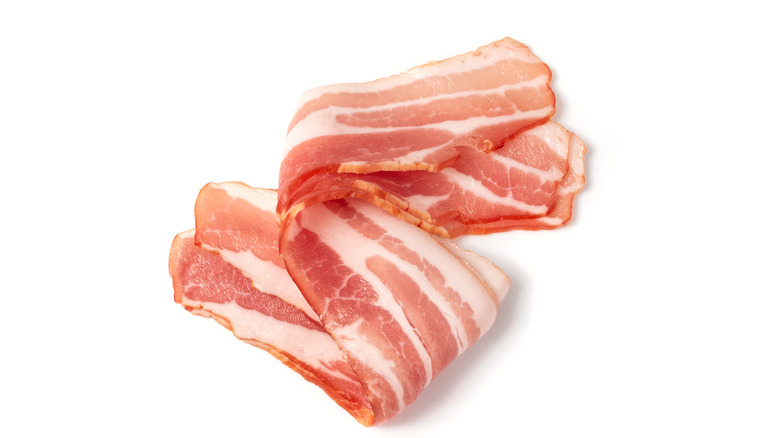 Ermak Oksana/Shutterstock
Pancia means belly in Italian, and the curing process involves coating the meat in a dry mix of salt and seasonings or immersing it in a liquid brine made with the same mixture. After a few days (up to about 10 in total), the brine is cleaned off, and the pancetta is left for another few weeks to finish the curing process, ideally in a cool and dry location. Pancetta typically comes rolled up tightly, or in a slab (where, yes, it does often resemble bacon) — while you can buy it pre-sliced, it's thought to have less flavor when sold this way.
Advertisement
Bacon is also cured the same way, either in a dry or wet brine, although typically without the extra seasonings. It's cured for several days up to a couple of weeks, and then smoked. The type of wood used for smoking can impart different flavors, hence why you'll see labels like "hickory-smoked" (for a more intense smokiness) to "maple" (lighter and a bit sweeter).
How to use these two cured meats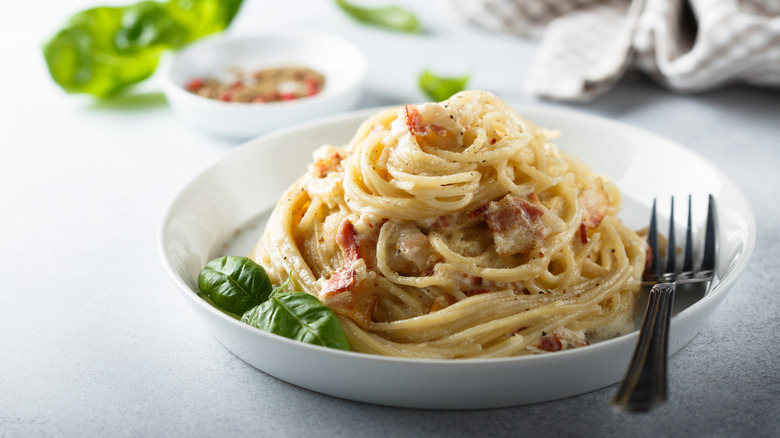 MariaKovaleva/Shutterstock
As a general rule, pancetta tends to play a more subtle role in recipes than bacon. It's one ingredient among many, adding that extra layer of fatty pork, as compared to bacon, which is more likely to play a "starring" role — just look at dishes like bacon and eggs or a BLT.
Advertisement
Despite this difference, pancetta and bacon often work well in similar contexts: adding them to pasta dishes or soups and stews are great options for building a flavorful extra salty or smoky layer into your cooking. Since pancetta doesn't need to be cooked, it can also work for charcuterie boards or antipasto-style platters alongside other small bites. They're somewhat interchangeable, although it's wise to be a little bit attentive to their differences. 
If you're substituting bacon for pancetta, its smokiness may make it more dominant than if you use pancetta. This can be countered by blanching bacon in boiling water for two minutes, and then adding it to the dish (since this will eliminate some of the bacon's fat, you may need to add extra oil, as well). In reverse, if you're putting pancetta in place of bacon, go easy on the salt, since pancetta has more of it than bacon. Remember, you can always add more salt later.
Advertisement