Tahini Vs Tzatziki: What's The Difference?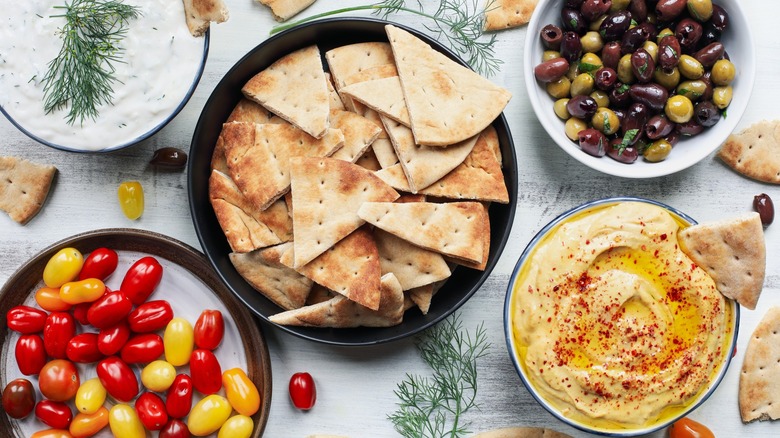 Stephanie Frey/Shutterstock
Tahini and tzatziki — while they may sound a little similar and could be found at the same table at certain Mediterranean restaurants, don't otherwise have much in common. Tahini is mostly made with ground sesame seeds, along with a little oil and salt. It's a condiment that can be had alone — perhaps spooned over falafel or as part of other recipes — but is mostly thought of as a key ingredient for hummus. It's particularly common in Middle Eastern cuisines, like those from Lebanon, Syria, and Israel, but it also makes appearances in Greek and Turkish foods.
Advertisement
On the other hand, tzatziki is a sauce or dip made from Greek yogurt, garlic, cucumber, a little lemon juice, and sometimes dill or other herbs like mint (the exact ingredients are sometimes debated). It's commonly associated with Greek cuisine, but it's also just as prominent in Turkey, where it goes by the name cacik. It's eaten as a creamy dip, with some bread or vegetables to scoop it up (a contrast to tahini, which doesn't appear on its own as often). But it also works formidably as a sauce on, say, a pita-wrapped meaty gyro. 
What to know about tahini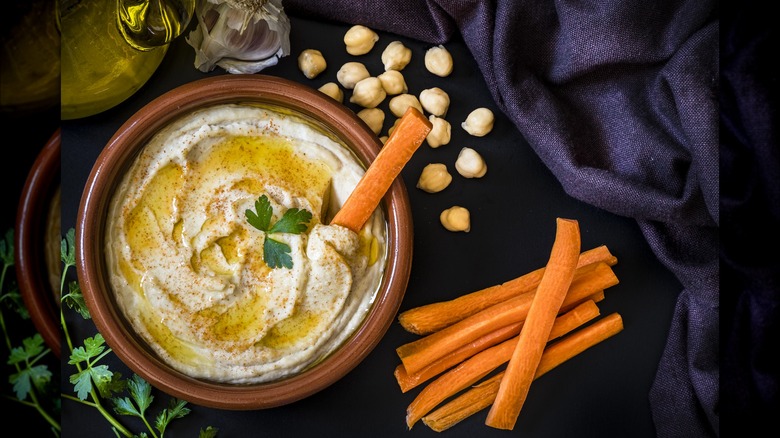 Carlosgaw/Getty Images
Tahini dates back thousands of years, with references to some version of it dating to approximately 4,000 BC. It likely originated from Persia (present-day Iran) before becoming more widespread. It figures into a lot of staple recipes like baba ghanoush and hummus, adding a rich, earthy layer of taste, but it is very versatile, and can easily be worked into salad dressings or sauces for meats and veggies. It also pops up in sweet treats: Halva, a sort of sesame nougat, is perhaps its most iconic form, but it can also be mixed into ice cream or baked goods.
Advertisement
Tahini is relatively easy to make at home; just toast some sesame seeds, grind them in a food processor, and add some sesame or oil and salt for seasoning. If you're pressed for time, however, finished tahini has become a lot more popular in recent years, so it should also be easy to find in most food shops.
Everything to know about tzatziki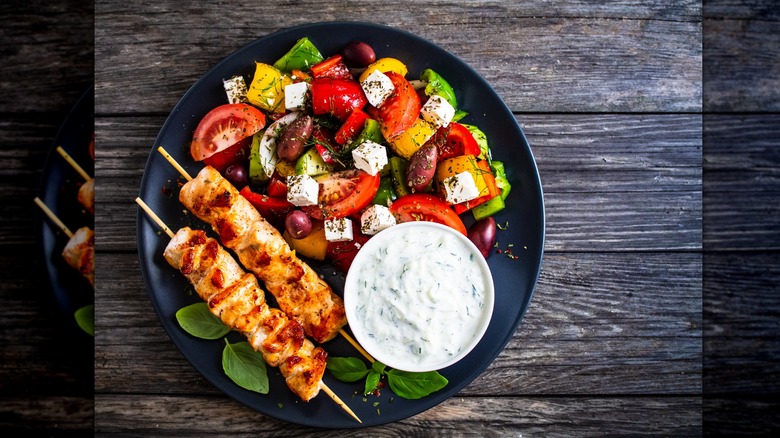 Jacek Chabraszewski/Shutterstock
The origin of this yogurt-based sauce appears to be based on the Indian cucumber-yogurt dip raita. The Persians brought raita west, and in Turkish or Greek hands, it evolved into the garlicky tzatziki that's known today. Unlike tahini, which has a very straightforward recipe, there's a bit more debate about what should go in tzatziki, and how to prepare it. Yogurt is a given, and while it's easy to find recipes using low-fat yogurt, a higher-fat yogurt (say, 10%) will give you more of a rich, creamy flavor. Cucumbers are also essential — but these can leach a lot of water into the tzatziki, so some cooks scoop out the seedy, watery middle part of the cucumber, while others may try to squeeze the excess liquid out. Some people also peel their cucumbers, others don't. Garlic is always in there, but traditionalists may avoid extra herbs like dill or mint (although tzatziki in Cyprus does tend to use mint). It often also features a little vinegar or lemon juice for acidity, and olive oil.
Advertisement
Tzatziki is great on its own as a dip, or a sauce for meats. It should be easy to find pre-made versions, but if you want quality, it may be better to skip the mass-produced version in favor of making it at home with fresh ingredients.