Chimichurri Vs Pesto: The Flavor Differences And When To Use Each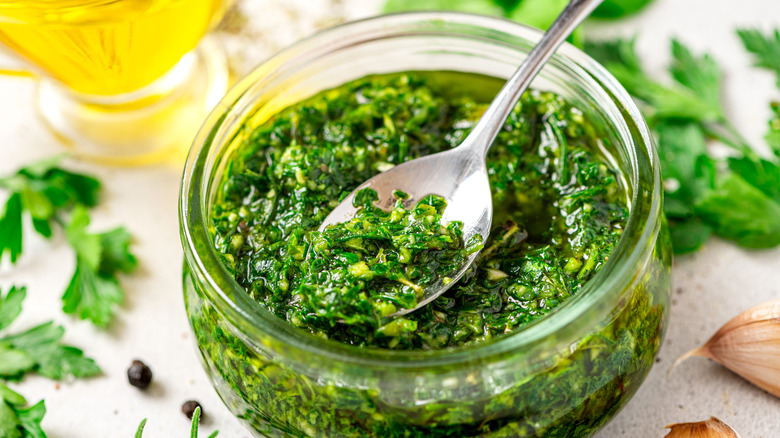 Svetlana Monyakova/Shutterstock
Chimichurri and pesto are two well-known, vibrantly green sauces that highlight the fragrant simplicity of the ingredients they contain. While the pair of them are delightfully herbaceous, they differ in their flavor, origin, and typical eating occasions.
Advertisement
Chimichurri is an herby oil-based sauce that has roots in the cuisine of Argentina and Uruguay (though it's now also popular throughout Latin American cooking). Used as a condiment, dressing, and dipping sauce, chimichurri highlights its flavors of a healthy heaping of fresh parsley and dried oregano, while providing a nice tanginess from red wine vinegar and a bit of spice from diced red chiles. Though the sauce often contains garlic, and sometimes chopped onion or shallots, the flavor from these alliums is not overpowering. It's seasoned simply with salt and pepper, which allows the herbs to shine through.
Pesto, which originated in the Genoa region of northern Italy, is notably more rich, creamy, and thick — perfect for smearing over bruschetta or coating homemade pasta, like farfalle. Though the consistency of pesto sauce can vary, it's sometimes used as a spread, whereas chimichurri is more chunky (great for dipping seared steak or bread). Pesto achieves its blended creaminess due to additions of Parmesan cheese, pine nuts, and extra virgin olive oil. Though its star ingredient, fresh basil, is certainly showcased, the herb's brightness and hints of sweetness are well-balanced with other bold flavors like salt and fresh garlic.
Advertisement
Culinary applications for each sauce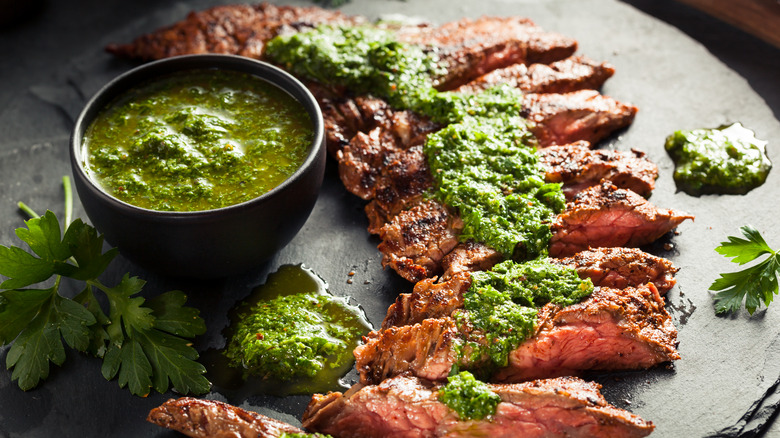 Bhofack2/Getty Images
Both chimichurri and pesto sauce are traditionally made using a mortar and pestle so as to harness the best fresh flavor from the herbs. In fact, pesto means "pound" in Italian, referring to the action of pulverizing together the basil, garlic, and nuts before folding them together with EVOO and freshly grated parm. However, nowadays both sauces are commonly made in food processors. However, many cooks will tell you to avoid using a blender to make chimichurri — instead opting for a nice chop of all ingredients and herbs, since the texture is meant to be more chunky than saucy.
Advertisement
Traditionally, chimichurri has been enjoyed in authentic Argentine cuisine as a topping for sliced churrasco, or marinated and grilled skirt steak. It's also eaten as a dipping sauce for bread or empanadas and used to top grilled vegetables. Some grilling aficionados use chimichurri as a basting sauce to brush over chicken or beef. 
Pesto's rich, pungent nature makes it best suited for tossing with handmade pastas (or the boxed kind for your average weeknight meal). Short cut pasta shapes with grooves work especially well to soak up the sauce's goodness. Though traditional pesto sauce, called pesto alla genovese (due to its Genoa homage), is most commonly served in pasta dishes, of course, the herbaceous sauce has other uses. It's excellent when drizzled on pizza, and can even be used as a topping for meats and veggies like chicken, in a similar fashion to how chimichurri is eaten.
Advertisement
Twists on the traditional sauces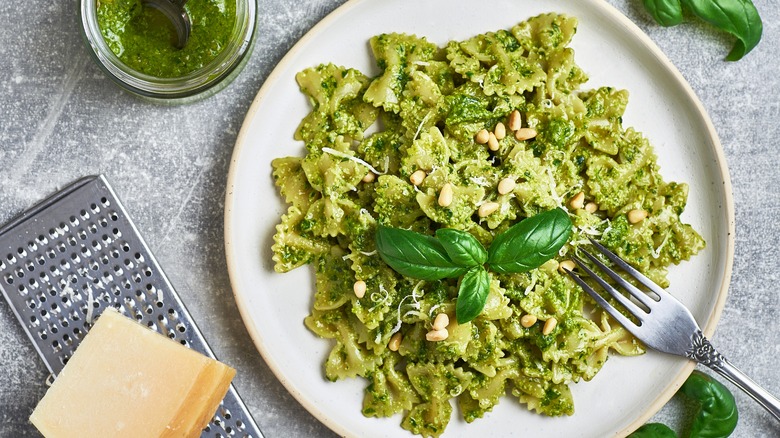 Beliphotos/Shutterstock
Both chimichurri and pesto can vary in their preparation, including some inventive riffs on the classics. Comparatively, chimichurri is relatively straightforward with its ingredients, though some substitutions can be made; for instance, swapping red pepper flakes or fresh chiles, adding in mint, or incorporating lemon juice for more tartness. Some interpretations of the condiment even use coriander. There's also a smokier version of the sauce called chimichurri rojo (red chimichurri), which incorporates roasted red peppers, paprika, and goes lighter on the chopped parsley.
Advertisement
When making pesto, though, chefs and home cooks alike often take a bit more creative agency, tweaking traditional sauce recipes. For instance, it's not uncommon to see pesto sauces made with cilantro, parsley, mint, or a blend of herbs. The types of nuts, oils, and cheeses used are also open to interpretation, too (try walnuts or walnut oil for an extra earthy flavor, or grated Manchego cheese to make a Spanish-inspired pesto). In Sicily, you'll find a red pesto variation called pesto alla trapanese, which features tomatoes and toasted almonds, in addition to the classic garlic, olive oil, basil, and cheese ingredients. Whatever sauce you choose — chimichurri or pesto, or derivatives of the two — there's one thing that's for sure: it will brightly enhance the flavors and ingredients on your plate.
Advertisement