The Exact Difference Between Gumbo And Jambalaya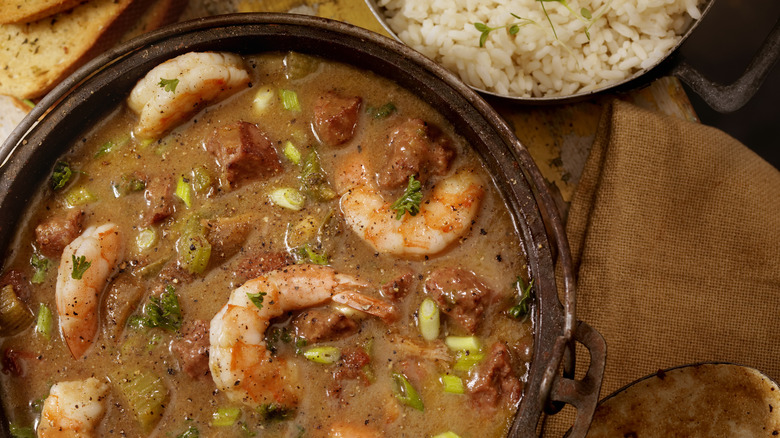 Lauripatterson/Getty Images
When it comes to Cajun and Creole cuisine, gumbo and jambalaya are two of the biggest heavy hitters. If you visit bayou nation or New Orleans and don't try these dishes, we have to ask, "Why did you even go?" The two dishes share some notable similarities — a base of onion, bell pepper, and celery, called "the holy trinity" in these cuisines and herbs like thyme and bay leaves when stewing. They're generally pretty hearty and filling dishes that could loosely be described as stews, though jambalaya is so thick it barely qualifies.
Advertisement
But for all those points of intersection, the two are far from the same — and bear in mind, the exact recipes for gumbo and jambalaya can vary a lot, since there's no shortage of unique family recipes for these two dishes. Generally speaking, gumbo is more of a soupy stew, made with plenty of stock but also a roux to thicken things up. Since it's a pretty saucy dish, it's often served on rice. Meanwhile, for jambalaya, rice is an integral part of the recipe. It's prepared as a one-pot dish, with the rice cooked in among the meats and vegetables that make up the recipe. The final product should be moist, but shouldn't have any saucy liquid sloshing around the pot, particularly in comparison to gumbo.
Advertisement
All about gumbo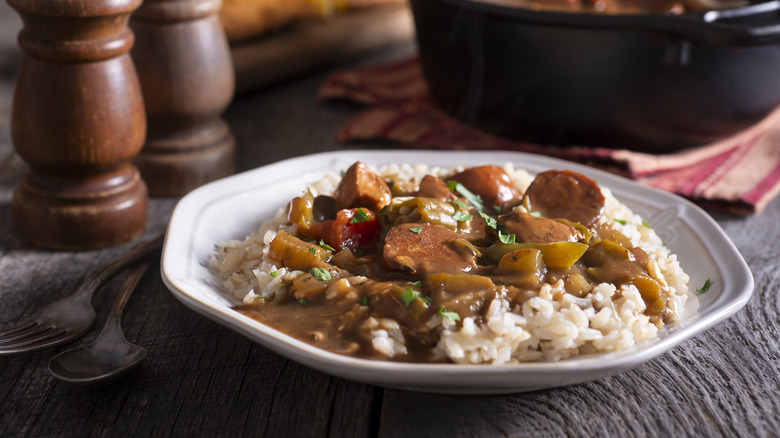 Rudisill/Getty Images
Influenced by a range of cultures, including French and West African cuisines, gumbo is Louisiana's state dish. It starts with a roux: a mix of fat (often butter) and flour that's browned in a pot. The holy trinity is then added to cook, followed quickly by flavor-giving meats like andouille sausage, Cajun seasonings, and broth. It's then left to cook slowly on the stove — sometimes for hours, which is why it's considered to have a deeper, more complex flavor among the two. Tender seafood like shrimp tends to be added towards the end. Depending on where you're trying it, cubed chicken or duck breast and okra might appear in gumbo, the latter of which helps to thicken the sauce. When it's ready, it's served over or on the side of unseasoned fluffy white rice. 
Advertisement
There are Cajun and Creole varieties of gumbo — the Cajun variety tends to use more meats like sausage or chicken; Creole gumbo leans towards shellfish —typically crab and/or shrimp — and can also include tomatoes, and it's not hard to find recipes that mix-or-match ingredients between the two varieties. In either case, the final product should be a rich, saucy stew.
What about jambalaya?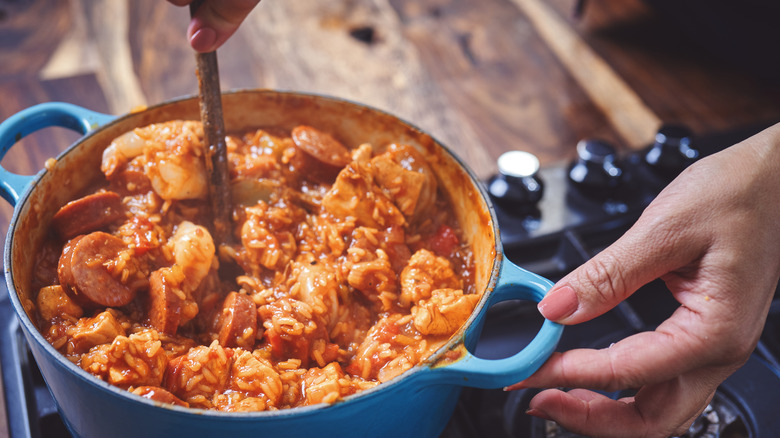 Gmvozd/Getty Images
Jambalaya is thought to have two main influences: Spanish paella and West African jollof rice. There's some French influence, too — the name likely comes from a Provençal word that means "mishmash." Start out by frying the holy trinity then add meat like chicken, andouille sausage, or tasso ham, along with some garlic and cayenne pepper. Next comes broth and rice, and it's cooked until the liquid is absorbed — for this reason, jambalaya generally isn't cooked for nearly as long as gumbo, which can be left to simmer for hours. Jambalaya, unlike gumbo thickens from the starches in the incorporated rice, and traditionally does not use roux. And, of course, delicate seafood like shrimp can be added towards the end.
Advertisement
As with gumbo, there's a bit of a split between Cajun and Creole styles of jambalaya. The Creole version features tomatoes, and as a result, is sometimes called "red jambalaya." The Cajun one skips the tomatoes, and features beef broth, which is why you'll often see it called "brown jambalaya."