Ancho Or Pasilla? Navigating Chile Pepper Chaos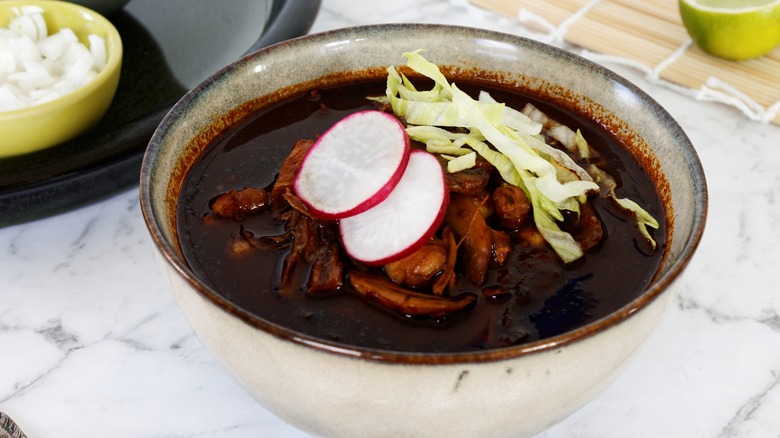 Fotema/Shutterstock
Ancho and pasilla chiles are two big guns when it comes to Mexican cuisine. They're a key pantry item for a variety of dishes, most notably, as integral ingredients for certain mole recipes (although, just for the record: there are plenty of different moles, and different recipes may call for a variety of different chiles, in different quantities). Alongside the guajillo chile, they form the so-called "holy trinity" of chiles used for Mexican moles.
Advertisement
But for the uninitiated, what's the difference between the two? There are some notable similarities here: Both peppers originate from Mexico. They're both on the mild side: the average ancho or pasilla pepper is less spicy than a jalapeño, although the pasilla tends to be a little hotter; at its hottest, it can carry an equivalent heat to a jalapeño. On the Scoville scale, which measures the heat of chile peppers, the ancho can range from 1,000 to 2,000, while pasilla chiles go from 1,000 up to 4,000 (for comparison, jalapeños start around 2,500 on the scale). The two peppers are known for a slightly sweet flavor profile, both with earthy and chocolatey notes. Pasilla chiles skew a little bit sweeter, with a fruitier palate, while its ancho cousin is a bit more on the smoky side.
Advertisement
How to use ancho chiles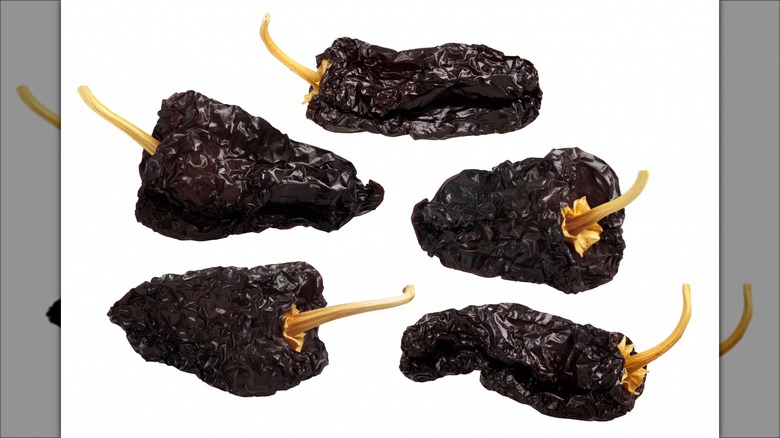 Hortimages/Shutterstock
If you've ever used poblano peppers in your cooking, congratulations: You've already met the ancho chile (sort of). Anchos are just the dried version of poblanos, though the two tend to have different applications. They're typically quite stumpy in shape, as they can be from 4 to 6 inches long but also up to 3 inches wide. Anchos tend to show up in hearty dishes: Think soups, stews, and enchilada sauces. You'll generally have to rehydrate them in hot water and then blend them up for use in these kinds of recipes (unless, of course, you're working with ancho powder). They can appear in rich, dark mole sauces (usually alongside other chiles), birria, a meat stew with lamb or beef, and traditional corn and meat soup pozole. Their smoky taste makes them a formidable addition to (red) enchilada sauces, as well.
Advertisement
Ancho chiles are generally more popular and widespread than pasillas, so you should have an easier time finding them. They'll almost definitely be in any Mexican grocery store, and most regular supermarkets will carry them as well.
How to use pasilla chiles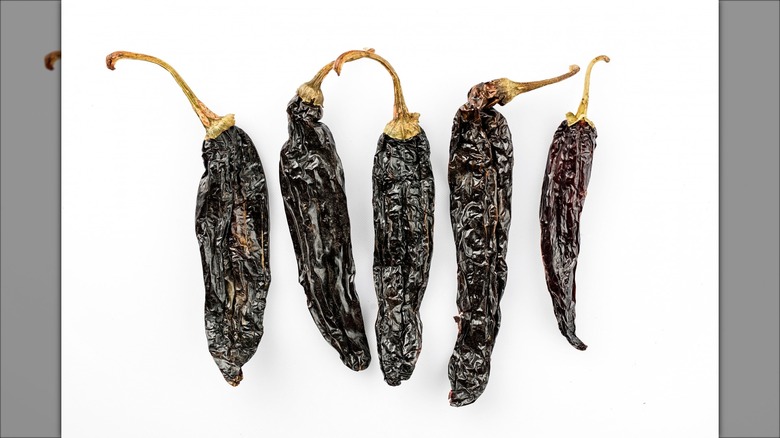 hlphoto/Shutterstock
Like anchos, you'll generally encounter pasilla chiles in their dried form: they're up to 9 inches long and usually an inch or so in width and may have a curved shape. They're sometimes referred to as chiles negros or pasillas negros, and you'll typically have to rehydrate them and puree them, just like you would a dried ancho chile. They tend to crop up in recipes for soulful mole negro, as well as certain Mexican sauces, like Oaxacan-style adobo sauce. They also work wonders for a robust and deeply flavored enchilada sauce. The uses for pasilla chiles aren't wildly different from ancho chiles, and while they do have distinct flavors (with some overlapping elements), they're sometimes recommended as a substitute for each other.
Advertisement
Pay attention to their shape and size: pasilla peppers are more long and narrow than the wide-bodied anchos. This is important when you're shopping for them, as there's a tendency for ancho chiles to be mistakenly labeled as pasilla chiles in U.S. stores. Generally speaking, pasilla chiles are a bit less popular than anchos, so you may need to head to a Mexican specialty store to find them.