Port Vs Madeira: The Flavor Differences And When To Drink Each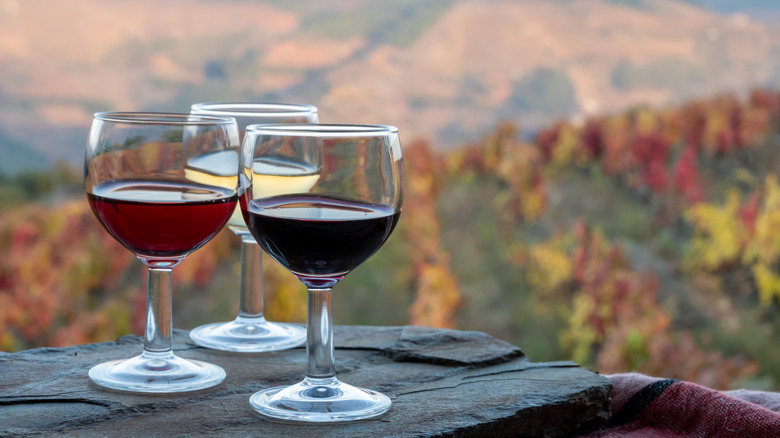 barmalini/Shutterstock
If you've ever had a glass of Port, you've tasted the rich, concentrated fruity flavors of the wine, which is often served for dessert. But have you ever tried a glass of Madeira, a similarly fortified wine, and wondered what, exactly, the differences are? Both Port and Madeira hail from Portugal, but Port is from the inland region of the Douro Valley, while Madeira is from the Madeira island off the coast. The two wine types differ in their specific grapes and regional impacts on the nuanced tastes, as well the timing in which they are fortified with spirits (commonly brandy).
Advertisement
Port is fortified as the wine ferments specifically to halt the fermentation process, which stops the natural sugars from converting to alcohol and results in its characteristically sweet nature. Madeira, on the other hand, can be fortified during or after the fermentation step, making for a range of dry to sweet wine varieties. Madeira is also exposed to heat as it ages, which results in a longer shelf-life and further taste complexities.
Due to their boozy fortification, both concentrated wines contain a higher alcohol content (about 18 to 20%) compared to a typical glass of non-fortified wine, like Pinot Noir. So, they're each best enjoyed in smaller pours. Ports are known for their predominantly fruity taste with notes of chocolate, caramel, and spice, while Madeira wines can range in taste from smokiness to caramel and roasted nuts to crisp sips perfect for pairing with a creamy pasta dish.
Advertisement
Enjoy Port for dessert, or with rich foods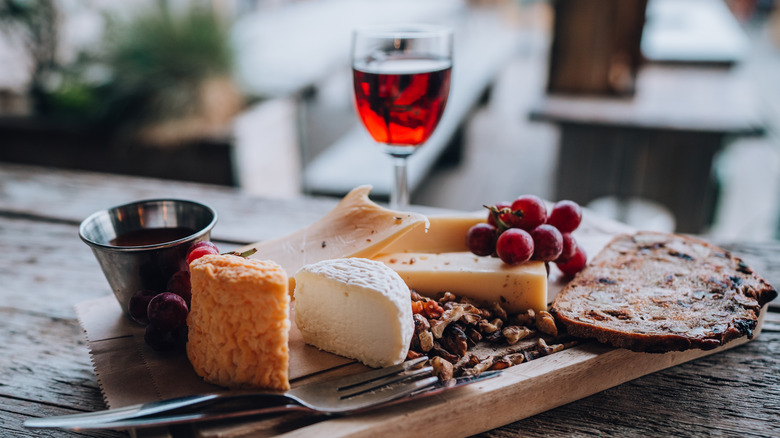 Merel Tuk/Shutterstock
Though Ports are typically sweet, their flavor can also vary widely depending on factors like the specific grapes from which they're made (which are always native to region, and include varieties like Tempranillo or Touriga Franca), as well as aging time. Among the Ports, there are ruby red, white, rosé, and tawny styles, which each have unique appearances and flavors. As a general rule, Ruby wines present the tart and sweet tastes of cherries and bramble berries, including raspberries and blackberries, along with rich chocolate and caramel. A good glass of ruby Port is best enjoyed young, too, since it's not typically aged as long as other reserve or Tawny varieties of the wine.
Advertisement
Tawny Ports, which have been aged longer and in wooden barrels, present a greater depth and complexity of flavor, enriched nutty and caramel tones, and intensified levels of sweetness, which make them great for serving with dark chocolate cake. White Ports are more bright, with the flavors of apples, citrus, and nuttiness, while rosés (which are newer to the Port scene) flaunt floral and fruity notes like strawberry. The sweetness of Port isn't limited to dessert, though. Yes, Port is fantastic when used for baking or sipped on in between bites of decadent desserts like a caramel chocolate tart; but the almost syrupy sweetness also pairs really well with sharp cheeses like Manchego, as well as acidic food like olives and salads tossed in lemony vinaigrette.
Advertisement
Madeira wines are a bit more versatile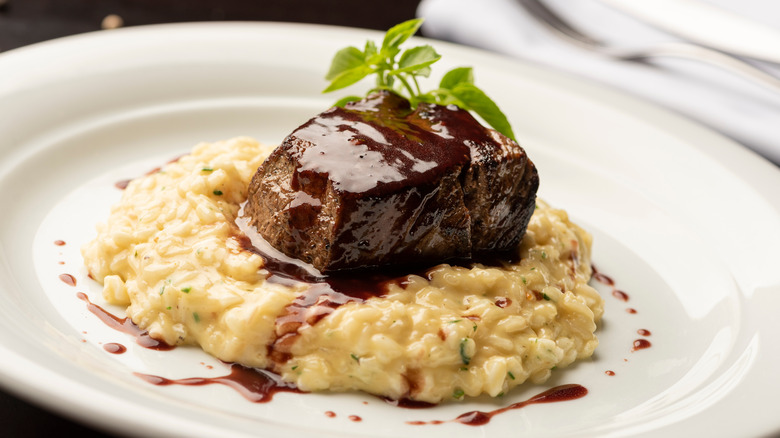 FernandoZ/Shutterstock
When it comes to Madeira, the wine's flavor profile and sweetness can vary to a greater degree, depending on when it's fortified. The wine is also aged in conditions exposed to heat and sunlight, which adds to its complex medley of flavors. Though warm conditions are usually avoided in winemaking, this aging method was supposedly created by accident on seafaring voyages, where wine needed to last over long journeys.
Advertisement
If you're looking for a drier Maderia, try out Sercial, which is excellent served as an aperitif with lighter bites, or Verdelho, which is known for its smokey depth alongside hearty meals. Sweeter varieties present flavors of caramel and fruits like orange. Though there are a handful of grape varietals grown in the nutrient rich soils of the island, Tinta Negra is also commonly used to make the regional beverage.
Both Port and Maderia wine can be used for cooking to enhance sauces, glazes, and stews. There are blended Maderias, which are more affordable and great for cooking or drinking with appetizers, or single origin varieties which are complex and can be paired with meals like smoked fish or meat. Do be careful when picking up a bottle of Maderia at the store, since there are cheap imitation versions out there. When selecting either wine, it's best to ensure that it's grown and made in their respective regions of Portugal, for true, quality wine with authentic taste.
Advertisement