How To Use A Crock-Pot Like A Pro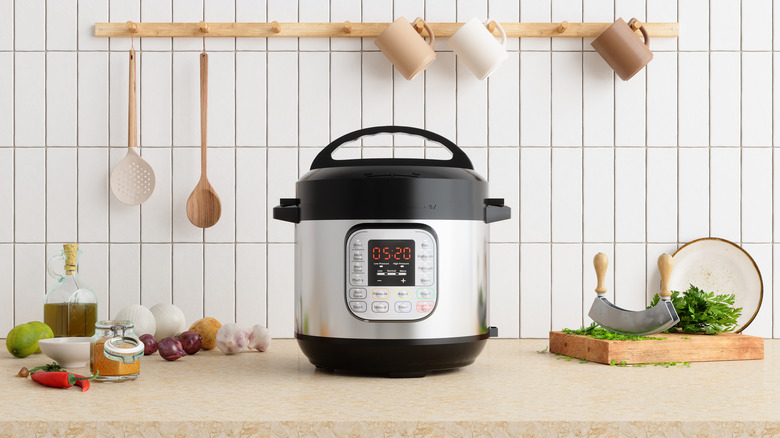 Onurdongel/Getty Images
A Crock-Pot takes up a lot of counter and cupboard space, but it's convenient and doesn't take a lot of headspace. This no-brainer is one of our favorite cooking methods when it gets chilly outside because it's ideal for comforting soups and stews, beans, and heavy, cheap cuts of meat that turn tender after receiving the low-and-slow cooking treatment. It even does cozy cold weather cocktails.
Advertisement
However, it's also great for warm weather because you don't have to be near the hot cooking device while it's doing its miraculous work. That means you can do your summer hot dogs in the slow cooker, and your fall football season grub. You can also poach salmon, make party mix, and bake a hands-off chocolate cake, as well as craft your own condiments like blueberry butter and bacon compote. And that's still just for starters.
While using a slow cooker may not be rocket science, you can mess it up. So remember these tips and get simmering.
Preheat your Crock-Pot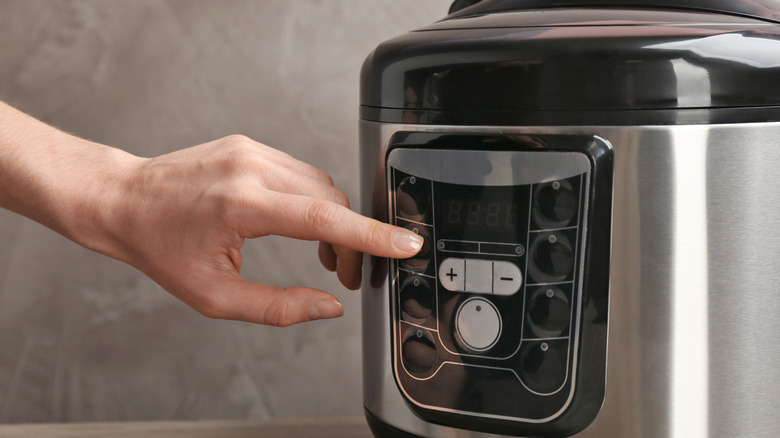 New Africa/Shutterstock
This is something many people overlook, and in some cases it isn't necessary, but if you have a recipe that calls for browning meat or aromatics on the stovetop first (common in braises and stews), let your slow cooker heat up while you do that; then you're adding hot food to a hot crock, and not losing any energy. (We don't recommend browning in the Crock-Pot itself because the heat is harder to control.)
Advertisement
Use nonstick spray or butter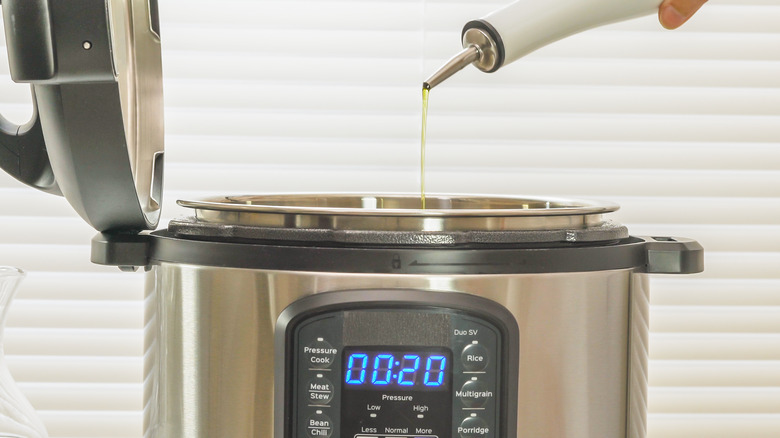 HannaTor/Shutterstock
Spritz some nonstick spray or rub some butter up the insides of your Crock-Pot (using a pastry brush, a kitchen towel, or just the stick of butter in its wrapper) before layering in the ingredients. This will help to prevent the foods in those areas from burning. There is no need to use more than a light coating. This rule of thumb applies whether you preheat the Crock-Pot or not.
Advertisement
Strategically layer your ingredients for optimal cooking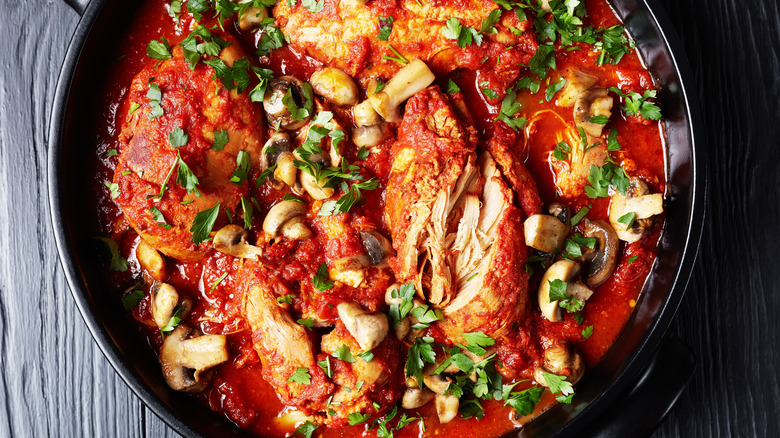 from my point of view/Shutterstock
Layer sturdy ingredients — like onions, garlic, potatoes, sweet potatoes, beets, or other root vegetables — on the bottom and sides, where the hotter zones are. They'll cook more evenly in those spots. And this will reserve space for more delicate ingredients — like meat or cheese — to layer on top and in the middle. If you're using wine, for added flavor you could marinate the meat or vegetables in it beforehand, then add the rest 30 minutes before the end of the cooking time.
Advertisement
Don't pack your slow cooker more than ⅔ full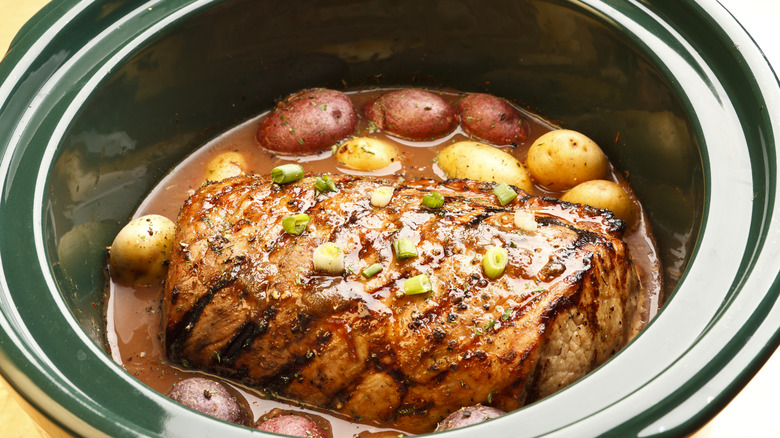 Steele2123/Getty Images
If you overstuff the Crock-Pot, in a worst-case scenario, it could overflow on the counter. Or it may not cook everything evenly if you stuff too much in there. The alternative is true, too; it may overcook if there's not enough liquid for the dish. You'll want to try to keep the liquid level at least halfway up the crock. This will help to prevent drying or burning.
Advertisement
Cook the meat on the stove first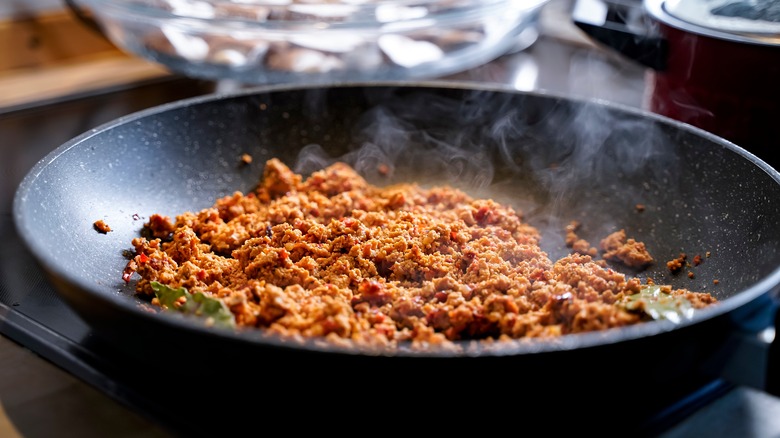 Johannes Ziegler Photo/Shutterstock
Brown your meat in a skillet first to get maximum, robust flavor. (Some people prefer to brown at the end to keep that crusty outer texture, but the meat is often so fall-apart soft by then, it can be tricky.) Then deglaze the skillet and add the deglazing juices to the crock. Drain off most of the fat of fattier meats like pork shoulder first, before deglazing. Don't forget to refer back to #1 and preheat your slow cooker while you're doing this!
Advertisement
Dredge your meat in cornstarch and flour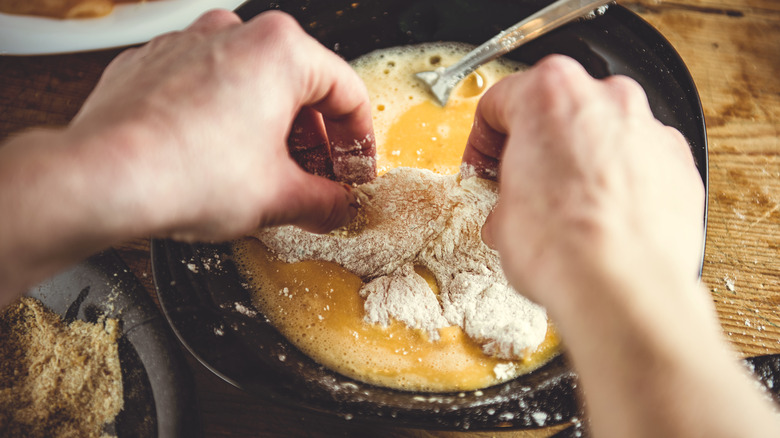 Kerkez/Getty Images
If you want to make sure the liquid at the end is thicker, dredge your meat in flour before browning. Or add a little blend of one part cornstarch and two parts water an hour before the dish is ready. Cornstarch molecules will help to absorb the water, and they will give the remaining broth a nice dense texture. If you'd prefer a thinner broth, skip this step.
Advertisement
Add delicate vegetables or cream at the end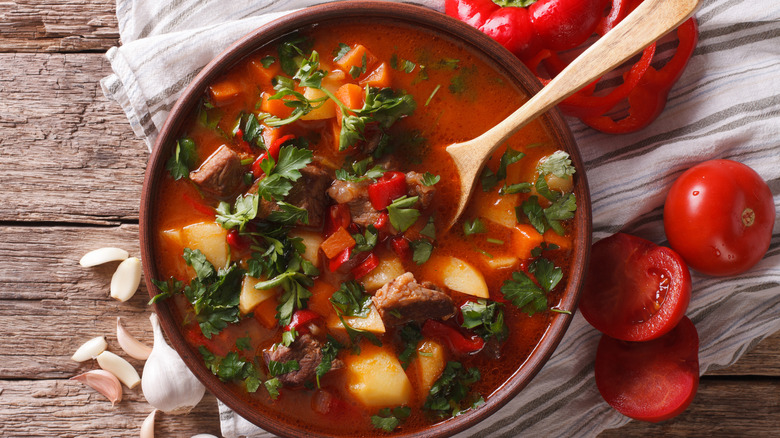 AS Foodstudio/Shutterstock
Softer, more delicate ingredients, such as tomatoes and spinach, should go in during the last hour of cooking. Add dairy items, like cream, at the last half hour or less to prevent curdling. If your recipe calls for wine, you could add it in the last 30 minutes of cooking. Consider using a light red without too much oak, like a Zinfandel or a Merlot, or you risk the flavor starting to taste bitter the longer it's cooking in the Crock.
Advertisement
Add water or stock after the other ingredients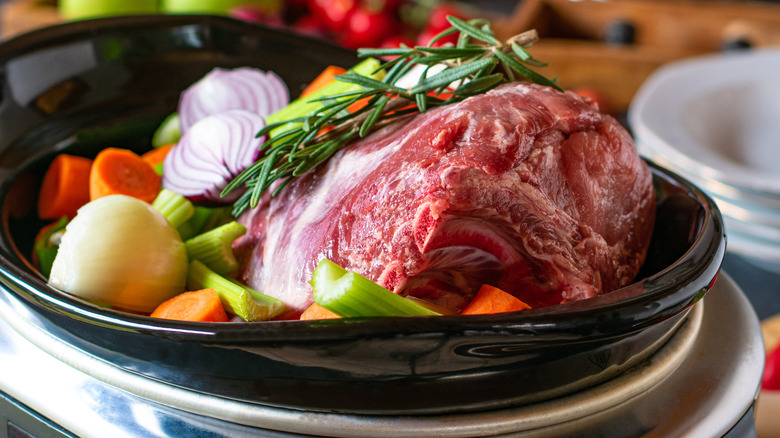 Angelika Heine/Getty Images
When your soup or stew recipe calls for adding broth or water, first you'll put the solid ingredients in the crock, and then you'll want to pour the liquid over that, to prevent overfilling. You can add more liquid (water or broth) just before serving if you want the broth to be thinner. If you're including wine, most of the alcohol will cook out within that last 30-minute window.
Advertisement
Don't be shy about seasoning, and add herbs at the end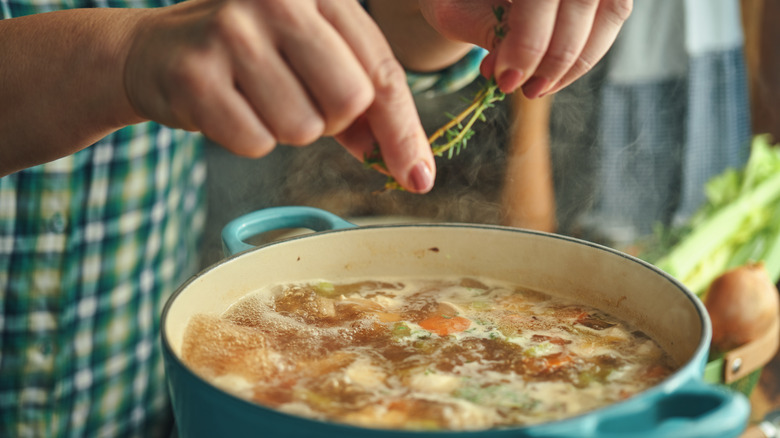 Gmvozd/Getty Images
A slow cook can develop wonderful flavors in meat and vegetables, but it can also start to mute valuable notes that are found in fresh herbs. Season a bit more aggressively with this method because with this kind of slow cooking, the potency can fade after several hours. That's especially true with fresh herbs, which should go in during the last 15 minutes.
Advertisement
Be aware of the temperature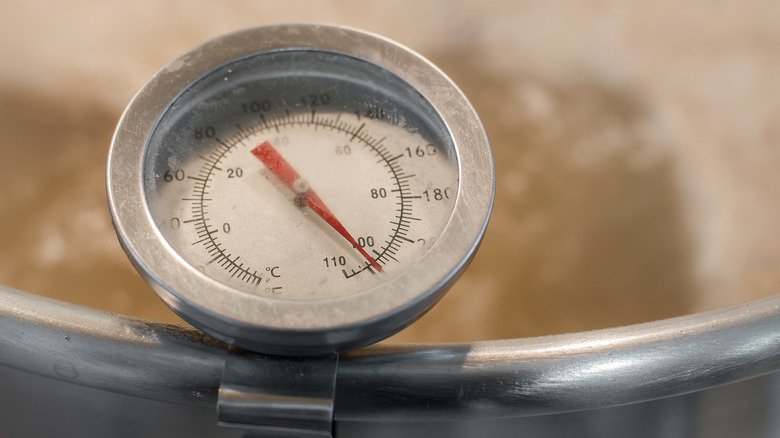 Jhk2303/Getty Images
The typical slow cooker keeps food between 180 degrees Fahrenheit and about 210 degrees Fahrenheit, with at least three options: high (cook for eight to 10 hours), low (four to five hours), and warm, to maintain the dish's temperature after it's done cooking until you're ready to serve it. Don't leave it on the warm setting for more than four hours or you'll risk changing the flavor of the dish significantly.
Advertisement
Don't open the lid until you're finished cooking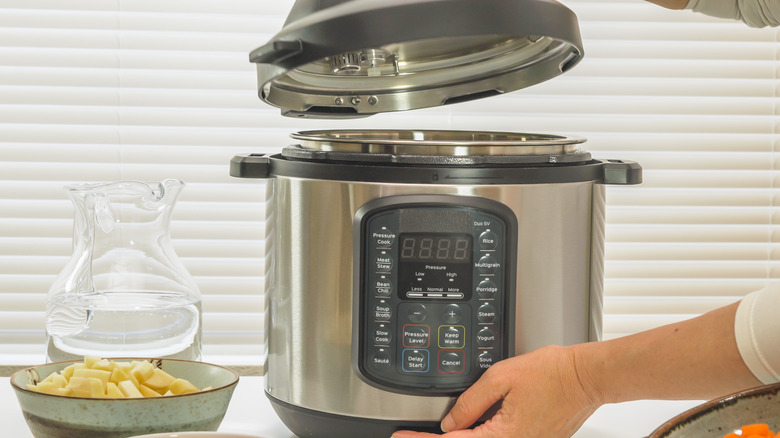 HannaTor/Shutterstock
Don't open the lid during cooking. The steam will be hot, and opening the Crock-Pot can lower the temperature, adding to the time you will need to cook your food. 
After you unplug the Crock-Pot, let it cool. Then remove the leftovers, take out the stoneware from the heating element, and put it in the dishwasher. Most models have dishwasher-safe stoneware — and the lid can go in, too.
Advertisement