The One Difference Between A Milkshake And A Malt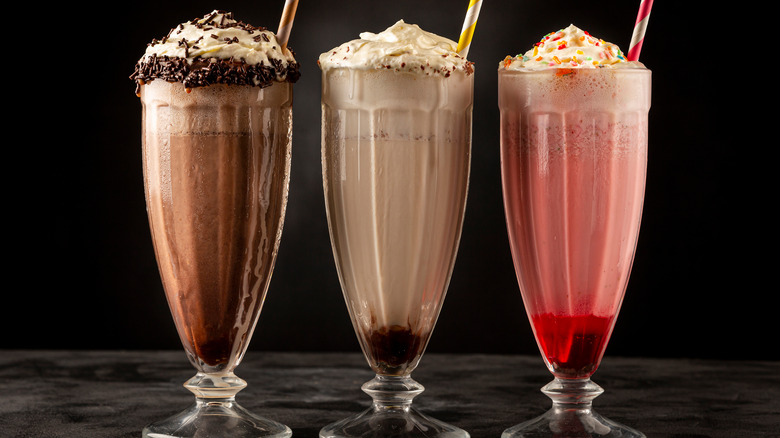 WS-Studio/Shutterstock
There aren't many treats more satisfyingly nostalgic than a classic milkshake. Served at ice cream shops and burger joints alike, what could be better than rich ice cream blended up with whole milk to make an extremely velvety and rich dessert to drink with a straw or scoop up by the spoonful? Those who tend to order malts over milkshakes, however, say one ingredient actually can make an ice cream shake even better: malted milk powder.
Advertisement
It may seem like a small difference, but a couple tablespoons of it to milkshakes makes a malt ice cream beverage worthy of its own spot on your local diner's menu. When whirled in the blender with a variety of ice cream flavors and milk, malted milk powder, made of finely ground and dried malt barley, evaporated milk powder, and wheat flour, adds an added layer of sweetness, nuttiness, and creaminess that accentuates and compliments the best qualities of a milkshake.
What, exactly, is malted milk powder?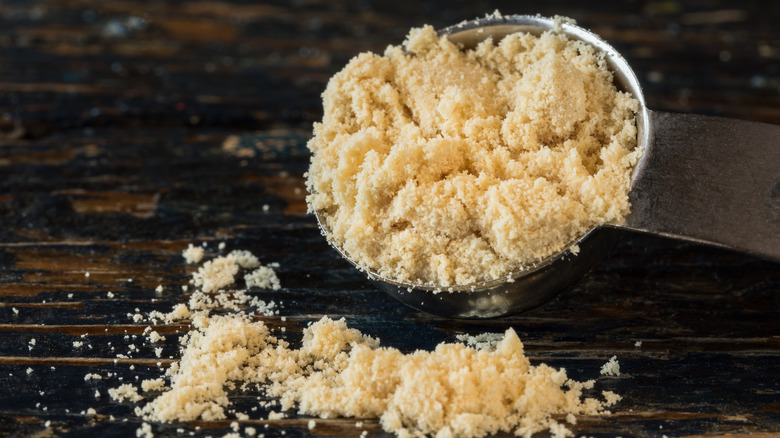 Michelle Lee Photography/Getty Images
When you hear malted milk, you may think of crunchy malted milk balls that make their appearance in your bag of Halloween candy each fall (Whoppers or Maltesers, depending on where you are). While malted milk powder is a key ingredient in that confection, it was conceived in 1873 as a dietary supplement to help infants with digestion. In the 1920s, the tasty tan powder, which people had used to make chocolate milk beverages, started to get added to milkshakes, and the concept of a malt was born. The malty shake proliferated as a dessert staple in the height of ice cream parlors during Prohibition.
Advertisement
Today, malted milk powder comes in chocolate and vanilla flavors, and can be bought at the store. To stock your cabinet with the flavorful ingredient, look for the original brand, Horlicks, or try out Nestle Carnation. Adding it to a milkshake to make a malt adds such a nice flavor and textural complement since malt powder is all about the combination of its few simple components. Barley malt, which has been sprouted, dried, and ground adds a depth of sweet, toasty flavor that is sometimes described as caramelized. Combined with the rich, dairy notes of evaporated milk, along with wheat, the mixture blends in perfectly to create a balanced, yet elevated flavor profile for your shake, with an added thickness.
Advertisement
To make your own shake or malt, get creative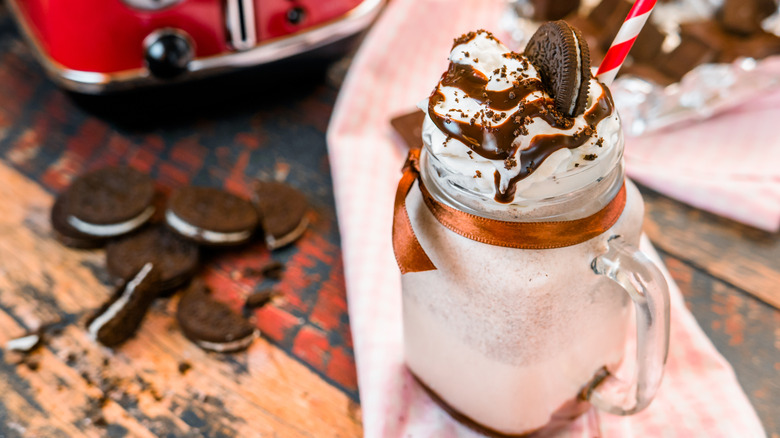 Vitaly Goncharov/Shutterstock
Though some people may swear by their preferences for malts over milkshakes, you really can't go wrong with either luxurious ice cream treat. The best way to determine your preference is to try a variety of shakes. Experiment at home by combining two to three tablespoons of malted milk powder in a blender with a pint of your favorite ice cream and half a cup of whole milk, until creamy and smooth. Then, pour the malt into two tall glasses to enjoy with a friend.
Advertisement
Since malted milk powder comes in chocolate and vanilla, adding it in will complement and uplift these respective traditional milkshake ice cream flavors. But you can also try blending malted milk powder in to make a caramel, butterscotch, or coffee ice cream malts with a seriously toasty flavor complexity. Blend in some Oreo cookies for an extra creamy cookies and cream malt. 
Some advise staying away from fruity ice cream, but it's definitely worth mixing and matching various flavors, like tart raspberry ice cream or adding in banana chunks, to put a twist on old classics. If you're looking to reduce dairy or just have plant-based ingredients on hand, play around with adding non-dairy ice creams, including coconut or almond milk-based dairy alternatives, to accentuate the nuttiness of the milk powder. Whatever your flavors, just remember to have fun with the process, and don't forget the sprinkles and fresh whipped cream swirled on top.
Advertisement