What Is Pink Lemonade, Exactly?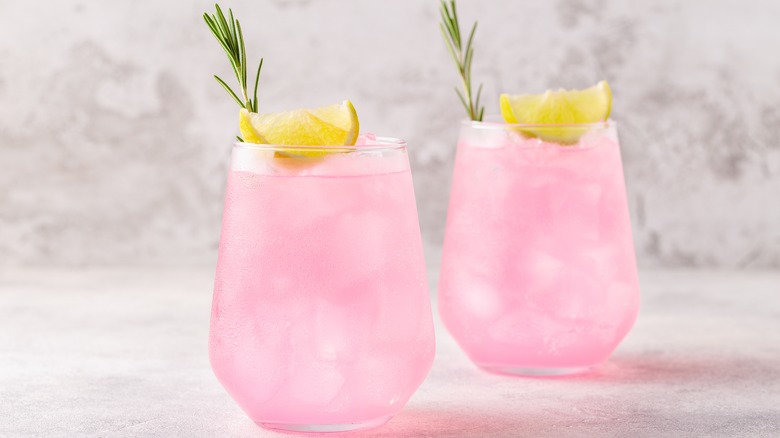 Tatiana Bralnina/Shutterstock
We may receive a commission on purchases made from links.
Pink lemonade is a classic beverage of summertime and childhood alike, and there are many people in this world who would opt for it over regular lemonade when given the chance. However, if you were to put a glass of pink lemonade and a glass of yellow lemonade in front of a blindfolded person and had them try each one, chances are they wouldn't be able to tell the difference. That's because in general, pink lemonade is just regular lemonade with a bit of extra coloring.
Advertisement
The actual ingredient used to change the color of lemonade from yellow to pink varies depending on whether it's being made commercially or on the spot, but it can be anything from grenadine to beet juice. Many big brand companies make pink lemonades using concentrated grape juice; for instance, when looking at the ingredient lists for Minute Maid's regular and pink lemonades, the only differences are that the pink lemonade includes 1% more juice, which can almost certainly be attributed to the added ingredient of grape juice concentrate, which it specifically says is "for color." Technically, any lemonade that is pink can be labeled "pink lemonade," so products like strawberry lemonade also fit the bill; but on the whole, pink lemonade is just what it sounds like — lemonade that has been turned pink.
Advertisement
Origins of pink lemonade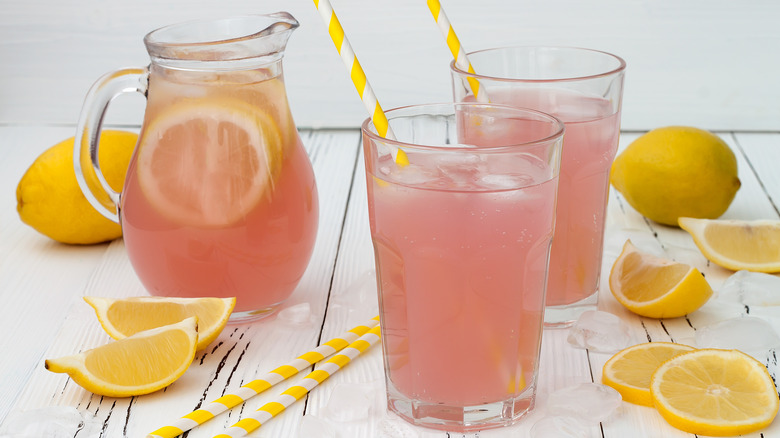 Sveta_zarzamora/Getty Images
The earliest story of how pink lemonade came to be is outlined in the 1921 book "The Ways of the Circus: Being the Memories and Adventures of George Conklin Tamer of Lions" by Conklin himself and Harvey W. Root. The pair of them wrote that in 1857, George's brother Pete needed to come up with a new drink after selling out of lemonade. Since he was out of water, he used the dirty water from a laundry basin that had been tinted pink by a performer's freshly worn pink tights. Conklin dubbed the resulting drink "strawberry lemonade," and the vendor's sales allegedly skyrocketed. Pete has some competition as far as the credit goes, however, as author Josh Chetwynd explains in his book "How the Hot Dog Got Its Bun: Accidental Discoveries And Unexpected Inspirations That Shape What We Eat And Drink" that an obituary from a 1912 edition of the New York Times alludes to another circus worker, Henry E. Allot, as being the accidental inventor of the drink. One day, Allot simply knocked some red cinnamon candies into the regular lemonade and sold the new, unintentionally pink drink as is. 
Advertisement
Despite the tales, the earliest printed recipe for pink lemonade is traced to E.E. Kellogg's 1892 cookbook "Science in the Kitchen," which calls for "a half cup of fresh or canned strawberry, red raspberry, currant, or cranberry juice" to achieve the rosy hue. 
Making your own pink lemonade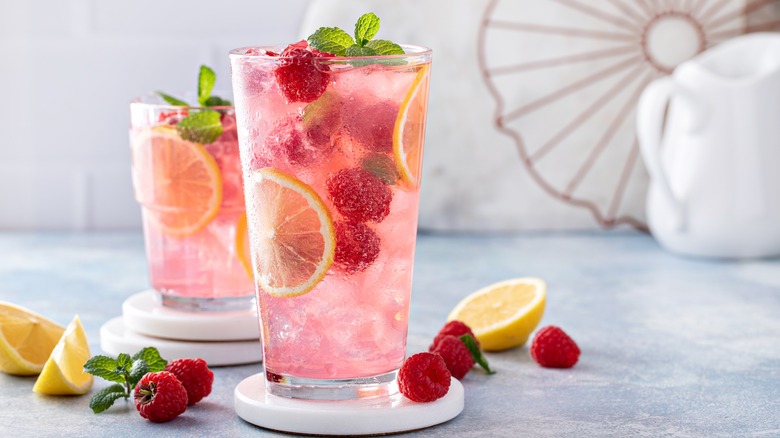 Elena Veselova/Shutterstock
If you want to make pink lemonade at home, start by making a batch of regular lemonade. There are several recipes out there, but an easy way to make it starts with nine cups of water in a large pitcher. Add two cups of sugar and two cups of freshly squeezed lemon juice to the water, then mix everything together. As you mix, the sugar should dissolve so you're left with a clear beverage. Once you have your lemonade, there are a few ways you can turn it pink.
Advertisement
The easiest method is to simply add a few drops of red food coloring. Add a drop at a time, mixing after each drop until you've reached your desired color. To give your pink lemonade a bit more flavor, swap out the food coloring for your favorite red juice, like cranberry or strawberry juice. You can add more or less depending on your preferences, but about a cup should help you achieve the perfect pink color without too heavily altering the = taste of the classic, refreshing drink.