How To Bend The Rules To Get Trader Joe's Delivered To Your Home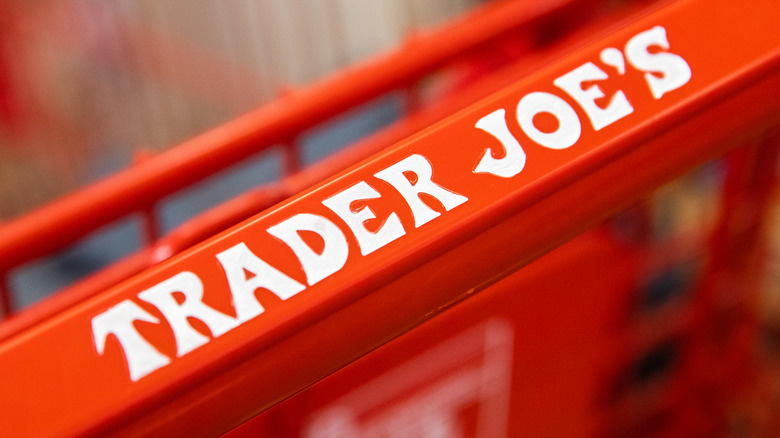 Bloomberg/Getty Images
While it is no doubt loved by millions of Americans, the grocery chain Trader Joe's does have one glaring shortcoming: it doesn't deliver (nor does it allow you to order your groceries in advance for pick-up). The company's official explanation for this is that Trader Joe's wants to be a good ol' fashioned "neighborhood grocery store." The company says it places a premium on having a top-notch in-store experience and if it were to offer its wares via a delivery app like Instacart, it couldn't guarantee the same level of quality when it comes to shopping experience.
Advertisement
Of course, the company could set up its own delivery service, but it hasn't, likely because this is a huge and expensive project that could take years to properly get into place. While innovative in terms of product offerings, industry experts have described the company as resistant to change, and suggest that building this kind of delivery service seems to be nowhere in the company's plans. However, there are workarounds — although Trader Joe's doesn't officially work with grocery delivery applications like Instacart or Dumpling, you can use apps like TaskRabbit to get a personal shopper to deliver your Trader Joe's haul. You can even order some of the more popular TJ's offerings through resellers on sites like Amazon, as some have made them available there. 
Advertisement
Ordering Trader Joe's via app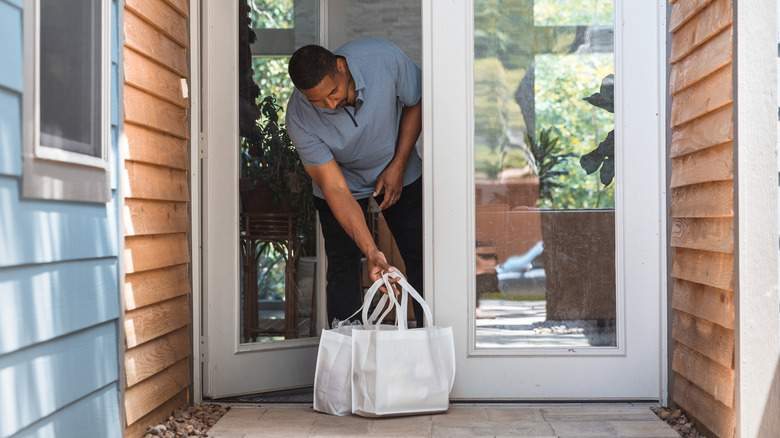 Sdi Productions/Getty Images
Any app where you pay people to run errands can be used to get Trader Joe's delivered, and TaskRabbit is the most well-known option here. The only problem is, because they don't have any official affiliation with the store, the shopper won't be equipped with an inventory of what your local Trader Joe's stocks. Because of this, you may need to be prepared to respond to messages about substitute items, or else accept that you may not get everything on your list. It would probably be wise to request items that are likely to be in stock — nothing too niche or seasonal. Your TaskRabbit helper will pay for the groceries themselves, and then file the receipt for reimbursement in the app (naturally, the cost of groceries gets passed on to whoever made the order). 
Advertisement
Though it also doesn't officially coordinate with the grocer, the grocery shopping app Dumpling allows you to order from Trader Joe's as well. Just like TaskRabbit your assistant will only have the list you provide them, and won't be able to utilize the app's time-saving features like store directory information, etc. For this reason, it's important to remember that you're essentially paying your personal assistant a fixed hourly rate, so appropriately factor in the time spent searching for items and in the checkout line. Payment is similar to TaskRabbit, except that Dumpling (not the shopper) pays for the groceries, and the cost is passed on to you. 
You can get Trader Joe's products online, too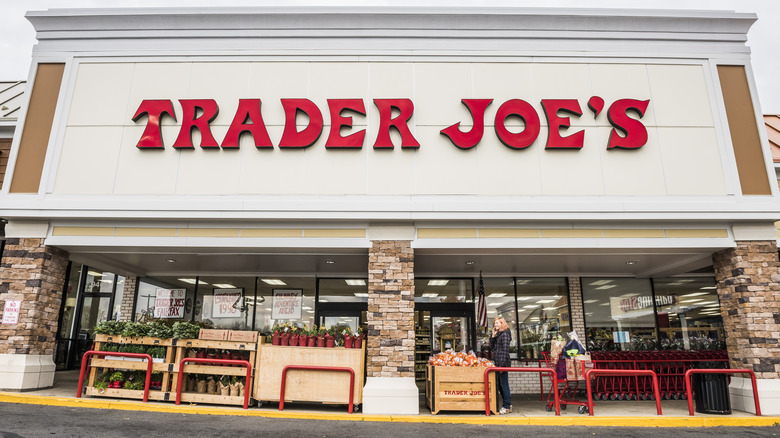 Ablokhin/Getty Images
If you've really got more money than time, you can also try buying Trader Joe's products from folks reselling them on Amazon, where they'll be delivered to your door. But don't rely on this method to get everything from your shopping list in a speedy fashion: While there's a decent selection of Trader Joe's products on Amazon, they're not necessarily all coming from the same seller, and delivery will be far less immediate than a service like TaskRabbit as many of the sellers aren't eligible for rapid Amazon Prime delivery. But if there's a limited number of specific Trader Joe's products you want, it's a passable option. Be warned that you may pay some rather inflated prices — nearly $9 for a shaker of chile lime seasoning blend, anybody?
Advertisement
Amazon isn't the only platform with Trader Joe's products for sale, either. Walmart and eBay are also options, but you'll pay similarly high prices for the luxury of not leaving your home.