What Is The Difference Between Beignets And Zeppoles?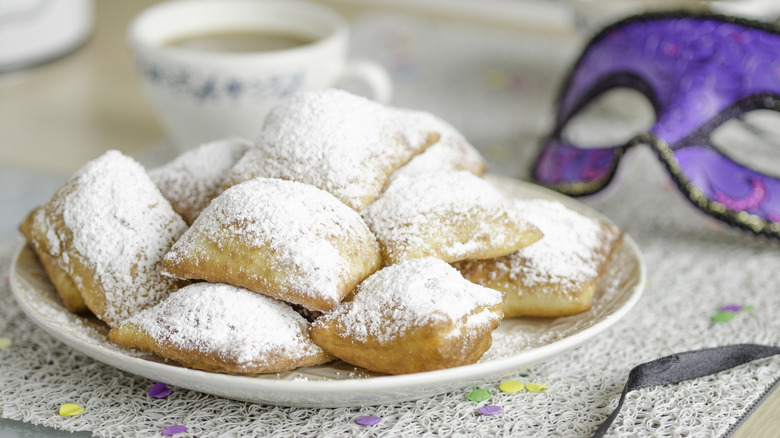 Gwenael Le Vot/Getty Images
If you've had the opportunity to visit New Orleans' French Quarter, you've likely sampled a beignet and totally get what all the hype is about with this pastry. The sweet treat is basically fried dough, cooked until fluffy and golden, then doused with powdered sugar. (Which will end up covering any and all surfaces as you dig in.) But if you've also had the Italian sugar-covered pastry called a zeppole, you may have wondered how it differs from New Orleans' signature donut. While the desserts are both great examples of fried, doughy goodness, there are a few key differences between them — namely, their origins, shapes, and toppings — that make the two unique. 
Advertisement
Common throughout the Big Easy (in fact, in 1986 bignets became Louisiana's official state donut), the sugary confection is derived from French cuisine. It's said French-Creole colonists brought the recipe with them when they established the French Quarter in New Orleans in the early 18th century. Zeppoles, on the other hand, are most common in the Northeastern corridor in the U.S. and are generally served at events surrounding high religious holidays.
Though zeppoles aren't attached to one particular city like beignets, they're enjoyed in Italian cafes in a similar fashion to beignets: for breakfast, with a cup of coffee or espresso. The biggest tip-off you've spotted a beignet is the fried pastry's square shape, as opposed to zeppoles' round shape, and a comparatively generous covering of powdered sugar.
Advertisement
Beignets are typically shaped, while zeppoles are spoon-dropped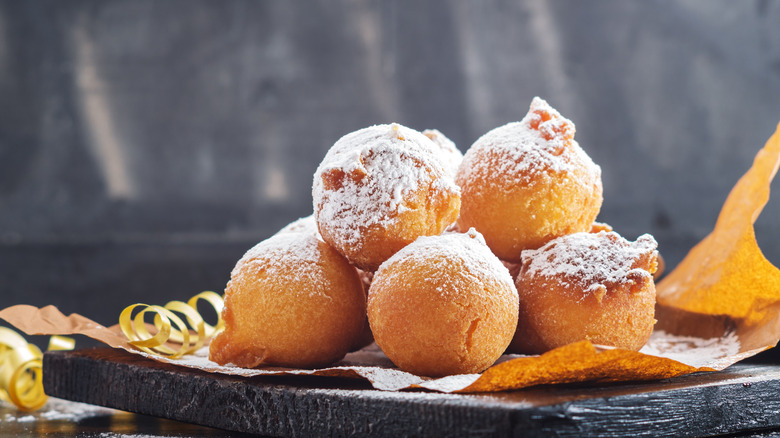 Olga Larionova/Shutterstock
Both beignets and zeppoles are made from choux pastry, which is cooked on the stovetop and has a texture somewhere between dough and batter. While zeppole dough is said to be slightly thicker, both donut-like pastries have similar ingredients, including flour, eggs, salt, sugar, and milk; there are also variations on both pastries made with potato. The two are both yeast-based doughs, which require a rising and proofing step prior to frying, which gives them their infamously fluffy textures.
Advertisement
Where the two usually differ comes down to form and the amount of sugar they're topped with. Zeppoles are typically shaped like round balls, similar to donut holes. They're made by spooning the dough into frying oil. Beignets, on the other hand, are typically made by rolling out the dough and shaping it into squares, rectangles, or triangles before frying. Both pastries are typically dusted with powdered sugar, but when it comes to beignets, bakers don't skimp on the sweet topping — seriously, they're usually covered in heaps of powdered sugar. Whereas with zeppoles, the sugary coating can be a bit lighter, and it's not exclusively powdered sugar. They can be dusted in powdered sugar, granulated sugar, or a cinnamon sugar mixture.
Advertisement
How the two fried dough treats are enjoyed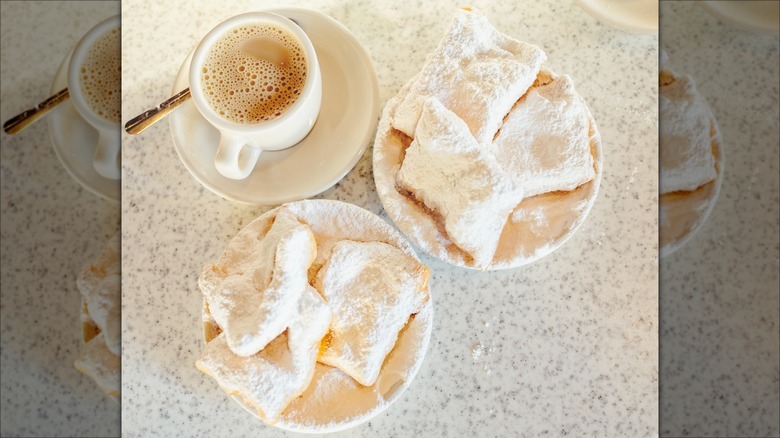 Espiegle/Getty Images
Beignets and zeppoles are both traditional festival treats, with beignets enjoyed on Mardi Gras and zeppoles popularly served on St. Joesph's Day, though both are eaten year-round. At New Orleans' classic Cafe Du Monde — which is technically a coffee stand — beignets are actually the only food item on the menu and are served in orders of three. Visitors to the landmark spot like to order their beignets with a cafe au lait, or coffee with chicory and hot milk. As the simplicity of beignets speaks for itself, they're often eaten with just powdered sugar, but the fried pastries can also be stuffed with fillings like chocolate or Nutella. Some spots in New Orleans even go as far as to serve them stuffed with pralines, resulting in a true Southern treat.
Advertisement
Zeppoles are often enjoyed with coffee — or espresso if you're in Italy — for breakfast, as a quick treat throughout the day, or as a sweet dessert. The dough balls can be served plain, but are often filled or topped with custards, jams, or even ricotta cheese; they are even enjoyed as a savory snack, made with anchovies or salami.
Whichever doughy treat you find yourself dabbling in, it's likely you'll want napkins to catch excess sugar and a warm beverage to sip on in between bites.