What Is The Difference Between Pho And Ramen?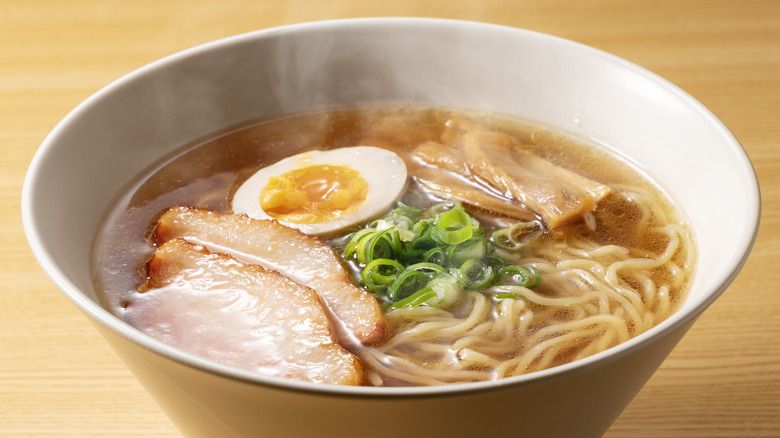 Masa44/Getty Images
Pho and ramen are often confused for one another since they both have a broth and noodle base served with a number of different toppings. And while pho and ramen are both delicious and comforting soups, when it comes to their individual recipes and flavor profiles, the two couldn't be more different.
Advertisement
For one thing, pho and ramen are from different parts of the world. Pho originated in northern Vietnam while it was still being colonized by France, sometime around the late 1800s. There is some debate over how exactly pho came to be, and whether it was derived from a French dish, which is how many pho recipes could incorporate beef, or a Chinese one, which would explain why pho uses rice noodles and spices typically seen in China. Either way, pho is still an important part of Vietnamese culture today.
Ramen is a Japanese dish. It also dates back to the late 1800s, when Chinese immigrants brought their broth and noodle soup to Japan. Ramen quickly caught on throughout the country, with the first official ramen shop opening in Tokyo in 1910. As time went on, new variations of ramen were invented, and the dish became a popular street food. These days, ramen is enjoyed around the globe, and viewed as a hallmark of Japanese cuisine.
Advertisement
Pho recipe and flavors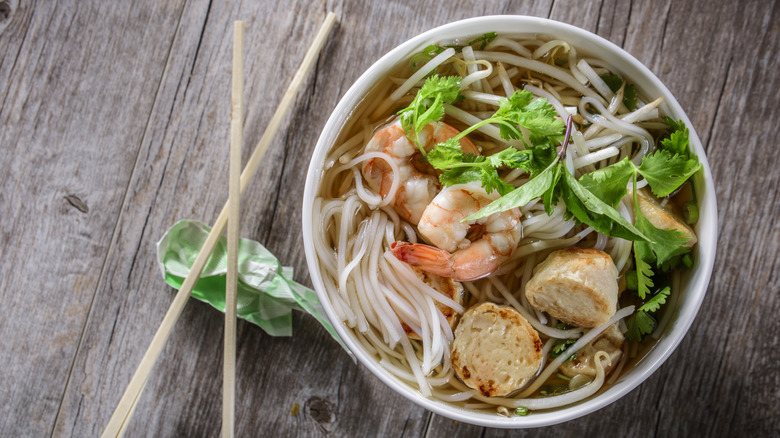 4kodiak/Getty Images
It can take a long time to make an authentic bowl of pho, and the process starts by roasting beef bones and onions until they are charred. Then, the bones and onions, along with fish sauce and spices like ginger and star anise, are thrown into a pot to be simmered for up to ten hours. Afterwards, the broth is strained and the noodles are prepared. Translucent rice noodles are soaked for an hour before they are quickly boiled and then served in the broth. Pho is traditionally topped with beef, but chicken and pork are also popular protein choices. Bean sprouts, lime, cilantro, green onion, jalapenos, and hoisin sauce are all common toppings for a bowl of pho.
Advertisement
The final result will differ depending on how one customizes their pho, but in general the taste of this soup is aromatic, earthy, and bright. Pho broth is much lighter than that of ramen, and the noodles are more tender. Pho also usually includes less toppings than ramen, and the toppings that are featured are usually light and herbaceous; the focus of the dish is on the flavorful broth.
Ramen recipe and flavors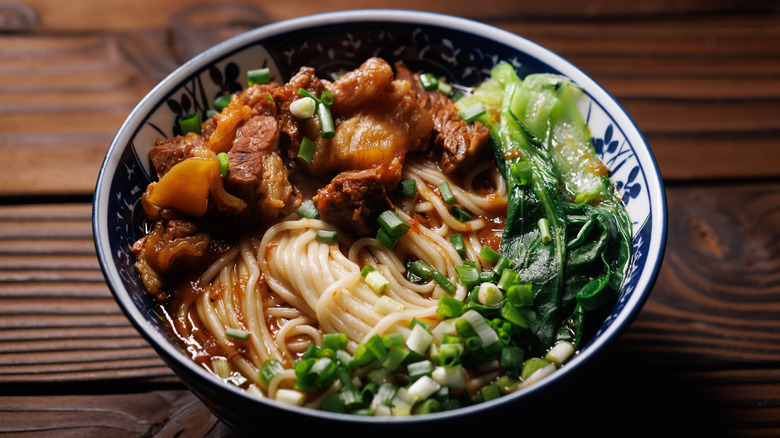 Somethingway/Getty Images
It's possible that you've made a bowl of ramen yourself using the instant packets found in grocery stores, and while instant ramen is a perfectly tasty meal, authentic ramen recipes are a bit more involved. There are many different types of ramen that rely on using different broths, like miso, tonkotsu, or pork bone broth. A typical ramen recipe starts similarly to pho — pork or chicken bones are simmered for a few hours to create a broth. However, one crucial difference between pho and ramen is the noodles. While pho uses delicate rice noodles, ramen noodles are made with wheat flour and a special alkaline water called kansui. The kansui makes the noodles especially chewy and resistant to the hot broth.
Advertisement
The ramen noodles and broth are accompanied by many more hearty toppings than pho. Sliced and roasted pork or chicken, soft-boiled eggs, bamboo, seaweed, scallions, corn, pink and white fish cakes, sprouts, mushrooms, and more are all on the table. All these options, along with the various broth possibilities, means that ramen usually has a more vibrant and complex flavor profile than pho, whose strengths come from its simple, straightforward taste. Ramen has a broader spectrum of flavors, from spicy to savory and everything in between. But despite their differences, ramen and pho are both comforting, customizable soups perfect for anytime you need a good meal.