What Exactly Are Corn Nuts And How Did They Get So Popular?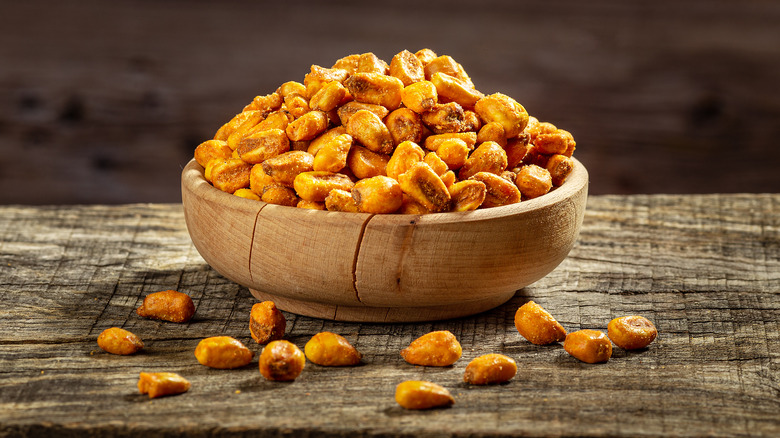 Victoriabobr/Getty Images
A staple of any American snack shelf from gas stations to supermarkets, Corn Nuts are a somewhat deceptive snack. That's because, despite the name, there aren't any nuts to be found in a package of Corn Nuts; the snack is pretty much roasted, toasted, or deep-fried kernels of corn. Originally, they were seasoned only with salt, but the jaw-breakingly crunchy snack has evolved, and various flavors, from barbecue to ranch or jalapeño cheddar, now exist.
Advertisement
The Corn Nuts Americans are most familiar with have been around for nearly a century. In 1936 (after the end of prohibition), Olin Huntington, an entrepreneur from the Bay area produced them as a cheap snack to be handed out free at bars — although this fell apart when California introduced a law that forbade watering holes from handing out free food. This is what led another man, Albert Holloway, to snap up the company and pivot towards selling the corn snack in stores. He ended up trademarking the name Corn Nuts (sometimes written as "CornNuts") in the '40s, and he and his family held onto the company until 1997 when it was sold to Nabisco, which was conglomerated within the food giant Kraft Heinz and later food processor Hormel. But this is just the modern story of Corn Nuts, as the snack's history goes back much further.
Advertisement
Roasted corn snacks go back centuries in the Americas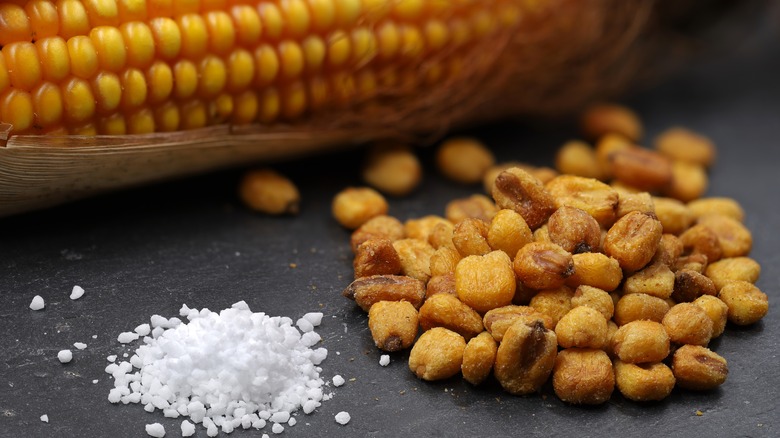 MakroBetz/Shutterstock
Corn is native to the Americas, so it should be little surprise that Indigenous populations had already figured out ways to roast and toast corn kernels in the style of Corn Nuts long before Huntington crafted them as a salty bar snack. Native Americans have been roasting corn kernels for centuries, referring to them as "parched corn," and European colonizers also picked up on this method of preparation as they settled parts of the U.S.
Advertisement
Meanwhile, other versions of the snack exist in South America. For example, Peru has cancha salada, which involves dried corn being fried in oil or lard and then seasoned. It's also a popular accompaniment for beer and other boozy drinks. In Ecuador, you'll find more or less the same snack served with a different name, chulpi. You may also find the same uber-crunchy snack under the name "maiz tostado" in other Spanish-speaking parts of South America.
How did corn nuts get so popular?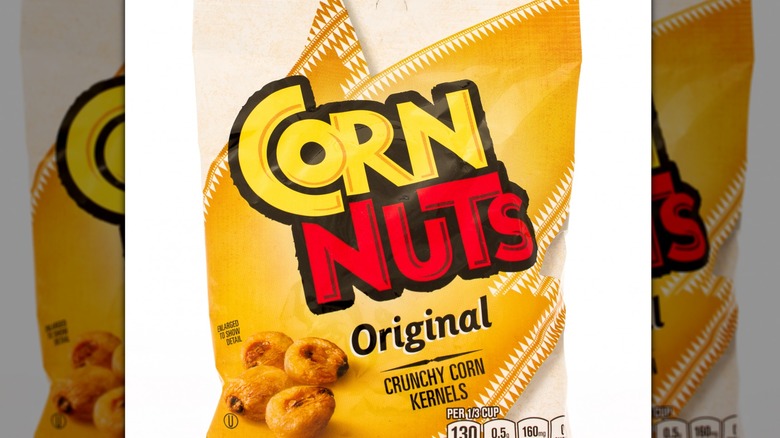 Memoriesarecaptured/Getty Images
There's no single explanation for Corn Nuts' staying power; like any lasting product, it's a mix of clever advertising and being a good old tasty snack. Once the brand gained distribution across the U.S. in the 1960s, in a pre-internet viral publicity stunt, the company drew attention to itself by enclosing sachets of giant corn seeds inside Corn Nuts packaging. Customers reportedly planted these and grew ultra-high corn plants across the country, garnering Corn Nuts some free marketing on radio stations. More recently, the company also leaned into grabbing attention through an oddball social media presence (a strategy used by countless brands from Wendy's to Moon Pie). The ribald Instagram handle, @showmeyourcornnuts should give you some sense of the ad shenanigans they get up to.
Advertisement
But for that marketing to work, Corn Nuts still need to be a delicious snack. And while their aggressive crunchiness may not be to everybody's taste, there's evidently some appeal to fried corn. As a salty snack, they're a great accompaniment to beer (something that's been proven both in the U.S. and in places like Peru). Plus, like potato chips, corn kernels are neutral enough that companies like Corn Nuts can create new flavors that appeal to different tastes. These various factors helped turn Corn Nuts into an enduring feature of America's snack food landscape.