All featured products are curated independently by our editors. When you buy something through our retail links, we may receive a commission.
From Christmas cookies and birthday cakes to bake sale brownies and Sunday morning muffins, there's almost always an occasion (or a good excuse) to bake. Whether you're ready for your spot on "The Great British Baking Show" or more suited to an episode of "Nailed It," having the right equipment can only make your baking better. So we've rounded up the best baking tools to have in your arsenal.
Sure, you can get by with the bare minimum—for decades, my mom used a heavy silver fork for everything from creaming butter to beating eggs and was the official birthday cake baker in the family (and at work) because her desserts were amazing, but even she's upgraded to a KitchenAid in the past few years. Speaking of stand mixers, some of these baking tools are definitely more nice-to-have than must-own, but all are certain to improve your baking game.
Stand Mixer
We Like: KitchenAid Artisan Series 5-Quart Tilt-Head Stand Mixer, $499.99 at KitchenAid
A stand mixer is a bit of a splurge, but it's well worth the investment. It makes whipping cream and egg whites, mixing doughs and batters, and even kneading bread a breeze, but it does a lot more than that, too. Another bonus: you can leave them running while you attend to other tasks (just don't forget and overwork your dough). Depending on your budget and your space, you can buy smaller models, like the KitchenAid Mini, or ones with a bowl-lift design (great when you don't have a lot of clearance under your cabinets)—and they all come in a rainbow of gorgeous colors to match any décor. See how to choose which KitchenAid mixer is right for you.See It
Exclusive Discount: When you use the code CHOWHOUND10, you'll get 10 percent off everything at KitchenAid.com.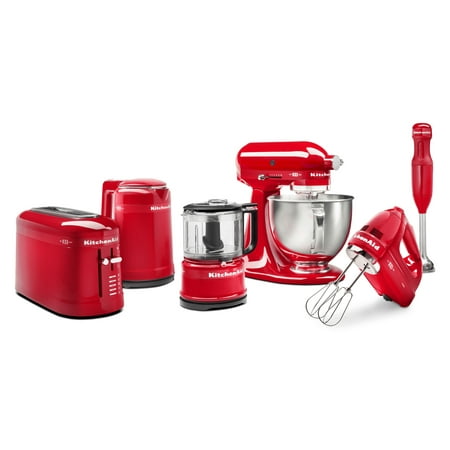 KitchenAid Queen of Hearts Collection, $49.99-$399.99 at Walmart
Browse the 100th anniversary limited-edition KitchenAid Queen of Hearts collection, including the iconic stand mixer, of course.
Buy Now
Hand Mixer
We Like: KitchenAid 9-Speed Hand Mixer, $129.99
If a stand mixer isn't in your budget, a hand mixer is the next best thing (and it couldn't hurt to have both, so you can break out the latter for smaller jobs). In any case, a hand-held electric mixer sure beats, well, beating eggs and whipping cream with a whisk—or a fork, as my mom can attest. This 9-speed model comes with the usual egg beater attachments, as well as 2 dough hooks and a pro whisk.See It
Oven Thermometer
We Like: Rubbermaid Stainless Steel Oven Thermometer, $7 on Amazon (originally $17.30)
You might think this is pointless—after all, your oven has temperature settings already. But you might be surprised by how inaccurate those controls really are; an oven thermometer will tell you exactly how hot your oven actually is, and allow you to adjust accordingly, for precisely baked cakes, cookies, breads, and more.See It
Nonstick Silicone Mats
We Like: AmazonBasics Silicone Baking Mats, 2 for $8.38
Nonstick silicone mats are perfect for rolling out dough, cooling sticky candy or chocolate-coated confections, and for lining baking pans so cookies and other baked goods don't stick (without the need for any extra fat, or wrestling with parchment paper). You can get an extra-large silicone mat with circular guidelines for rolling out pie crusts, which is helpful if you're not great at free-handing it, but you'll probably want to stock up on several baking mats anyway—and these are a great price. They also come in 3- and 4-packs.See It
Digital Scale
We Like: Greater Goods Digital Kitchen Scale, $9.95 on Amazon
Serious bakers need a scale. It's the surest way to measure the precise amount of each ingredient—which matters quite a lot in baking—and it lets you cook from metric recipes without having to do any conversions. Another bonus: you can just keep adding same-step ingredients to the same bowl, so you dirty fewer dishes. These days, digital scales are incredibly affordable, and small enough that they barely impose on your storage space. Really, they deserve a place in every kitchen. See It
Pastry Bags and Piping Tips
We Like: Kootek Frosting Tools Set with Piping Tips and Bags, 42 pieces for $11.99 on Amazon
If you're going to be making frosted cakes, cupcakes, and cookies, a professional-grade decorating set will help your goodies look their absolute best. But they're also handy for other tasks, like piping meringue, forming and filling macarons, and squeezing out pâte à choux pastry for protfiteroles and éclairs. This set comes with two reusable silicone pastry bags, 36 different icing tips, and two flower nails for building beautiful roses—even if you need to work up to that.See It
Heavy Wooden Rolling Pin
We Like: J.K. Adams 12-Inch Gourmet Rolling Pin, $17 at Sur La Table
A good solid rolling pin is essential for homemade pies, tarts, and cut-out cookies. The tapered French rolling pin is preferred by many professional bakers; the dowel style allows for more control and maneuverability, yet can be harder for more casual bakers to wield than a the handled style. Whichever type you go with, a longer length rolls out more dough at once, and a heavy weight means you take fewer passes over the dough—but marble can be too heavy. Wood is ideal; just be sure not to soak it in water, lest it split and warp. Adding removable bands can help you get an even thickness across your crust as well.See It
Bench Scraper
We Like: OXO Good Grips Stainless Steel Bench Scraper, $9.99 on Amazon
Bench scrapers may seem unnecessary, but they're great (and inexpensive) little tools for cutting butter, scraping up sticky dough from your counters, and portioning out scones, balls of pie dough, and even roughly chopping mix-ins (or vegetables).See It
Half Sheet Pans
We Like: Nordic Ware Natural Aluminum Half Sheet Baking Pans, 2 for $16.99 on Amazon
If you want to bake a variety of things, you'll need a lot of pans: cupcake pans; loaf pans for banana bread and pound cake; round cake pans for lovely layers; 8- or 9-inch square pans for brownies, blondies, and bars; springform pans for cheesecakes; removable-bottom fluted tart pans; maybe a nice Bundt pan too—and nonstick versions of all are tempting, but if they're dark, they'll make your baked goods brown more quickly. A lighter colored aluminum is especially great for sheet pans, which are probably the most versatile ones you'll invest in; they're great for baking cookies, sheet cakes, and slab pies, toasting nuts, coconut, and granola, and roasting veggies and meat. These heavy-duty, natural aluminum pans are rust-proof and have a rim to help roly-poly items stay put (a cookie sheet, by contrast, won't have a raised edge all around).See It
Cooling Racks
We Like: Betty Crocker 3-Tier Cooling Rack, $14.21 on Amazon
Cooling racks are another item you might think you don't really need, but they help air circulate beneath your pan so your baked goods cool down more quickly and retain the texture you were aiming for. A three-tier cooling rack is nice because it frees up valuable counter space, so you can efficiently cool several pies, cake tiers, and batches of cookies at once.See It
Balloon Whisk
We Like: OXO Good Grips 11-Inch Better Balloon Whisk, $9.99 on Amazon
If you're intent on whipping your eggs or cream under your own power, a balloon whisk is your best bet, and this one has a comfy silicone handle. It's also good to keep on hand for quick and easy jobs when you don't want to plug in a mixer—and you'll use it for lots of savory applications too, from sauces to scrambled eggs.See It
Liquid Measuring Cups
We Like: Pyrex Glass Measuring Cups, 4 for $21.88 on Amazon
While we know digital scales are superior for accurately portioning out ingredients, we also know that lots of people will continue to use measuring cups (and honestly, we still do too…a lot of the time). So it's essential to have high-quality measuring cups. These durable Pyrex glass measuring cups let you clearly see the level of your ingredients from the outside; the spout makes pouring liquids a neater prospect; they can be microwaved (handy for melting butter) or placed in the freezer (great for chilling cream); and they're dishwasher-safe.See It
Cookie Scoop
We Like: OXO Good Grips Medium Cookie Scoop, $13.99 on Amazon
These spring-loaded scoops ensure uniformly sized cookies—and unlike using tablespoons to form the balls of dough, the cookie scoops keep your hands clean. Plus, you can use them for portioning out liquid cupcake batters, making truffles, and carving spheres from soft fruits and veggies too.See It
Mesh Sieve or Sifter
We Like: Chef'n Sift 'n Sieve, $17.95 at Sur La Table
A crank-handle flour sifter is one of those old-fashioned gadgets that's actually useful—but a sieve or mesh strainer can do the same job, as well as many others, from straining fruit juice to standing in for a colander when you want to rinse berries. This one includes a scraper for pressing soft fruits through the sieve while leaving the seeds behind, but several smaller sizes of sieves with handles will prove useful too, since they'll fit into smaller pots and bowls.See It
KitchenAid Scale and Sifter Attachment, $94.99 at KtichenAid (originally $169.99)
If you already have a KitchenAid stand mixer, this handy attachment combines a scale and sifter for even easier baking! Don't forget to use the code CHOWHOUND10 for 10 percent off everything on the site.
See It
Mixing Bowls
We Like: Pyrex Smart Essentials Mixing Bowl Set with Locking Lids, 4 for $25.99 at Target
Full disclosure: At my house, we have a lot of mismatched mixing bowls, many vintage (and mostly ceramic, with a couple stainless steel bowls for making ganache and whipping cream). But if you're in the market for new bowls or could use some extras, this nesting set of Pyrex mixing bowls is a great option—they can go into the freezer, the microwave, and the dishwasher, and they come with lids, so you can store your finished dough or ice cream base in the fridge until you're ready to finish the recipe.See It
Pastry Blender
We Like: OXO Pastry Blender, $12 at Sur La Table

Incorporating small pieces of cold butter into your dough is the key to flaky pie crust, biscuits, and tart doughs. You can keep cutting that butter into your biscuit and pie dough with two forks if you really want to…or you can get yourself a pastry blender and make it much easier. This is also useful for chopping other things besides butter (I used mine the other day for mashing avocados; worked like a charm).See It
Silicone Spatula
We Like: Di Oro Silicone Spatula Set, 3 for $29.97 on Amazon
Silicone spatulas are flexible, heat-resistant, easy to clean, and soft so they won't scratch your bowls and pans, making them great for folding flour into batters, gently mixing in dough additions, stirring melting chocolate, and more. Look for a comfortable-to-grip handle, a one-piece design (so the head won't come off and water won't get trapped between it and the handle), a blade that bends but not too much, and a good size. Cook's Illustrated named Di Oro their favorite spatula of 2017, and this set includes a spoontula and a mini spatula (perfect for getting every last bit of peanut butter out of the jar, among other things) in addition to your standard size spatula.See It
Offset Spatula
We Like: OXO Good Grips Offset Icing Spatula, $9.99 on Amazon
If you're ready to graduate from frosting cakes with a butter knife, an offset spatula is just the thing for neatly spreading icing and filling onto baked goods. It helps level off bar cookies and brownies so they rise evenly, as well.See It
Round Cutters
We Like: Stainless Steel Round Biscuit Cutters, 5 for $14.95 at Sur La Table

Fancifully shaped cookie cutters are great, but even if you don't plan on making gingerbread men, ninjabread men, sugar cookies in the shapes of trees and stars, or, uh, dinosaurs, a set of various sizes of round cutters are great for lots of things, from making simple cut-out cookies and biscuits to making perfect polka dots from fondant.See It
Grater-Zester
We Like: Microplane 12-Inch Premium Stainless Steel Zester Grater with Soft-Touch Handle-Black, $14.95 on Amazon
A sharp, fine grater like the classic Microplane is fantastic not just for zesting citrus, but for grating fresh nutmeg, cinnamon, ginger, and even chocolate (and, of course, making fluffy mounds of hard cheese).See It
Once you're all geared up, all that's left to do is decide what to bake—so check out our baking recipes archive for breads, cakes, cookies, pies, tarts, and tons more sweet treats.
This post was originally published by Sara Lime on January 8, 2007 and was updated on December 10, 2018 with new links, images, and text.
Related Video: 10 Cookie Baking Mistakes
All featured products are curated independently by our editors. When you buy something through our retail links, we may receive a commission. For more great hand-picked products, check out the Chowhound Shop.
Header image courtesy of Shutterstock.
See more articles