All featured products are curated independently by our editors. When you buy something through our retail links, we may receive a commission.
If you've ever opened a box of Chinese take-out and it turns out to be not exactly what you ordered, you may have mixed up your meins. That's right, there is a difference between these two popular Chinese dishes—however, the difference is probably not what you think. While it may be easy to assume that the type of noodles is what makes the dish difference, we all know what happens when you assume. Yes, you're actually incorrect on this one.
So, if not the noodles, what is the difference between chow mein and lo mein, and why do they take up so much room on the take-out menu?
The Similarities
Both chow mein and lo mein are made from the same ingredients. These dishes usually include the same style of thin egg noodles, mixed vegetables, a protein, and a savory sauce. The noodles are made in a similar fashion to an Italian pasta, with a base of eggs and flour. Fresh noodles are preferred for lo mein, but fresh or dried are equally fine for chow mein. Still, they basically seem like the same dish at this point, right?  Not for long.
The Differences
While both dishes contain the exact same components, the difference here is in the preparation, and by extension, the texture.
In lo mein, the dish is pulled together, including the vegetables and/or protein and sauce, before the noodles are added. Then, the noodles are placed into the finished dish and are tossed lightly ("lo mein" actually means "tossed noodles," and "chow mein" means "fried noodles"). This method prevents the noodles from being greasy or saturated in too much sauce and they are slightly warmed through. While noodles help to pull lo mein together as a dish, they really aren't the star of the show, as lo mein includes a hefty amount of vegetables and more sauce.
Chow mein, however, is all about the noodle. After being parboiled til al dente, chow mein noodles are fried and tossed in a darker, thicker sauce that usually includes oyster sauce. And while this dish does contain vegetables and/or a protein selection, they are kept to a minimum so the noods stay front and center.
Chow mein noodles can be fried into a pancake-type dish, but even when they're not fried crunchy, they have more of a tooth-resistant bite compared to lo mein noodles, which are always soft and perfect for fork twirling or slurping.
The flavors, too, are different. Since chow mein noodles are fried first, they add their own flavor to the other components of the dish, which blend together more. In lo mein, however, the vegetables and protein additions keep their distinctive flavors, enhanced by sauce, since the noodles don't spend a lot of time with the other elements of the dish.
Wel-Pac Chow Mein Stir-Fry Noodles, $1.89 at Target
These are the kind of dried chow mein egg noodles that are best for stir-frying (and you can use them for lo mein too if you can't find fresh egg noodles).
Buy Now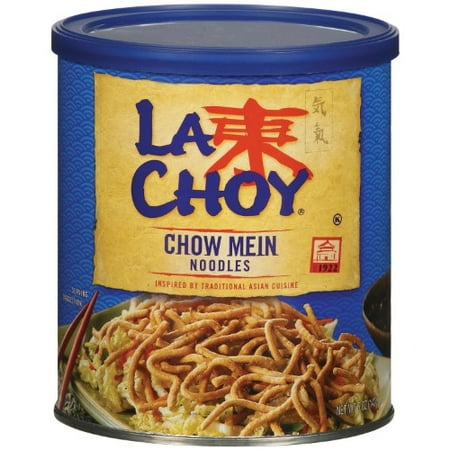 La Choy Chow Mein Noodles, 2 for $10.71 at Walmart
These crispy chow mein noodles are best for snacking, topping salads, and making desserts.
Buy Now
Chow Mein and Lo Mein Recipes
Craving some noodles of your own? Break out your wok (or grab a really large skillet), and get cooking.
Not quite chow mein or lo mein, this make-at-home beef and broccoli dish with stir-fried Chinese noodles and cashews is nonetheless an easy weeknight meal or a great way to impress your friends at a potluck. Get our Beef with Broccoli Takeout Noodles recipe.
This shrimp stir-fry is a great way to showcase lo mein style noodles. Just quickly saute your snap peas or other veggies with some shrimp and toss in your "lo mein" noodles at the end (you can even substitute fresh egg pasta like linguine or spaghetti). It may not be authentic Chinese food, but it's delicious. Get our Shrimp Noodle Stir Fry recipe.
You can buy canned chow mein, but why would you when the from-scratch version is already so quick? This one has chicken, cabbage, bean sprouts, carrot, and scallions. Want shrimp chow mein? Just switch out the protein. Vegetable chow mein? Cut the meat or seafood completely. Get the Chicken Chow Mein recipe.
Crispy chow mein is the kind you often get when you order Chinese food, but this Cantonese dish isn't difficult to make at home either. Not a fan of green peppers? Swap in another color, or even celery instead. Get the Crispy Beef Cantonese Chow Mein recipe.
This quick and easy veggie lo mein uses a simple sauce made from both light and dark soy sauce, sesame oil, and sugar—and calls for ramen noodles, which is nice since you can pretty reliably find those at your average grocery store. Get the Vegetable Lo Mein recipe.
Americanized vs Authentic Chinese Food
All featured products are curated independently by our editors. When you buy something through our retail links, we may receive a commission. For more great hand-picked products, check out the Chowhound Shop.
Header image by Chowhound.
See more articles