The Difference Between A Salisbury Steak And A Meatloaf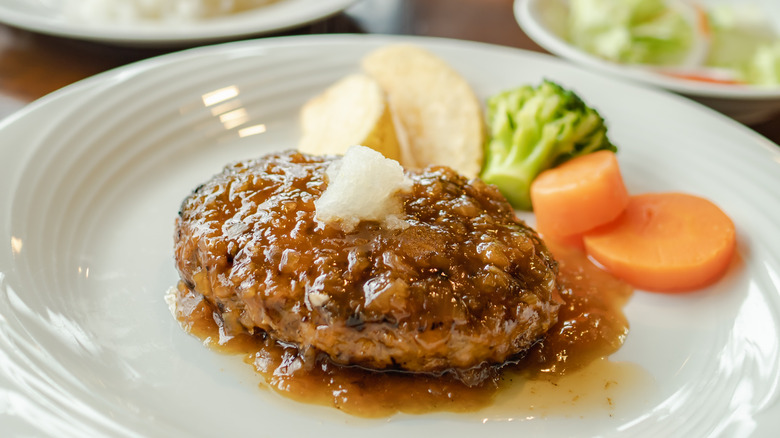 Fannrei/Getty Images
A pound of ground beef has almost endless possibilities. But two comfort food classics stick out. For many home cooks, that frozen pound of ground beef signals one of two things: a serving of Salisbury steak or a hearty meatloaf. Both meals are beloved for their delicious taste and their ability to stretch out ground beef, turning it into a whole meal. But this is not to say that these two foods are the same thing. In fact, despite being made of the same basic ingredients — a mix of ground beef, egg, and bread crumbs — the two foods have wildly different histories and preparations.
Advertisement
Perhaps the biggest difference between Salisbury steak and meatloaf is in how they are prepared. While meatloaf is cooked in the shape of a log, either in a loaf pan or formed on a baking sheet, Salisbury steak is usually cooked in a pan or skillet. Additionally, while Salisbury steak is usually cooked alongside a savory mix of gravy, onions, and mushrooms, meatloaf is baked and covered in a sweet tomato sauce. So really, although they look similar, the key difference between the two is in their varied flavor profiles.
Varied preparations, divergent histories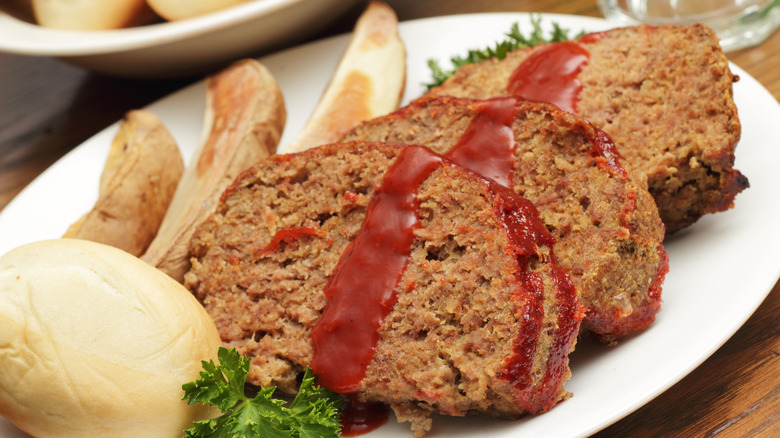 Wsmahar/Getty Images
But it's not just the cooking methods that differentiate meatloaf from Salisbury steak. The two dishes, despite their striking similarities, actually have vastly different origins. Meatloaf, for instance, doesn't have a clear-cut inventor. The dish has existed, in some form or fashion, since the first century AD, within the Roman empire. However, the modern, American iteration of the dish was developed much later; the first recorded recipe for it appeared in the 1870s. However, it wasn't until the 20th century that the dish caught on (as beef became more popular), and by the 1950s and 1960s, meatloaf had become a staple in American dining.
Advertisement
The origins of Salisbury steak are much clearer. The beef dish was invented by a single man, Dr. James Henry Salisbury, a pioneer of the germ theory, who invented the steak to serve to injured Civil War soldiers. He invented the steak as a part of his specialized diet which centered on the idea that vegetables released harmful toxins upon consumption. Salisbury's diet relied heavily on meats and, frankly, did not stand up to the test of time, unlike his eponymous steak, which has remained a dinner-time classic. And though these dishes have wildly different origins, they both stand as pillars of American cuisine.
Both are classic comfort foods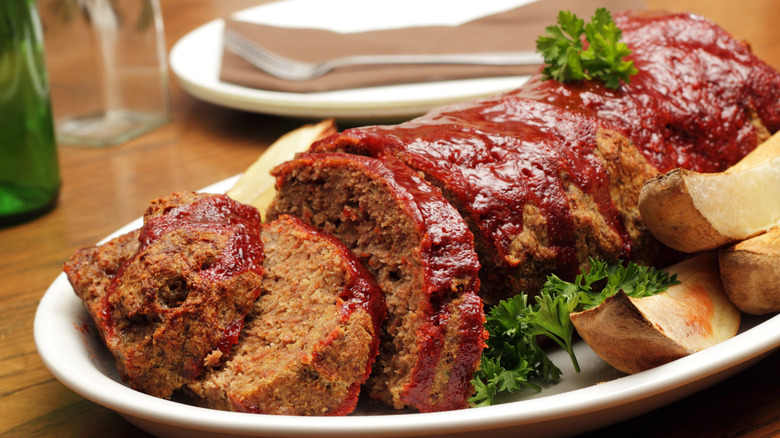 Wsmahar/Getty Images
Regardless of their vastly different histories, both Salisbury steak and meatloaf make for a comfortable and delicious main course. But beyond their status as comfort food classics, these dishes are also notable for being a cost-effective dinner option. Both Salisbury steak and meatloaf rely on ground beef, one of the cheapest forms of meat. They also utilize ingredients such as eggs and bread crumbs or flour to stretch out their protein base, allowing a single package of meat to create more servings and feed more mouths. Additionally, both recipes incorporate convenient ingredients such as soup mix or ketchup for seasoning.
Advertisement
Of course, this doesn't mean that these foods are stuck in the realm of thrift and convenience. There are many ways to elevate your meatloaf or Salisbury steak, from adding caramelized onions to incorporating different meats such as pork or venison into your recipe. With a little ingenuity and a few choice ingredients, either dish can be elevated beyond its thrifty reputation. All you have to decide is if you're looking for something a little sweet or something savory for dinner.