Why The Name Chilean Sea Bass Is Incredibly Misleading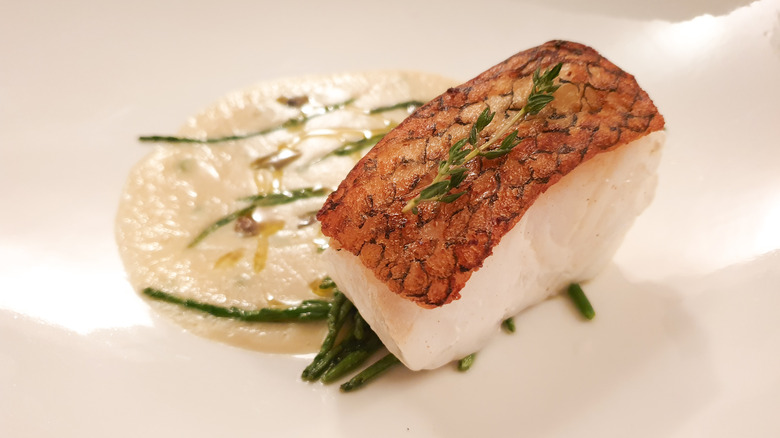 Bowling_y/Shutterstock
What's in a name? In the case of Chilean sea bass, the answer is a multi-million dollar industry. Superficially, this fish doesn't seem all that different from other types of whitefish, but it fetches upwards of $30 per plate at fine-dining restaurants. Chilean sea bass's buttery flavor, flaky texture, and versatility have made it a hit with chefs and diners alike, but those aren't the main reasons for its hefty price tag.
Advertisement
There are a number of factors contributing to the cost of Chilean sea bass, starting with the fact that these fish can be tricky to catch. They live in deep waters far from the coastline, and since they take around seven years to reach maturity, their population is slow to rebound from large catches. However, the biggest factor driving the high price of Chilean sea bass is demand, which is incredible, considering that less than 50 years ago, it was frequently tossed away by fishermen.
The rise of Chilean sea bass from bycatch to luxury meal is a remarkable saga that shows just how impactful branding can be. You see, the Chilean sea bass isn't Chilean, and it's not even a bass. While a few may be caught off the coast of Chile, the vast majority come from Antarctica, and they're actually a type of cod. Before the late 1970s, it went by a different name: the Patagonian toothfish. Why then, has the fishing industry spun this lie for us?
Advertisement
It's a marketing ploy
The rebranding of Patagonian toothfish as Chilean sea bass is part of the seafood industry's response to a problem it created: overfishing. Global fish populations have declined by an estimated 87.7% over the last 17 years, according to a 2023 report published in Science of the Total Environment, and the most vulnerable fish are the ones we eat the most. Populations of swordfish, tuna, and cod have plummeted in recent decades, so much so that the seafood industry can no longer meet the demand for many of these fish.
Advertisement
In response, the seafood industry has been pushing for consumers to try new kinds of fish, but convincing people to change their eating habits can be hard, especially when the new fish being marketed have less-than-appealing names, like "toothfish." That was the problem facing Lee Latz, the man who coined the name "Chilean sea bass."
Priceonomics explains that Latz, an American fish merchant, took a trip to Chile in 1977 where he encountered a group of fishermen who had accidentally reeled in a Patagonian toothfish. He fried and ate the fish, and thought its mild, non-"fishy" taste would be appealing to American diners. Latz decided to rechristen the creature as the Chilean sea bass because he had first found it in Chile, and originally mistook it for a bass. He used this snazzy new moniker to convince his connections in the seafood industry to try this new fish out. By the time the 21st century rolled around, Chilean sea bass was the hottest fish on the market.
Advertisement
Other fish have undergone similar rebranding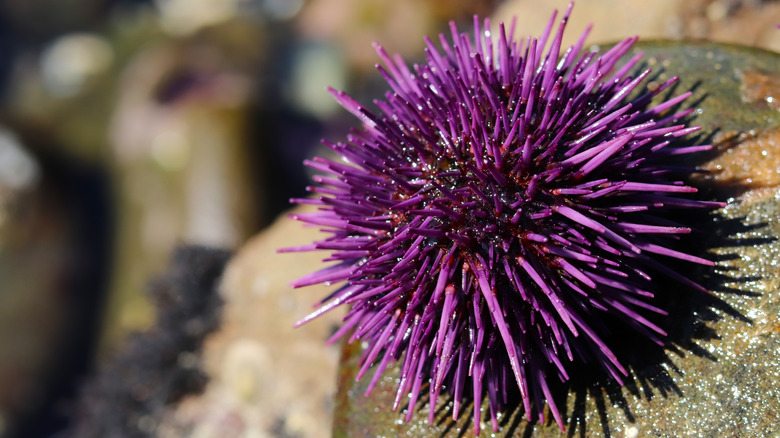 Sean Lema/Shutterstock
The Patagonian toothfish isn't the only fish to get a new name in recent years. Facing the catastrophic impact of overfishing, the seafood industry needs to market new fish to stay afloat, and in most cases, that means jazzing things up with a new moniker. Red snapper was once known as hogfish, and like the Chilean sea bass, it's been misidentified as another species by its own name; red snapper is, in fact, a type of wrasse. Gray snapper (also not a real snapper) used to be called grunt.
Advertisement
There are other reasons to rename fish, often having to do with their old name taking on negative connotations. Mahi-mahi was once called dolphinfish, which many people thought to mean an actual dolphin. Maine sea urchin was once known as "whore's eggs," something you probably wouldn't dare to utter in a restaurant, and it was nothing but a nuisance to fishers until they started selling it under its Japanese name uni.
Rebranding fish that were historically undesirable has been a major boon for the seafood industry, but it isn't helping the root problem, which is overfishing. Chilean sea bass was originally chosen to offset losses in other fish populations, but now its population is dwindling at a shocking rate, with the luxury price tag making it a popular target for illegal fishing.
Advertisement