Easily Give Mashed Potatoes A Kick Of Heat With Wasabi Powder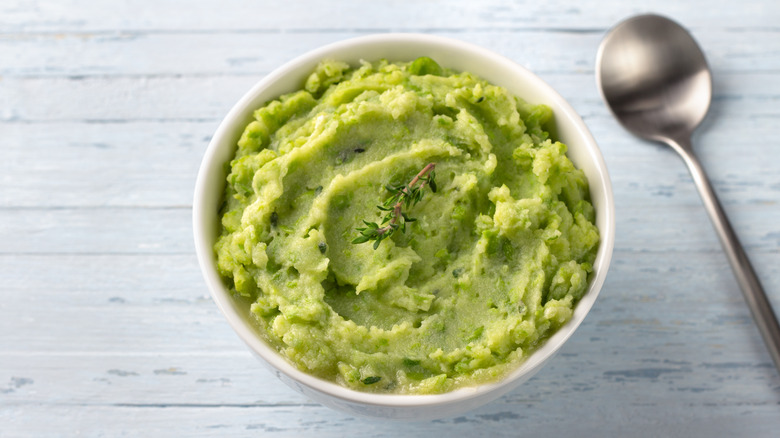 Olgalepeshkina/Getty Images
Comforting, versatile, and satisfying, mashed potatoes are one of the most iconic side dishes in Western cuisine. Equally at home next to homestyle fried chicken and upscale steak, mashed potatoes are beloved for their creamy, fluffy texture. But the spuds do have a downside: They can be quite bland, and one can only eat so much before tiring of the mild taste. To combat mashed potatoes' less-than-flavorful nature, chefs have incorporated countless ingredients into the dish. To kick up the heat in your own mashed potatoes at home, reach for wasabi powder.
Advertisement
Combining wasabi and mashed potatoes creates an unexpected culinary twist that transforms the classic side dish into a vibrant and flavorful delight. Wasabi powder is a dehydrated version of wasabi, a spicy, intense paste made from Japanese horseradish that provides a potent and peppery kick to anything it's added to. While wasabi is traditionally associated with Japanese cuisine and enjoyed with dishes like sushi, its incorporation into mashed potatoes provides a fusion of East-meets-West flavors that tantalize the taste buds and elevate the humble potato to new heights.
Wasabi adds zing to bland mashed potatoes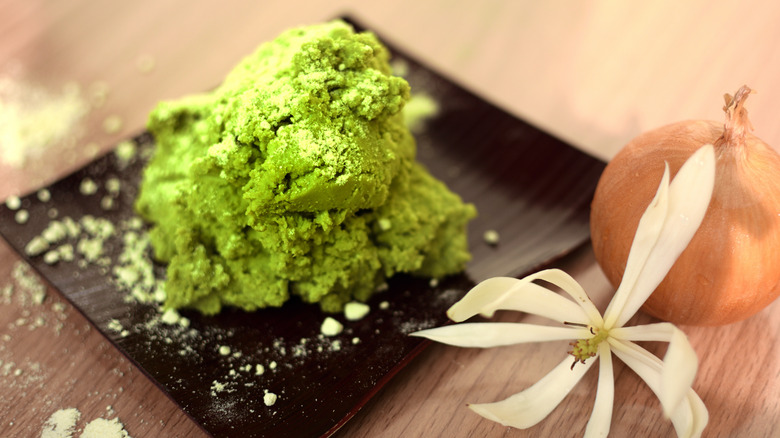 Mr.Sompong Kantotong/Shutterstock
Wasabi introduces a bold and aromatic element to the creamy, milk canvas of mashed potatoes. The heat from the wasabi adds a layer of complexity to the familiar potatoes, and the blend between these contrasting flavors is a marriage made in culinary heaven. It's also incredibly easy to elevate mashed potatoes with a bit of wasabi powder. 
Advertisement
Start by making mashed potatoes as you normally would, but stop before you add in the milk. You'll need to first prepare the wasabi powder. Spoon a few teaspoons of it into a small bowl, and add a small amount of water so you can mix it into a thick paste. Then, add the paste to your mashed potatoes, and mix everything together along with a half cup of milk. You may also want to add a few cloves of roasted garlic to further enhance the flavors. Sprinkle on some salt and pepper, and your wasabi-infused mashed potatoes are done. 
The key to this dish is adding just the right amount of wasabi, as the heat it brings can be incredibly intense. Even if you want increased zestiness, start by adding just a small amount of wasabi and give it a taste test before you add more.
Advertisement
If you can't find powder use paste; if you can't find that opt for horseradish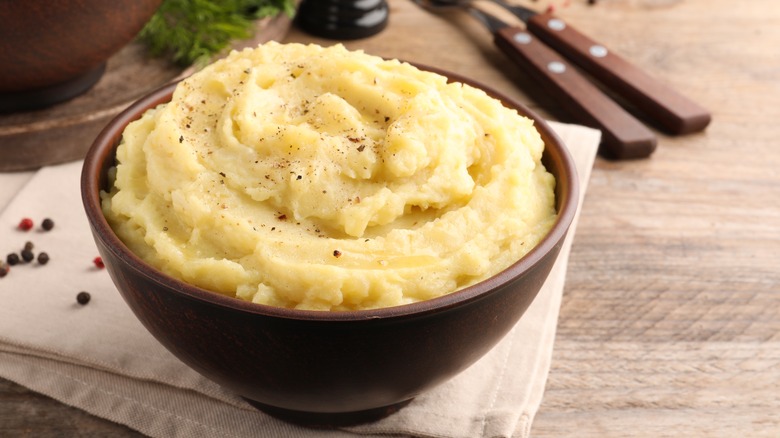 New Africa/Shutterstock
You can buy wasabi powder from specialty online retailers as well as Amazon. The wasabi powder can also be substituted with wasabi paste. The process of adding it to mashed potatoes will be the same, except you won't have to add water to the wasabi. Wasabi paste is also available online, but it can be difficult to verify its authenticity. You should also be aware that authentic wasabi powder and paste is very expensive — a jar containing less than an ounce of the powder can go for over $20. Most cheap wasabi products are actually just dried horseradish, so in a pinch, you can use horseradish instead to give your potatoes a kick.
Advertisement
Whether served as a zesty side paired with pan-seared tofu or as the base for grilled fish and veggies, the fusion of starchy mashed potatoes and the bold, sinus-clearing heat of wasabi creates a harmonious and exciting dining experience. This unexpected pairing is guaranteed to make your next dinner a bit more interesting,