Denver Steak Offers The Most Marbling For Your Money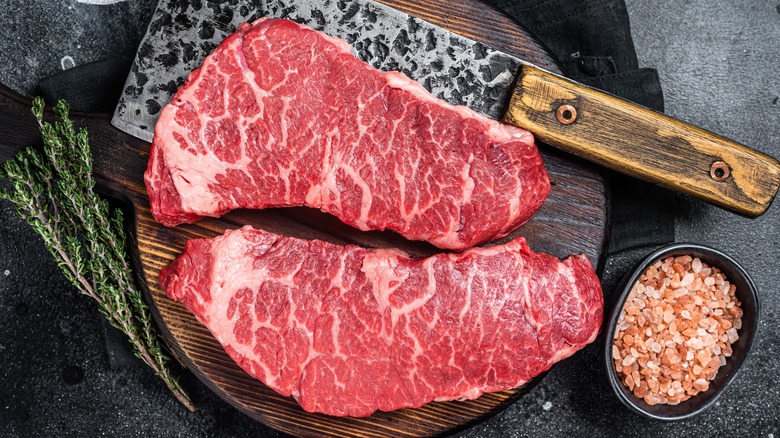 Mironov Vladimir/Shutterstock
Picking the perfect steak is a tricky business. Factors like budget, taste, and cooking methods are all taken into consideration when choosing the perfect cut of beef. Of course, there are the popular steak cuts, such as Porterhouse, filet mignon, and ribeye. However, those cuts can be a bit expensive. But what if there was a cut of beef that has the delicious and highly sought-after marbling of a ribeye or porterhouse but without that steep price tag? Thankfully, that option does exist, and it's the Denver steak, a relatively 'new' cut of beef that features delicious marbling for a lower price tag than premium steak cuts.
Advertisement
The Denver cut was originally 'found' by meat-science professors working at both the University of Florida and the University of Nebraska. The steak was first introduced in 2009 but has not gained widespread popularity amongst home cooks or restaurants, and that's a shame because the Denver steak is a particularly appealing and budget-friendly cut of meat.
Found in the under-blade portion of the chuck roll, which is located in the front of the cow, the cut is more tender than its chuck counterpart, as it is located in a less exercised part of the animal. Instead of being lean, Denver steak is heavily marbled and is perfect for fast cooking preparations such as broiling and grilling. So if you're looking for a budget-friendly steak cut, you might want to look to Denver steak.
Advertisement
How to prepare your Denver steak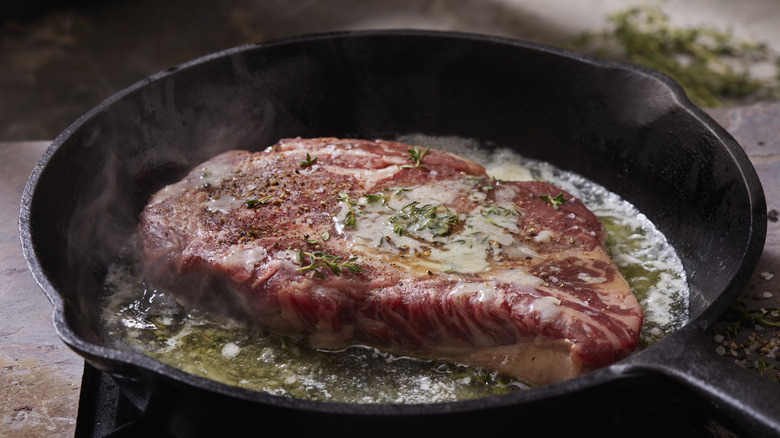 Lauripatterson/Getty Images
Even though Denver steak is a delicious and inexpensive cut of beef, it is important to understand exactly how to prepare and cook the cut for maximum enjoyment. Although it's located near the chuck cuts, Denver steak should not be prepared in the same way. Chuck, because of its lean and sometimes tough makeup, works best when slow-cooked to achieve maximum tenderness. However, Denver steak tastes best when cooked as a steak. Methods such as grilling, skillet cooking, and broiling all work well for Denver steak because of its intense marbling.
Advertisement
However, it's important that you also get your Denver steak cut properly, as an improper cut will result in a tough steak. The optimal way to cut Denver steak is to cut the beef across the grain, so make sure to indicate as such if requesting the cut from your butcher. Denver steak has a rich and undeniably beefy flavor and has been ranked as the fourth most tender cut of beef, so don't be afraid to keep your cooking method simple, showcasing the cut's naturally rich flavor and tender texture.
A 'new' cut of steak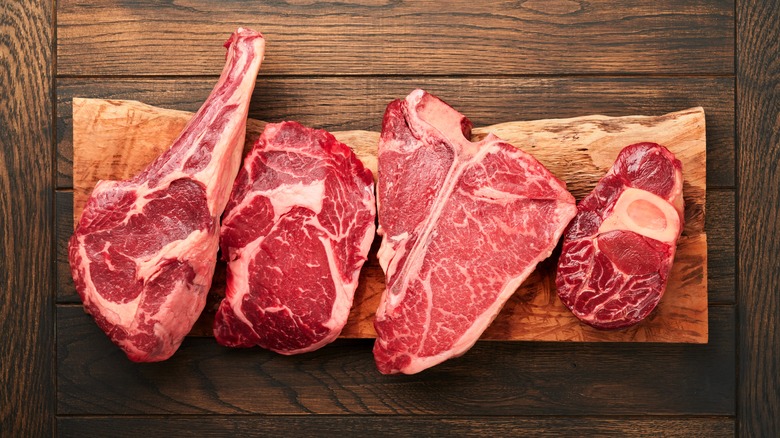 Katarzyna Hurova/Shutterstock
It may seem odd to declare Denver steak a 'new' cut-off steak. After all, cattle were domesticated around the year 8,000 BCE, about 10,000 years ago. That's a long time to leave one cut of beef undiscovered. The cut was 'discovered' in 2009 by the Cattleman's Beef Board as a part of a larger project to discover new cuts and portions of beef and is largely the result of a marketing campaign, which also resulted in its rustic, western-themed name despite no connection to the city. The product of a scientific endeavor between two universities (neither of which were in Colorado), the name Denver steak was chosen to conjure images of rustic mountains and outdoorsy cattlemen which have approximately nothing to do with the actual origins of the steak.
Advertisement
However, this shouldn't discourage you from trying the tender and inexpensive cut of beef. It was discovered by a group of food scientists, after all, and might just make for a surprising alternative to more expensive cuts next time you put steak on the menu. So don't shy away from asking for the cut next time you're at the butcher counter though finding the cut at your chain grocery store might be a difficult task since preparing it requires an almost surgical level of precision; you might have more luck if you seek the cut out at an independent butcher, or from a shop that specializes in rare cuts.