Are The Eggs We Eat Fertilized Or Unfertilized?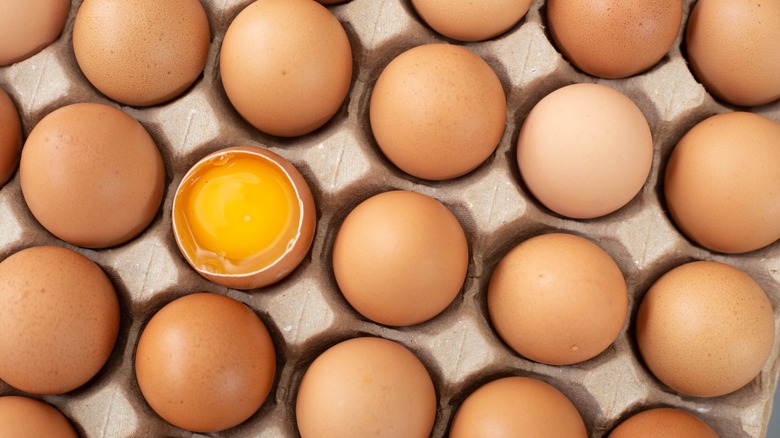 Parkin Srihawong/Shutterstock
Be they scrambled, fried, whipped into a brownie mix, or brushed over baked goods to make them shine, there's no question that eggs are one of the most common foods around. According to Statista, Americans ate an average of just under 280 eggs a person in 2022, and that number is only expected to grow. Considering how many eggs we eat, it stands to reason we should be curious about these little ovoid capsules of protein. We may not be able to definitively answer questions like whether the chicken came before the egg, but we can say for certain whether or not the eggs we eat are fertilized.
Advertisement
On the whole, any egg you buy from a grocery store or commercial egg farm is unfertilized, regardless if the egg is labeled organic, pasture-raised, or anything else. The only way a female chicken, or hen, can lay a fertilized egg is if she has mated with a male chicken, aka a rooster. Oftentimes, roosters are not even allowed on the same farms as egg-laying hens, so it is actually impossible for any of their eggs to reach your kitchen fertilized.
Fertilization vs. incubation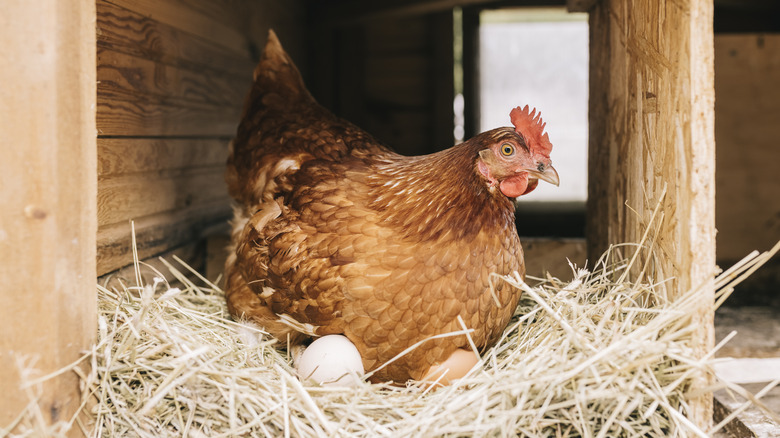 Visualspace/Getty Images
Even on the off chance that you do receive a fertilized egg, say from your neighbor's unregulated backyard brood, the odds of that egg producing a chick are slim to none. That's because the only way for a fertilized egg to form an embryo is through incubation. Incubation is an exhaustive process that requires constant attention to ensure that the eggs are kept at a steady, high temperature while the embryo develops into a chick. If an egg was taken from a hen the day it was hatched, it's nearly impossible for it to be accidentally incubated.
Advertisement
One way to check to see if an egg is fertilized is to look closely at the yolk. Unfertilized eggs will have a small white spot known as the blastodisc. The blastodisc contains the hen's DNA that would have been used to start developing an embryo. After being fertilized, the blastodisc becomes a blastoderm and starts to resemble a bullseye with a series of white concentric circles. Once you cook up and dig into an egg, you won't be able to tell if it has been fertilized or not. Fertilized and unfertilized eggs taste exactly the same and there is no meaningful difference in their textures. It's commonly thought that fertilized eggs have more protein than unfertilized eggs, but there are, in fact, no nutritional differences between the two.
Advertisement
How eggs reach our plates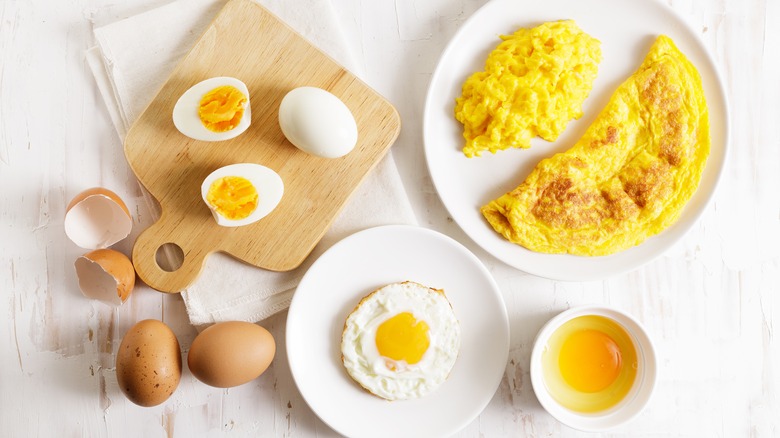 SherSor/Shutterstock
Left to their own devices, chickens wouldn't lay nearly as many eggs as they do when on an egg farm. Through selective breeding and feeding chickens an extremely nutritious diet, humans have been able to get some laying hens to lay almost an egg a day — much more than any wild hen. This is why hens will lay eggs regardless of whether it is expected to be fertilized by a rooster. In order to produce so many eggs, a chicken's quality of life may be quite poor, but that varies greatly from farm to farm. It is generally agreed that eggs with a "pasture-raised" label are from chickens that have received the most ethical treatment.
Advertisement
After eggs are collected from the farm, they are transported to a processing plant. Per USDA regulations, eggs must be thoroughly washed and sanitized. This process erases the egg's natural protective barrier and is why you shouldn't wash eggs at home. Without the protective coating, the water can penetrate the shell and get into the egg itself, possibly contaminating it. Once the eggs are clean, they are packaged and shipped to grocery stores across the country, until they end up in your kitchen — unfertilized and ready to eat.