The History Of Sweet And Sour Sauce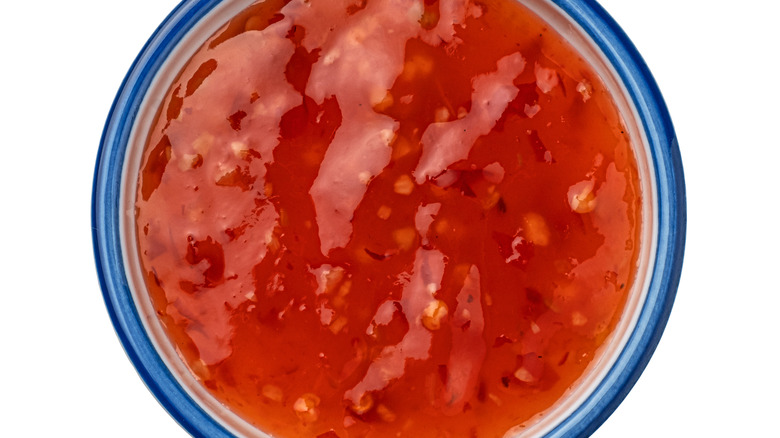 Spalnic/Shutterstock
We may receive a commission on purchases made from links.
Growing up in a Chinese immigrant home, I learned early on that Chinese food meant very different things outside my family's front door. At dinner, my parents stir-fried vegetables in a light dose of oil and red chili flakes. The rice we ate was smaller, rounder, and stickier than the longer kernels of jasmine rice that came in takeout containers emblazoned with red pagodas. We never had soy sauce with our meals.
Advertisement
But I have to admit, I did have a soft spot for the sweet and sour shrimp, pork, and chicken dishes you'd find at the mall. When my brother and I asked my parents why they couldn't make kung pao chicken like Panda Express, they told us that Chinese cuisine was comprised of dozens of individual cultures and culinary traditions. And besides, they were home cooks, not restaurant chefs with hours of prep time. Still, whenever we went out to authentic Chinese restaurants for special occasions, kung pao chicken and its cousins, orange and General Tso's, were nowhere to be found.
What is sweet and sour sauce, and what does it taste like?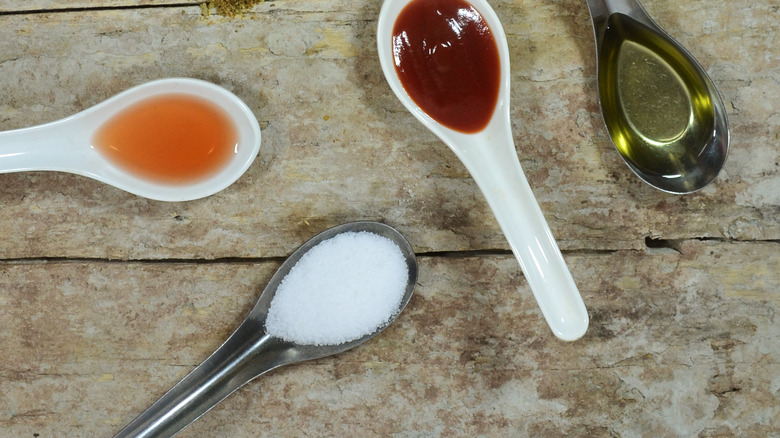 Momomimee/Shutterstock
To understand what makes sweet and sour sauce such an addictive pleasure is to know its most basic components — the marriage of vinegar and sugar. While many Chinese cuisines use some variation of the two ingredients in meat and seafood dishes, the sweet and sour sauce in American restaurants is usually a combination of sugar, vinegar, ketchup, and soy sauce.
Advertisement
Sweet and sour sauce wasn't first concocted in China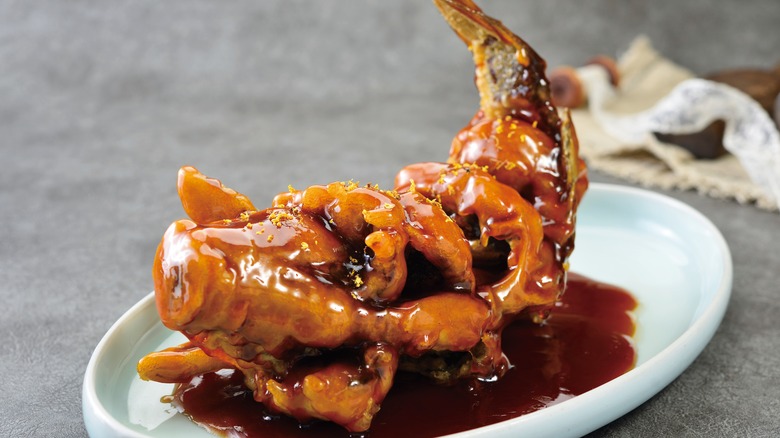 xiaoxiao9119/Shutterstock
In China, sweet and sour sauce can be found in many regional cuisines, from sweet and sour spare ribs in Shanghai to sweet and sour Yellow River carp in Jinan. Though these dishes, and others like them, are believed to have existed for hundreds of years, they were relatively rare, and the flavor combination could not be said to characterize Chinese cuisine.
Advertisement
Sweet and sour sauce's story begins in the U.S.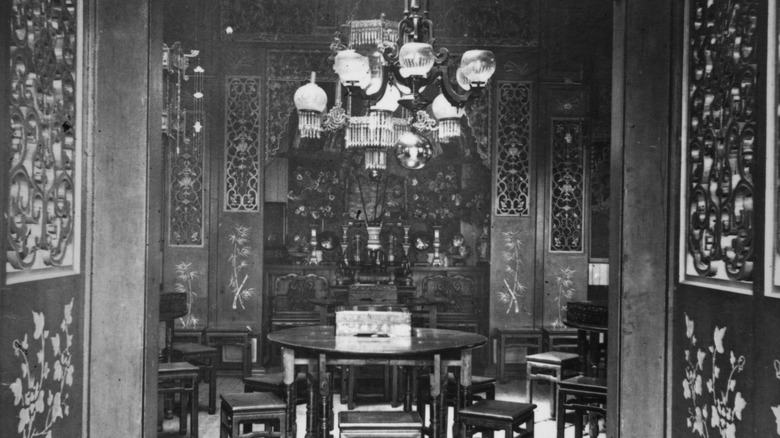 Bettmann/Getty Images
Sweet and sour's origin story really begins in the United States. Anne Mendelson's history of Chinese-American restaurant food "Chow Chop Suey" traces the beginnings of Chinese-American cuisine to the late 1880s, during the era of Chinese Exclusion. Chinese laborers formed self-sufficient communities to support each other and food represented the familial comfort of what they had left behind.
Advertisement
Chinese-American restaurants steadily rose in popularity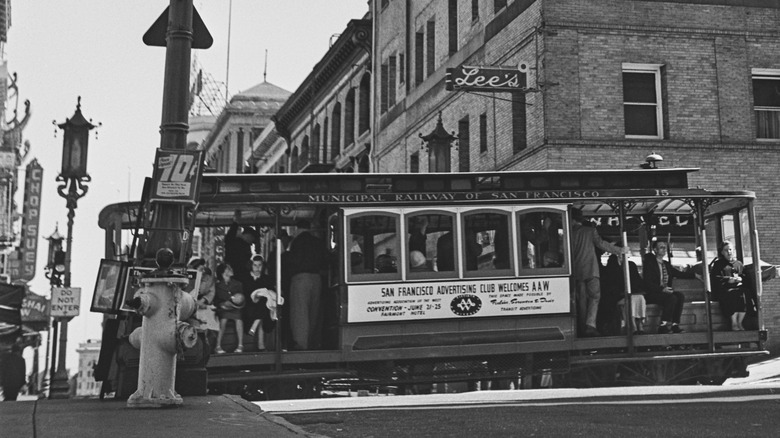 Graphic House/Getty Images
Eventually other laborers were also drawn to the rich, savory flavors of Chinese cooking. Restaurants in Chinatown began to fill up with a more racially diverse working-class clientele. Soon, wealthier white Americans caught on too, "discovering" Chinatowns as enclaves of exotic and delicious food.
Advertisement
Chefs added tomato-based sauces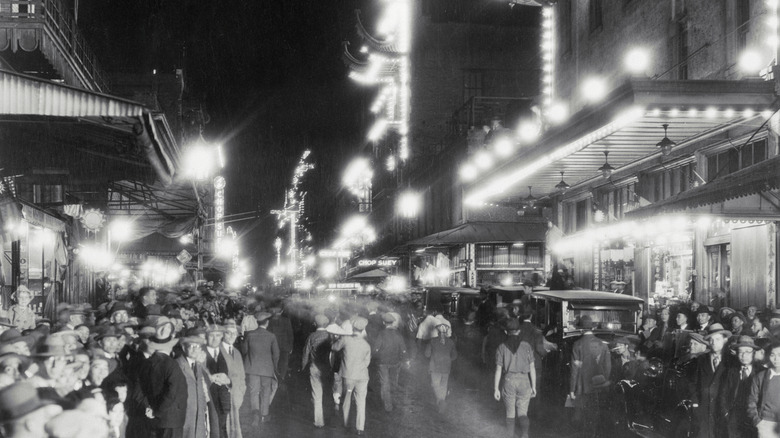 Bettmann/Getty Images
By the early 1900s, Chinese restaurateurs were serving big crowds. They had to surrender some of their time-consuming cooking techniques and expensive, hard-to-find spices. Instead, they looked for ways to flavor food in quick, powerful bursts. Knowing that Americans enjoyed the sweetened acidity of tomato-based sauces like ketchup, the chefs began to coat their meats in a stronger version of the sweet and sour sauces served in China. The first versions served in San Francisco's and New York's Chinatowns often included ketchup, giving the sauce its reddish tint, and canned pineapple. They replaced traditional, delicately-flavored rice vinegar with more pungent, but readily-available, white vinegar. These chefs had unlocked a shortcut to the complex flavor balance of Chinese cooking, and quickly reaped the profits.
Advertisement
McDonald's added the sauce to its menu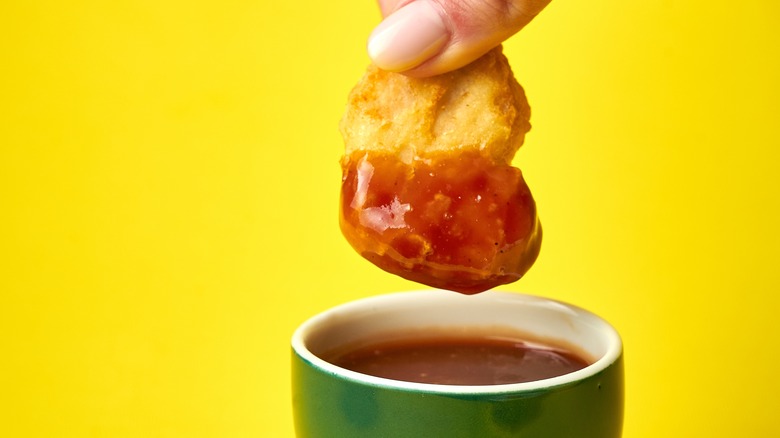 ismishko/Shutterstock
A half-century later, sweet and sour sauce was embraced by the most American eatery of all. In 1983, McDonald's introduced the McNugget alongside four signature sauces: honey, hot mustard, BBQ, and sweet and sour. Since then, Americanized sweet and sour has also found its way back to Asia, developing even more regional variation. One recipe for sweet and sour pork, published by Cantonese-Singaporean chef Sin Leong, calls for sweet and sour sauce made with white vinegar, tomato sauce, and Maggi seasoning, a flavor enhancer invented in Switzerland in 1886.
Advertisement
Sweet and sour sauce is internationally available today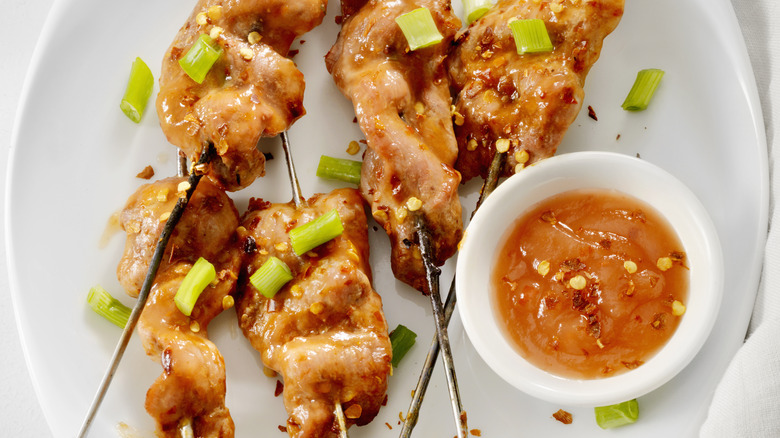 Lauripatterson/Getty Images
Today, for better or worse, the tangy, syrupy sauce has become shorthand for Chinese food all over the world. As Michelin-starred celebrity chef Anita Lo once said of General Tso's enduring popularity, "Americans love it because it's a little sweet, deep-fried, and slightly salty."
Advertisement