A Handy And Helpful Guide To Cooking While Camping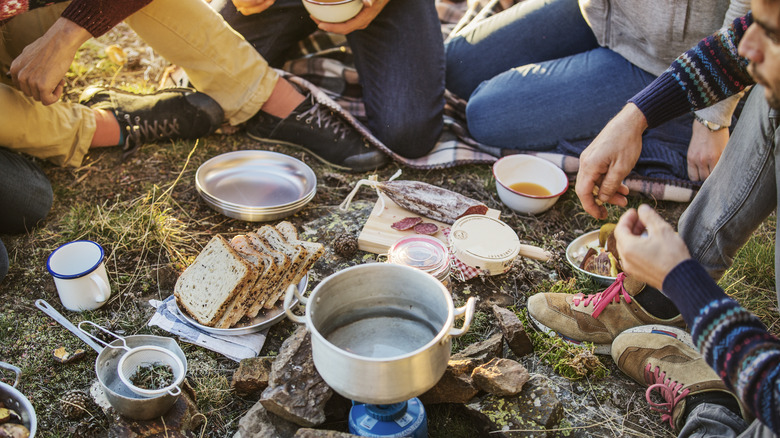 Morsa Images/Getty Images
We may receive a commission on purchases made from links.
Summer is the season for lots of things, including eating outside. But the great outdoors can easily become less than enjoyable when you try to dine in their midst, at least if you're not properly prepared. Picnics are generally a little easier, since you're just transporting everything once it's already done, but it's not too difficult to cook a great meal while camping either, as long you follow some general guidelines.
Advertisement
While planning may seem like an obvious first step, it's important enough to call out — and to pay a lot of attention to, so you don't end up in the middle of nowhere without some essential ingredient or piece of equipment (which probably won't be the end of the world, but will be incredibly frustrating). Likewise, you should have a backup plan for what to do if the weather doesn't cooperate. If you only bring raw meat and it's too rainy to build a fire, better to have a propane stove and perhaps a tarp to shield it, or at least some no-cook snacks so you don't go hungry.
Plan ahead (and plan for minor disaster too)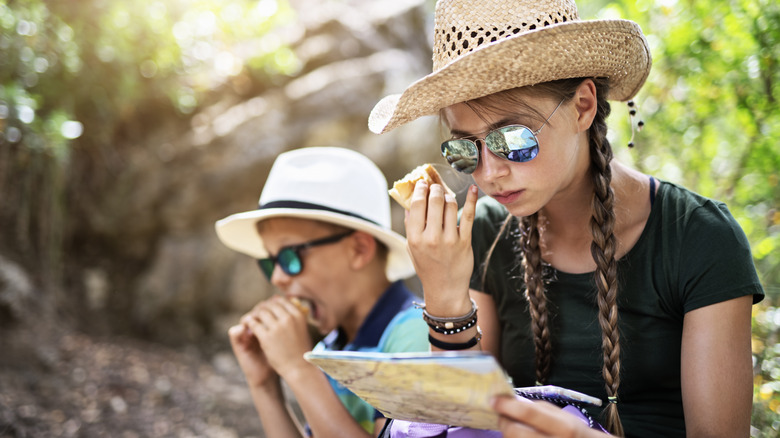 Imgorthand/Getty Images
As if you were Santa himself, make a long list of everything you need to buy and/or pack — down to the salt and pepper grinder — and check it twice, then check it off as you put things in the car, your backpack, etc. The laws of the universe dictate that you'll still end up realizing you forgot something, but this way, it's not likely to be of key importance. "The New Camp Cookbook" by Linda Ly has tons of great tips and general advice on planning, packing, setting up, and using a camp kitchen, plus plenty of recipes to make outdoors, so check that out for more in-depth suggestions.
Advertisement
Maximize your cooler space (and functionality)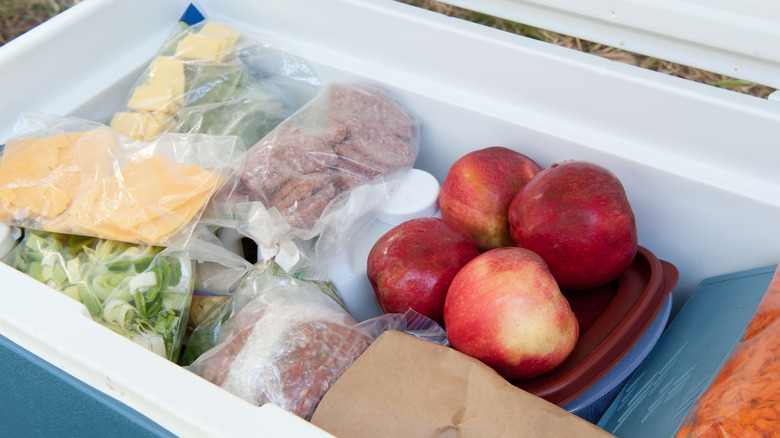 Fishysam/Getty Images
If you're car camping or just going on a day trip, you'll have the luxury of a cooler, but it's not quite as capacious as you might wish, especially if you load it up with beverages — which is why, for longer trips, you should bring a separate cooler just for drinks. Speaking of, the old trick of freezing water bottles to use as ice packs (and later, to drink) is still a good one, although plastic bottles aren't exactly environmental all-stars. You can freeze lots of other things too, including meats and precooked rice in resealable plastic bags, which will help them last longer and contribute to the cooler's chill factor.
Advertisement
Remove anything in bulky packaging to more streamlined plastic bags so there's no wasted space, which will translate to less efficient cooling. Try to chill everything that's going into your cooler beforehand, so it won't bring the temperature down, and try to pack the ingredients you'll use last on the bottom, so you won't have to dig around for the first day's grub underneath icy layers of other stuff. Start with a bed of ice on the bottom, then add a layer of (well-wrapped and sealed) food, then another layer of ice, and so on. Pack every available open nook and canny with more ice so there are no empty spots. Then don't open the cooler any longer than necessary to retrieve items as needed, and try to keep it sitting in the shade.
Advertisement
Fresh Off the Grid has even more tips, including things as simple (and easy to forget) as bringing the cooler itself into a cool place at least a day before you pack it.
Choose equipment wisely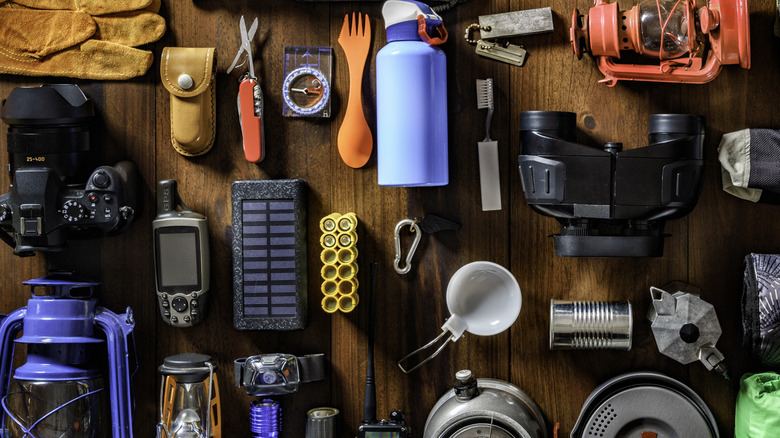 Apomares/Getty Images
If you're car camping, there's pretty much no limit to what you can bring (as long as you can squeeze it in your trunk). But if you're backpacking or even just hiking a little ways into your site, you'll need to streamline your supplies. No one wants to overpack and wear themselves out carrying things they don't need, or things they will have to leave behind to keep up their energy on the trail.
Advertisement
Consider weight & portability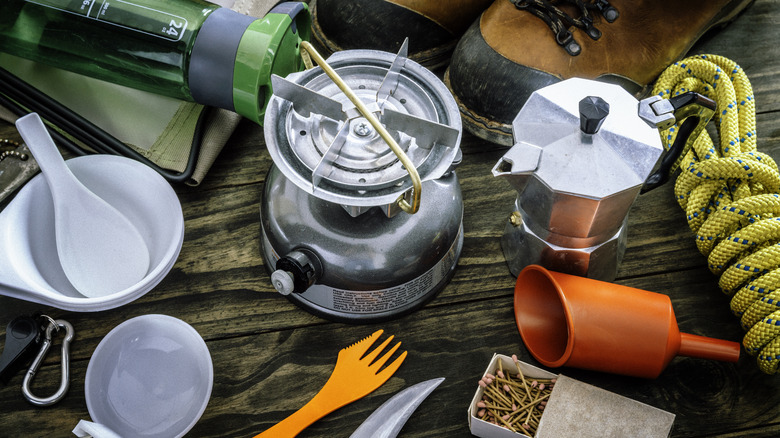 Apomares/Getty Images
This extensive camping cookware guide from Outdoor Gear Lab is really helpful in that it provides not only detailed reviews, but recommendations based on your circumstances, so you can look for top picks for car camping, backpacking, or any other style you choose. Look for items that are collapsible, lightweight, durable, and easy to clean. If weight and portability are no concern, bring your cast iron, especially if you'll have a live fire for cooking.
Advertisement
Minimize equipment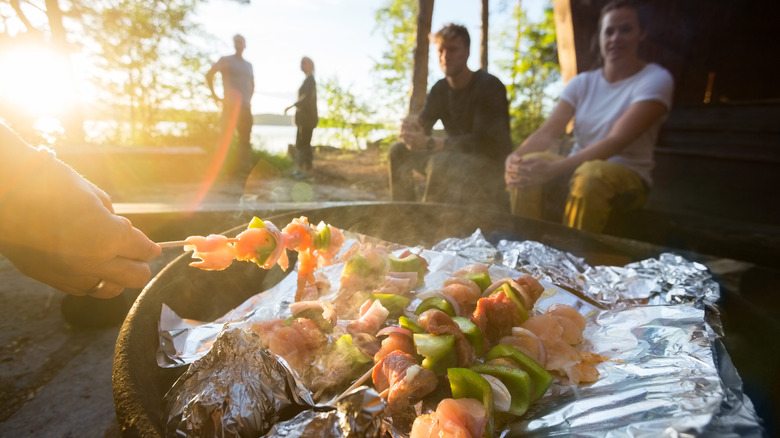 Tyler Olson/Shutterstock
If you'd rather not do any cooking that requires a pot or skillet, stick to skewers you can grill, or even pre-made salads, pasta dishes, or sandwiches that don't need to be heated before serving (but are still totally gourmet). You can also cook a lot of great camp food in foil pouches, which lets you pack light and minimizes cleanup. Vegetables like potatoes get a nice depth of flavor from a fire.
Advertisement
Acquire camp cooking tools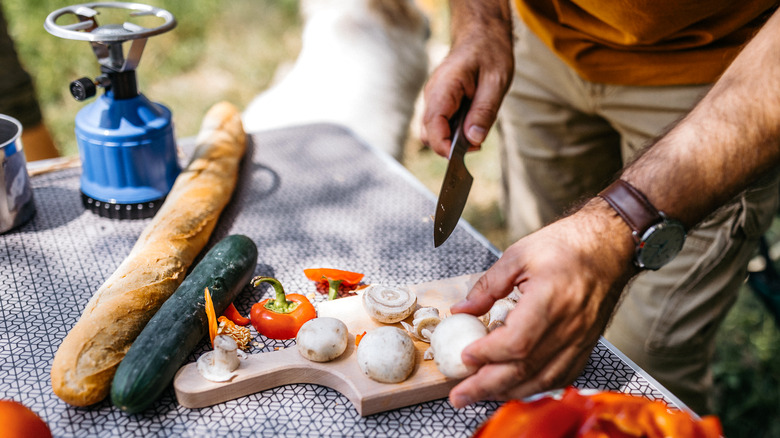 Mixetto/Getty Images
If you are cool with cooking, a set of heat-proof silicone cooking utensils including a large spoon, spatula, and tongs, is handy to have. And don't forget a cutting board, unless you're packing all your meats and vegetables already trimmed down to size. Ceramic knives are both lightweight and sharp, and often come with plastic sheaths to protect the blade (and everything else from it, when not in use), so stash one of those in your camp kit too.
Advertisement
Invest in reusable camp dinnerware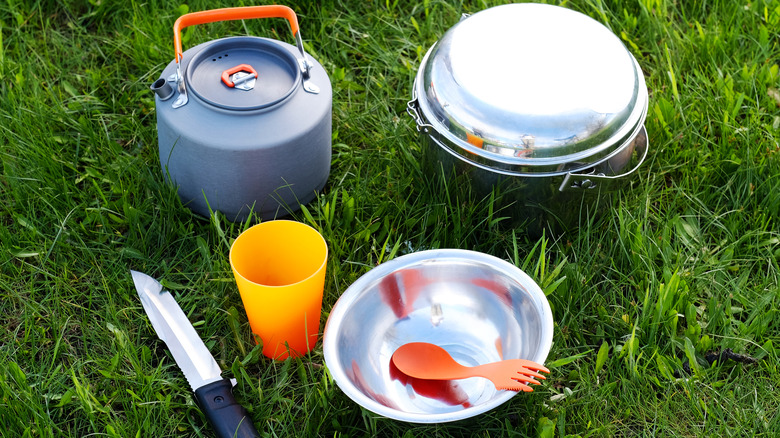 Youproduction/Shutterstock
When it comes to serving meals, paper plates and plastic forks and spoons are tempting, but you can save space and help the environment by choosing lightweight, reusable items instead, like enameled tin or BPA-free melamine plates (which won't chip), stacking cups, and aluminum utensils. It also just looks and feels more chic, which is always an added benefit. Check out more suggestions for eco-friendly picnic and camping gear here. And since you'll need to clean all this stuff, be sure to pack a couple of nesting (or collapsible) plastic tubs for doing dishes — more on cleaning up below.
Advertisement
Bring a water filtration system (even if you don't think you'll need it)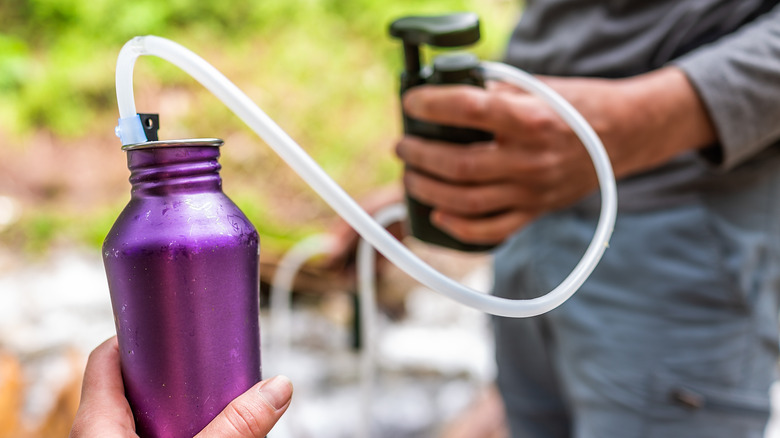 Kristi Blokhin/Shutterstock
Even if your campground has a safe water source, it's always best to bring a few jugs along, just in case — and it's a fantastic idea to add a filtration system to your camping kit as well. This gravity water filter system from MSR is great for backcountry trips and hikes, but useful in less remote campsites too. It's good to be prepared.
Advertisement
Consider your environment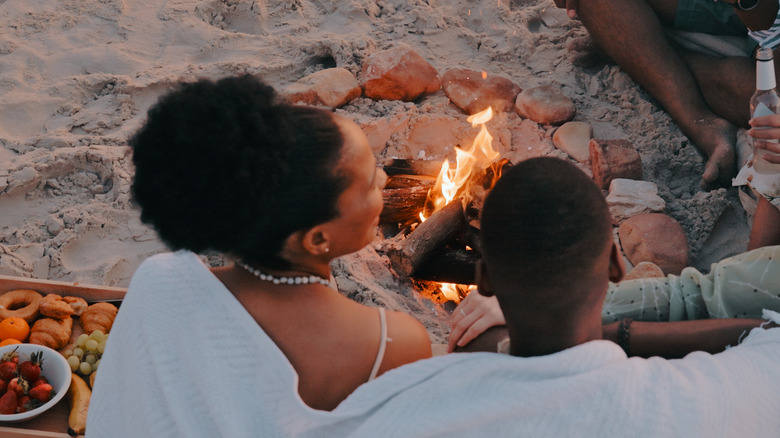 Katleho Seisa/Getty Images
Not just the environment in general, but think about where you'll be cooking. In the woods? Almost anything goes. At the beach? Blowing sand may make certain dishes tricky. But there are advantages, too; the flavor of the salt in the air may make your picnic taste even better. In the snow? Pick something hearty and warming that doesn't require a ton of chopping or cleaning up (to spare your fingers the cold).
Advertisement
Set up a dedicated kitchen area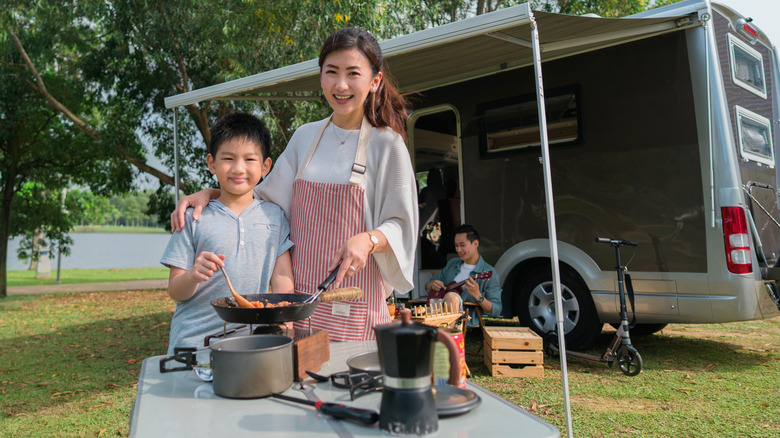 Gahsoon/Getty Images
Unless you're backpacking in true wilderness, most campsites and day-use areas have one picnic table per spot. Instead of just heaping everything you brought along on top of it, take a few moments to organize it, and dedicate at least a small space on it for meal prep and serving. First, put down a tablecloth — it not only adds a little flair but keeps your food pristine in case you drop it on the no-doubt gnarly table. Oilcloth is strong enough to withstand tears, easy to stash when it's time to pack up, and a breeze to wipe clean.
Advertisement
One end of your covered picnic table can be reserved for both prepping food and washing dishes, so you're not trying to squeeze your cutting board in among playing cards, lanterns, and stray books. But utilize what's around you too — flat rocks or smooth-topped tree stumps can be great places to rest a cutting board, plate, or dish tub. Then again, if it's feasible, you can pack a small folding table to use for your kitchen area so it's totally out of the way and remains undisturbed. Get Fresh Off the Grid's camp kitchen tips for even more pointers.
Fire it up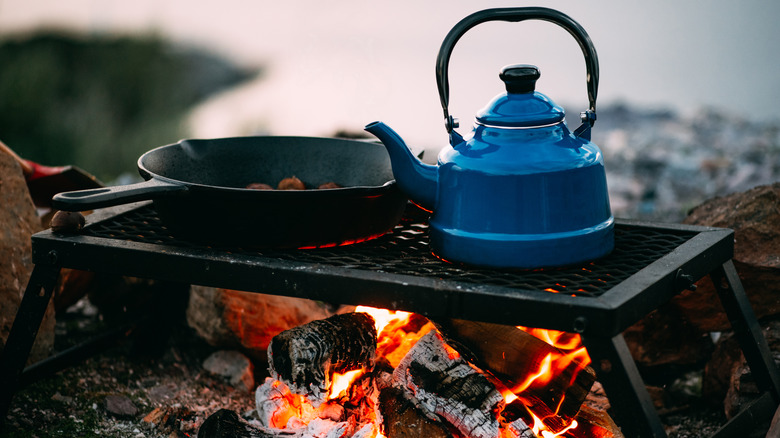 Aegeanblue/Getty Images
If you're going to be cooking, you'll need some form of fire, which will generally either be from a fire pit, grill, or camp stove (if you're in an RV with electrical hookups, you already know what to do). Start with little twigs and add bigger logs once the fire is established. A little dryer lint goes a long way when you're building a fire. In a pinch, you can start a fire with Doritos!
Advertisement
Live fire/grill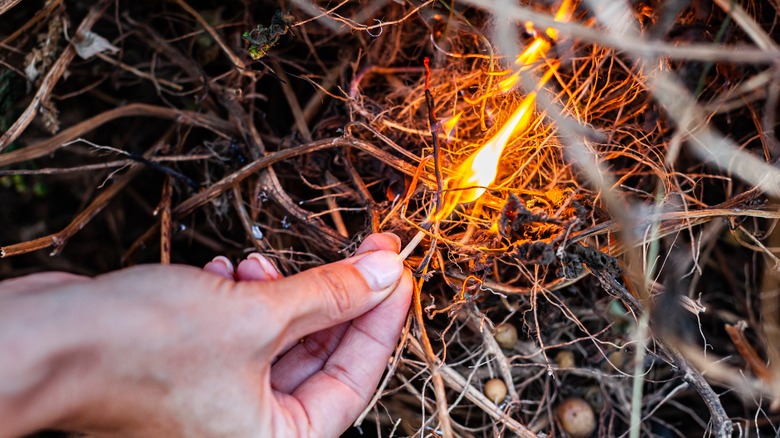 Oleg Opryshko/Shutterstock
If you'll be cooking over a live fire and are in doubt about whether you'll find a source of kindling at your site, don't forget to pack firewood and read up on rules governing wood gathering in the place you're going, as well as any burn restrictions. You should also bring plenty of matches, or a kitchen lighter. If you've never built a fire before, be sure to read up on the best way to do it beforehand (here are some tips from REI), and practice if you can (plus, bring a cheat sheet with instructions if you're less than confident in your skills). 
Advertisement
If you're not sure you'll have a fire pit with a grill grate, bring metal skewers, grill baskets, foil packs, and/or Dutch ovens that you can hold over or nestle in the flames. Otherwise, you can make pretty much any grilling recipe over a campfire, or if you have the means and space, bring a small portable grill with you.
And don't forget to make sure your fire is completely doused before you leave it unattended. Your dishwashing tub comes in handy for this purpose too!
Propane stove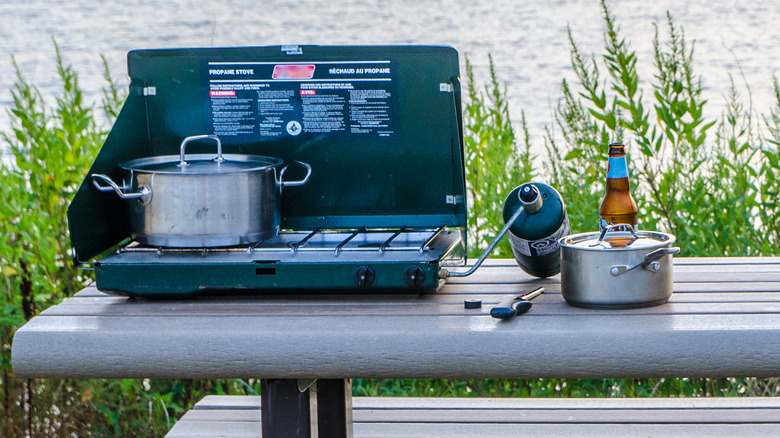 Marc Dufresne/Getty Images
For backpacking trips and any situations where you may not be able to build a fire, a propane stove is perfect — and good to have even when car camping, since you can quickly boil water for morning coffee, among other things. The MSR WindBurner Stove System is a bit pricier than some similar products, but it performs well even in adverse conditions (high winds, extreme cold), and comes with a nonstick ceramic-coated sauce pot, locking strainer lid, and skillet in addition to the burner itself. They all nest together to maximize packing space.
Advertisement
If you're car camping, you can also go with a multi-burner camp stove if you prefer. In any case, make sure you bring enough fuel canisters to cook all your meals. Figure out the right amount with MSR's guide.
Keep it clean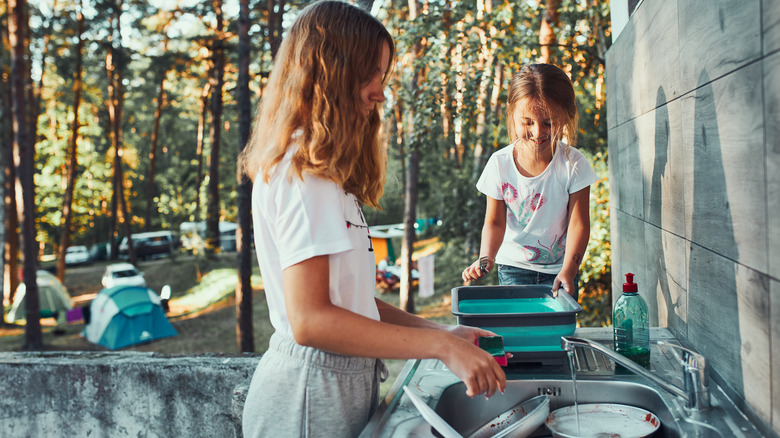 Przemek Klos/Shutterstock
You might not want to think about cleaning up, but it's a necessity, so better be prepared for that too. Pack two dish tubs (one for soaking, one for rinsing), a sponge, scrubber, or dishcloth, and one or more super-absorbent microfiber towels for drying — plus plenty of paper towels and an eco-friendly, biodegradable soap (which goes a long way, so don't squirt on too much at once).
Advertisement
When it's time to clean, get as much food and food residue off your cookware and plates as possible before actually washing them; scrape them well and rub with paper towels (which you can burn if the fire's still going), then put them in a tub of soapy water to soak, give them a good scrub, and move them to a tub of clean water to rinse. Wash any pots and cooking utensils afterward, since they tend to be dirtier than the dishes. You can use a microfiber towel to dry, or just set them out on one to air dry, even use a foldable dish rack if you have one, or hang them over a tree limb in a mesh bag to dry (another great tip from "The New Camp Cookbook"). Fresh Off the Grid also has more tips on washing dishes while camping.
Advertisement
It's also imperative to properly contain and dispose of all your food waste; minimize it in the first place by packing things in reusable containers wherever possible. But throw whatever trash you do generate in designated bins (and recycle what you can), or if you're truly in the wilderness, pack it up and bring it back out with you. Seal up garbage bags, hang food and garbage in bear bags if you're in an area where they live, and dispose of dishwater away from camp to avoid attracting hungry critters.