All featured products are curated independently by our editors. When you buy something through our retail links, we may receive a commission.
Super Bowl 2019 is nearly upon us, which means you're probably scrambling to assemble your snack spread, and eagerly anticipating the new crop of commercials that will air this year. Whether you are more or less excited about the Super Bowl 2019 halftime show—featuring Maroon 5, Travis Scott, and Big Boi (of Outkast fame)—it's happening, despite plenty of controversy. However you feel about it, may as well turn it into a drinking game! It can only make it more enjoyable, either way.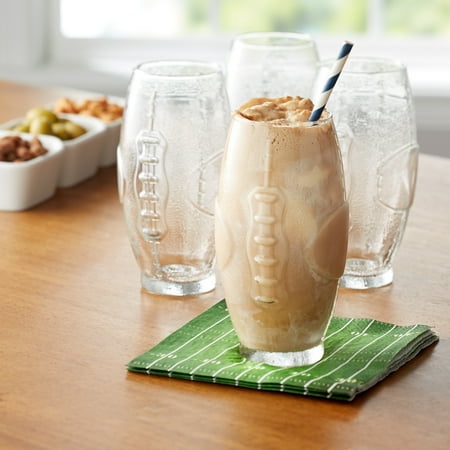 Mainstays Football Glass Set, 6 for $10.80 at Walmart
Order these so you can chug your suds in style.
Buy
As you may know, several artists, including Jay-Z and Rihanna, turned down the chance to perform at the 2019 Super Bowl halftime show (in case you're somehow unaware, read up on the controversy for some background). Enough shade has been thrown and straight-up scorn cast out from social media that Maroon 5 must not be feeling any "Sugar." USA Today has gone so far as to declare that the halftime show is "no longer a cultural institution." But we all know hundreds of millions of people will still be watching—unless, like 75 percent of the country right now, hell actually freezes over and they cancel it. They did cancel the pre-show press conference already, but it's highly unlikely the actual performance will follow suit. And so, we offer this list of suggestions for turning it into an interactive event.
A word of advice: stick to beer, the lighter the better in this case. Definitely do not try this with cocktails (but do check out our Rams and Patriots Inspired Super Bowl Drinks)! And if you're too old (ahem) and/or sensible for drinking games, or just don't do booze, turn it into a fitness challenge instead, where jumping jacks or burpees replace sips and chugs (your keto Super Bowl guests should be into that)! Just approach any such feats of daring—drinking or dropping-and-giving-20—with caution, and always use your best judgment; we wouldn't want anyone hurting themselves, or others. Or ruining their host's TV, whether through physical damage of the blunt force variety or, um, liquid immersion.
Take a drink if:
Adam Levine is wearing a leather jacket when he comes onstage
He takes it off to reveal a plain white t-shirt (take two drinks if the t-shirt is intentionally ripped; take a really long drink if he's opted for any kind of button-down shirt with the sleeves rolled up to his elbows instead)
Big Boi is wearing some kind of snapback cap with an Atlanta logo on it
Maroon 5 opens with "Girls Like You" (advanced rules: have everyone guess which song will be the opener and everyone who gets it wrong takes a penalty chug; CBS Sports predicts it'll be "Girls Like You," and we're putting our faith in them)
Anyone at your party sings along to "She Will Be Loved" (just keep drinking if their falsetto is painful to listen to)
Chug if:
Maroon 5 plays the "SpongeBob SquarePants" song "Sweet Victory"
Adam takes off whatever shirt he is wearing (but simply boo if there's a "wardrobe malfunction," because that trick is tired)
Anyone falls down onstage or messes up the choreography

à

la Left Shark
A surprise guest is brought onstage (finish your drink if it's Andre 3000 or Cardi B)
Anyone enters or exits the stage in some dramatic fashion (think Lady Gaga's skydive-style jump into the stadium, or Diana Ross's iconic helicopter outro)
Finish your drink if:
Someone kneels onstage "in solidarity"
Anyone from the lineup decides to actually show solidarity (or attempts to save face) by not showing up to perform
Travis Scott proposes to Kylie Jenner during the halftime show
Whether this year's spectacle will produce any meme-worthy moments to be added to the most memorable Super Bowl halftime show events of all time remains to be seen—and if you watch it live, you'll know right away. Plus, you'll get to sneak in some extra drinks (or push-ups) if you play along.
There's still time to enter our sweepstakes in honor of Super Bowl LIII on CBS! We've joined forces with CBS Sports, CNET, and TV Guide to give away a party-perfect prize package that includes an LG OLED 65-inch TV (courtesy of Daily Steals), a 6.5 Liter Chefman Air Fryer, and $125 in gift cards for CBS All Access. Enter for your chance to win before 3:30 p.m PT on February 3, 2019!
All featured products are curated independently by our editors. When you buy something through our retail links, we may receive a commission. For more great hand-picked products, check out the Chowhound Shop.
Header image courtesy of Shutterstock.
See more articles