All featured products are curated independently by our editors. When you buy something through our retail links, we may receive a commission.
Banana bread may very well be one of the greatest and most versatile gifts ever to be bestowed upon us by the food gods. It's perfect for breakfast, a guaranteed hit at brunch, and great with a cup of coffee or tea for dessert. Whenever I buy bananas, I personally like to set a couple aside to get extra ripe and ready to be baked into a bread. Recently, I was looking online for different kinds of banana bread (you know, just to spice it up a little), and I came across different kinds of fillings you can bake right into the middle of your favorite banana bread. While it seems like a tricky dish to master, making a stuffed banana bread is actually really simple with these recipes!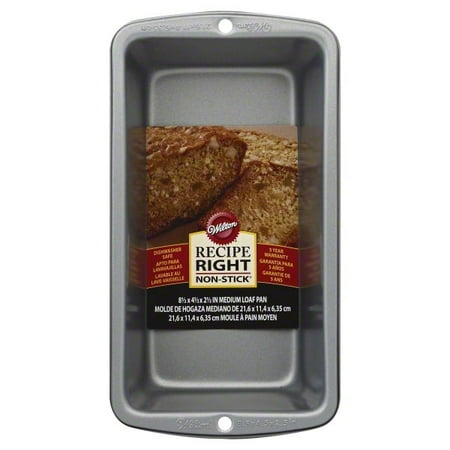 Wilton Recipe Right Loaf Pan, $9.23 at Walmart
The only special equipment you really need for banana bread.
Try It
Cheesecake-filled banana bread banana bread has quickly become very popular among my family and friends, and it's my favorite banana bread recipe I've tried (so far). While it takes a long time to bake, prepping and assembling the batter for both the bread and the cheesecake is so quick and easy. And a quick tip about this recipe: if you're not a cheesecake fan, add a little under 1 cup of chocolate chips to the batter and bake for 40 minutes for a gooey, chocolatey banana bread! Get the Cheesecake-Filled Banana Bread recipe.
I mean, it's got strawberries and bananas in it, so this is healthy, right? This banana bread is stuffed with a layer of peanut butter, but drizzle some extra peanut butter and some walnuts on top for good measure. And, bonus points, this banana bread is vegan! Get the Peanut Butter and Strawberry Banana Bread recipe.
Now THIS is the stuff dreams are made of. With Nutella in the middle and fresh bananas on top, this banana bread really hits it right out of the park. Try your best not to eat it all in one sitting, although no one would really blame you if you did. Get the Nutella-Stuffed Banana Bread recipe.
Who knew banana bread could be tropical? Filled with fresh diced pineapple, this banana bread is a perfect light dessert for your summer barbecues. Make sure to have a piña colada for me! Get the Pineapple Banana Bread recipe.
Admit it, this is the recipe you were hoping to stumble upon when you clicked on this article. Who doesn't dream of a molten chocolate center when they cut into banana bread? Well, this one literally has chocolate running through the middle. This is not for the faint of heart. Get the Molten Chocolate Banana Bread recipe.
It goes without saying that literally any flavor of ice cream (vanilla or strawberry especially) would work perfectly inside a banana bread, but this recipe specifically calls for one flavor: Halo Top brand Salted Caramel. First of all, if you haven't already tried this flavor, I highly recommend it. It's a very light, low-calorie ice cream, so eating the whole pint is actually encouraged. Plus, caramel and banana is an underrated combination, so everything about this recipe has me on the way to the grocery store right now. Get the Ice Cream Stuffed Banana Bread recipe.
While this one is similar to the cheesecake stuffed banana bread, the cinnamon and walnuts on top of the layer of cream cheese really add something special. And who doesn't love a pinch of cinnamon in their banana bread? Hint: if you like strawberries, try substituting strawberry cream cheese for an added flavor! Get the Cinnamon Swirl Cream Cheese Banana Bread recipe.
This may look like a regular banana bread, but cut into it and you'll find it's filled with fresh blueberries and raspberries. As an added bonus, this recipe comes with a separate recipe for an easy-to-make cream cheese frosting! Get the Berry Banana Bread recipe.
One time I tried a banana Reese's, and I actually really liked it. I imagine this is the banana bread version of that. What I'm especially excited about in this recipe is that the banana bread isn't just stuffed with chocolate chips (and peanut butter); the ENTIRE bread is chocolate. Sign me right up. Get the Chocolate Peanut Butter Banana Bread recipe.
Berry-filled banana bread meets jelly doughnut here, as this recipe calls for a thin layer of strawberry jam right in the middle. This just feels like a very classy banana bread that you'd probably enjoy with a cup of tea. Get the Banana Strawberry Jam Loaf recipe.
I've said it once already, but I'll say it again: caramel and bananas together are an amazing and underrated combination. And I am seriously a sucker for salted caramel ANYTHING. So I cannot wait to try this banana bread with salted caramel right in the middle. Get the Banana Bread with Salted Caramel Center recipe.
Bananas and nuts are a classic combination. While this specific recipe calls for walnuts, you can experiment with combinations of other nuts (such as pecans and almonds) that go great with bananas! Get the Walnut Banana Bread recipe.
Toffee alone has an amazing flavor, but in a banana bread? Forget it. And we're very lucky because not only does this banana bread have a toffee center, the recipe also calls for toffee on top. Enjoy! Get the Toffee Banana Bread recipe.
Related Video: How to Make Easy Banana Bread
All featured products are curated independently by our editors. When you buy something through our retail links, we may receive a commission. For more great hand-picked products, check out the Chowhound Shop.
Header image courtesy of Tasty.
See more articles