The Ultimate Guide To Picnicking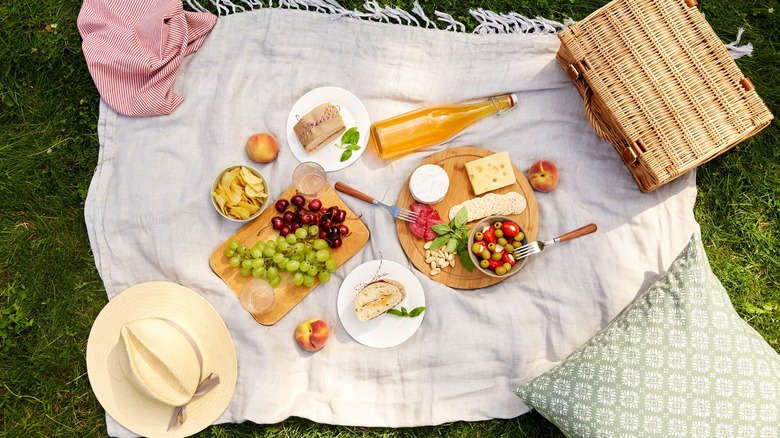 Ground Picture/Shutterstock
Having a picnic is one of the joys of warm-weather (and sometimes cool-weather) eating. Our guide to packing the best picnic ever will ensure you have a perfect time — wherever you are. On West Coast beaches, where the Pacific crashes into rocks along the horizon; in Midwest forests, and among the dunes of Lake Michigan; and in manicured urban parks in the Northeast, we love nothing better than to lift the lid of a cooler, flip open an old-fashioned hamper, and pop open an abundant array of storage containers to lay out a feast.
Advertisement
Planning a picnic is more than dragging the food you were going to eat already to an outdoor location. Throwing a great picnic is the result of a few factors: the setting, the weather (obviously), and the ease of serving and assembly (grilling marinated chicken skewers or portobello mushroom caps on coals is one thing; assembling and cooking panini on site, in a cast iron skillet precariously perched on cinderblocks over a fire, is another).
Still, we are living in a peak picnic era. In the '70s and '80s, opening a pack of Ballpark hot dogs and untwisting some supermarket buns would have passed for a fine outdoor meal. Today, we have become more sophisticated in our creativity with food and our eye for serving pieces. Let's extend a big thanks to Pinterest for upping our collective game for the latter and start by looking back at the rich past of picnicking.
Advertisement
The history of picnics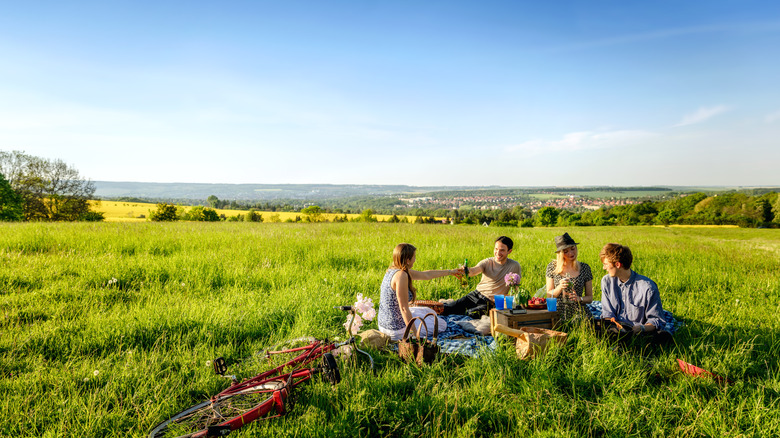 Nikada/Getty Images
Picnics were born in the sumptuous outdoor feasts that were traditions of the wealthy. Medieval hunting feasts, Renaissance country banquets, and Victorian garden parties are all precursors of our humble cookouts in the 21st century. However, this was not merely a European tradition; similar outdoor feasts occurred in Iran (formerly Persia), China, and other non-Western geo-locations.
Advertisement
The first picnics (in England) were medieval hunting feasts: pastries, hams, baked meats, and more. The concept stayed much the same, though the details adjusted to a household's wealth, until the Victorian era, arguably the most refined era in the history of picnics. Artists in the 19th century, such as Édouard Manet, Claude Monet, and James Tissot, brilliantly chronicled picnics and outdoor entertainment. 
The rather curious English word derives from the French "pique-nique." The meaning behind the French term is murky, except for the connotations around picking something. It originally referred to a potluck, typically indoors, where everyone brought something to eat. The change from an indoor potluck to a meal eaten outside was noticeable by the 1860s. The mingled notions of "impromptu" with "informal" survived — and still is a strong implication in any modern conception of picnicking. However, you can still pull off a perfect indoor picnic that captures the same spirit and is as fun. 
Advertisement
Tips for creating the perfect picnic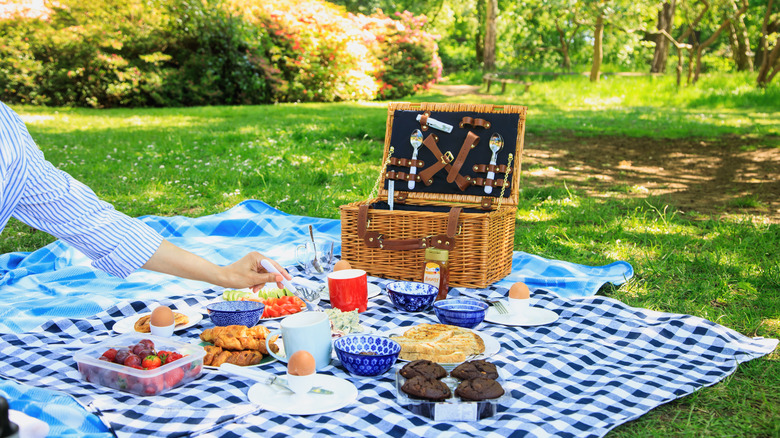 Serts/Getty Images
Where plates are concerned, enamel is the way to go. Enamel plates are light, easy to pack and carry, and practical: You can load them up with baked beans and salad, let them sit for 20 minutes, and won't get soggy. They also look and feel better than plastic and are way better for the environment than disposable dishes.
Advertisement
Even a scintillating conversation can lag after a while. Plan for boredom by bringing activities: board games, sand castle construction gear, books, and coloring books — adult or otherwise. These are easy to pack in and out, making an afternoon of delicious food tastier. Speaking of food, handheld options are the key. Stuff with built-in handles, like chicken drumsticks, fruit on skewers, and corn on cobs, is all inherently picnic-friendly. Do your best to minimize forks, spoons, and knives. 
Given the nature of being outdoors, bugs can easily crash your party. Flying critters and creepy crawlies will assail even the most urban picnic. Have a strategy. This could involve packing and or serving food and drinks in containers with lids (Mason jars, for instance), packing mesh covers, and toting plastic wrap. Clean shower caps can also come in handy for covering bowls and keeping them chilled. 
Advertisement
How to pack a picnic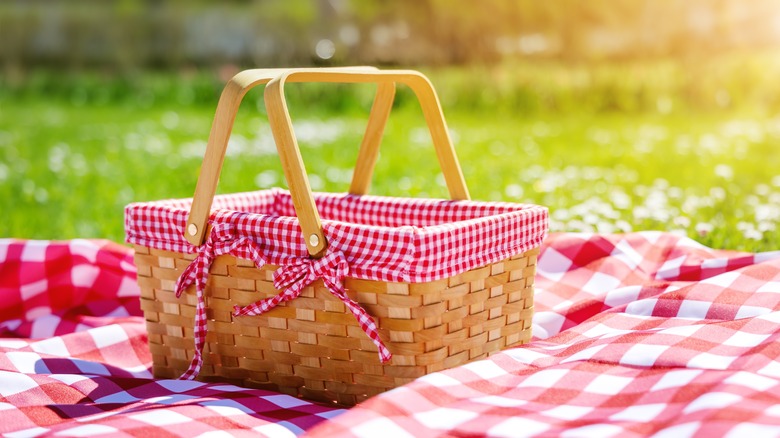 LeManna/Shutterstock
Folding tables, camp chairs, hassocks, tents, and dishes look cool in the movies but require a lot of work to set up. Keep your picnic swag as concisely edited as possible. Once you find the perfect spot, you only need a blanket and your portable feast. A Styrofoam cooler might be a good option in college, but nobody wants to tote a fragile, unwieldy plastic foam container filled with ice and beverage bottles onto a beach. Pay a little extra for a great cooler; you'll use it year after year. 
Advertisement
For easy (and prepared) clean-up, pack more garbage bags and wet napkins than you think. They're effortless to haul home, and when you need them... you need them. Another practical tip: Bring something to deal with the wind. Few things are as annoying as setting up the perfect al fresco spread, only to find the weather conspiring to scatter stuff. Keep weights and tethers in mind, such as nearby rocks you can weigh blankets down with, stakes, and simple napkin holders. Mother Nature can be cruel. 
Try to avoid bringing any messy foods to eat outdoors. You are probably in the woods or on a picnic table in a city park. Even if you can run to a public restroom to wash barbecue sauce or cake frosting off your child's face, you probably don't want to deal with that. Think of un-messy picnic foods: sandwiches, frittatas, oven-fried chicken. 
Advertisement
Food safety and traveling with drinks at a picnic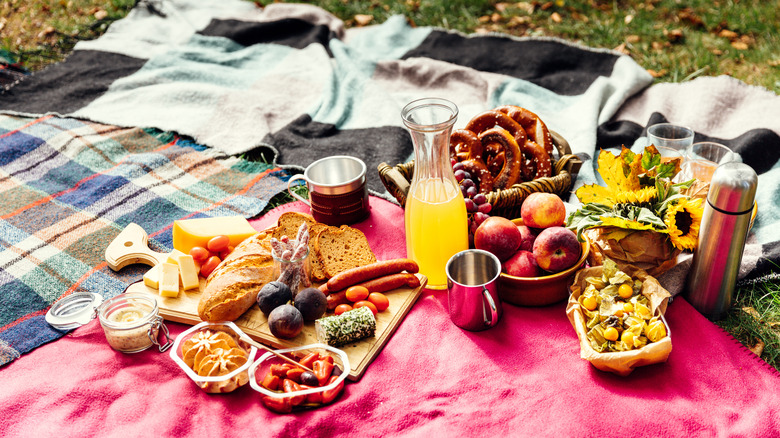 Fotodelux/Getty Images
The question is as old as egg salad, with a conventional wisdom answer: Can you get sick from mayo sitting out at room temperature for an afternoon? Here's what you need to know before you pack your cooler full of your favorite creamy salads. According to a report cited by Today, store-bought mayonnaise (not the homemade stuff) contains ingredients that counteract foodborne illness. 
Advertisement
The advice to keep mayonnaise and mayo-based foods in the refrigerator has more to do with keeping everything fresh and cold, allowing them a longer shelf life, than food safety. However, the USDA recommends keeping foods out at room temperature for no longer than two hours. Bacterial growth happens fastest at room temperature, or between 40 and 140 degrees Fahrenheit. So, your perfectly sunny weather could cause your food to spoil quickly. When in doubt, pack ice to keep cold foods cold. 
A bottle of wine is always welcome, but canned wine is lighter to carry — and no need to pack a corkscrew. Canned hard seltzer might be the thing for summer, but if you like something stronger, prepare batch cocktails in advance. Or, consider packing canned cocktails. Another option, learning how to make cocktails while camping, provides a great way to entertain at your next picnic. No matter how you approach this way of dining, good food, good weather, and good company never go out of style. 
Advertisement