All featured products are curated independently by our editors. When you buy something through our retail links, we may receive a commission.
If you think a KitchenAid stand mixer can just mix, well, think again. This kitchen appliance is so versatile, you can make pasta, zoodles, and even a variety of juices with all of its amazing attachment pieces. So whether you have a tilt-head model or a bowl-lift mixer, these are all of the extras you're going to need to really take your cooking and baking experience to the next level.
Exclusive Discount: Use code CHOWHOUND10 to get 10 percent off everything on KitchenAid.com. Or enter our KitchenAid Queen of Hearts giveaway by 4/30/2019 for your chance to win* a prize package that includes a stand mixer, food chopper, immersion blender, and more!
Vegetable Sheet Cutter, $74.99 at KitchenAid (originally $129.99)
Made from metal for a piece that will last, KitchenAid's vegetable sheet cutter is designed to create sheets of fruits or vegetables for healthy substitutes in any meal. Two blades give you a choice–either thick or thinner sheets depending on your needs.See It
Spiralizer With Peel, Core, and Slice Functions, $74.99 at KitchenAid (originally $129.99)
From peeling apples to making zoodles, the spiralizer attachment comes with four quick-change blades and an optional peeling blade. You can choose how thick or thin you would like your ribbons to be and use the corresponding metal attachment. It is designed to fit all KitchenAid stand mixers.See It
Sifter and Scale, $94.99 at KitchenAid (originally $169.99)
An automatic flour sifter which comes equipped with a battery-operated, easy-to-use digital scale, the Sifter & Scale is designed to make baking easier and baked goods fluffier, as compared to baked items with unsifted flour. The scale can also be used without the KitchenAid stand mixer.See It
Pasta Attachments, $59.99 – $209.99 at KitchenAid
KitchenAid's pasta attachments come on their own or in a variety of packages, including a 2-piece, 3-piece, or a 5-piece deluxe set. These sets are made from commercial style stainless steel rollers and cutters and roll 6-inch sheets of pasta with eight different thickness settings. Available pasta attachments include a pasta roller, fettuccine cutter, spaghetti cutter, lasagnette cutter, capellini cutter, and a cleaning brush. You can also purchase the pasta roller on its own.See It
Fresh Prep Slicer/Shredder, $39.99 at KitchenAid (originally $69.99)
Get ready to shred with the Fresh Prep slicer/shredder attachment. Good for use with any size bowl, you can slice and shred as many fruits and vegetables as your recipe calls for–or as many as you want. The Fresh Prep comes with 3mm, 4mm, and 6mm blades so that you can adjust your slicing sizes as you wish.See It  
Ravioli Maker, $109.99 at KitchenAid (originally $199.99)
The KitchenAid ravioli maker processes 6-inch wide pasta sheets to make three rows of large pocket ravioli filled with whatever you want. Stay traditional or get creative–your choice!See It
Food Processor with Commercial Dicing Kit, $149.99 at KitchenAid (originally $259.99)
From cubes thick and thin, to strips fine or coarse and long or short, the food processor with commercial dicing kit has your answer for whatever your recipe calls for, whether that's sliced or diced fruit, vegetables, or cheese. The attachment is equipped with the brand's ExactSlice, an external adjustable slicing lever and fits all KitchenAid Stand Mixers, the company said.See It
Citrus Juicer, $19.99 at KitchenAid (originally $39.99)
Fresh juice, anyone? Your KitchenAid has you covered. From limes to grapefruits, this citrus juicer attachment squeezes all of the fruits and even strains out seeds and pulp, which settles into the catcher quite nicely as the fruits are on the reamer.See It  
Juicer and Sauce Attachment, $134.99 at KitchenAid (originally $239.99)
For more advanced juicing action, the juicer and sauce attachment is used for slow juicing and sauce making. The attachment comes with three pulp screens, an extra-wide feed tube, and a stainless steel slicing blade. From apples to kale and everything in between, the juicer and saucer attachment can juice, jam, or sauce it all.See It
All Metal Grain Mill, $94.99 at KitchenAid (originally $199.99)
From coarse to fine grains, the KitchenAid all-metal grain mill is able to grind low-moisture, low-oil grains, including wheat, oats, corn, and rice. Settings range from cracked to extra fine, getting the perfect consistency for whatever you're making. It works with all KitchenAid stand mixers and also comes with a cleaning brushSee It.
Ice Cream Maker, $59.99 at KitchenAid (originally $109.99)
The KitchenAid ice cream maker attachment allows you to make up to two quarts of ice cream in about 20 minutes. Don't love ice cream? You can make gelato or sorbet with the attachment as well. It fits all stand mixers larger than 4.5-quart.See It
Metal Food Grinder, $74.99 at KitchenAid (originally $129.99)
With the ability to be pre-chilled in the refrigerator, the metal food grinder comes with fine, medium, and coarse grinding plates and two sausage stuffer tubes. This allows you to create your own burgers, sausages, and meat mixtures for meatloaf, and can be used to make breadcrumbs too.See It
Gourmet Pasta Press, $134.99 at KitchenAid (originally $239.99)
Designed to fit all KitchenAid mixers, the gourmet pasta press comes with six different discs for creating different types of pasta. With a flip of the disc, you can make spaghetti, bucatini, rigatoni, fusilli, large macaroni, or small macaroni. It also comes with a storage case to keep all parts together and stored neatly.See It
If you don't yet have something to attach these to, see which KitchenAid mixer is best for you. And check out our favorite KitchenAid splurges—as well as our favorite KitchenAid items under $50.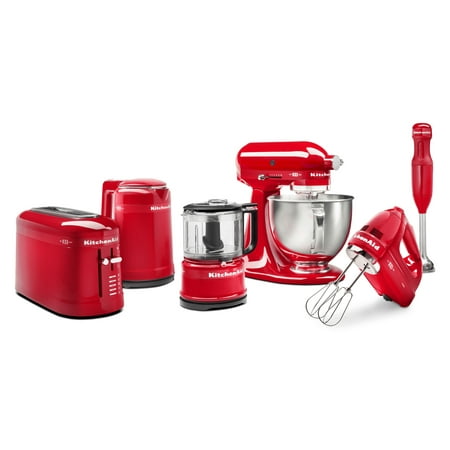 KitchenAid Queen of Hearts Collection, $49.99-$399.99 at Walmart
Browse the 100th anniversary limited-edition KitchenAid Queen of Hearts collection, including the iconic stand mixer, of course.
Buy Now
Related Video: Baker's Rejoice! KitchenAid's Newest Mixer Gadget Will Make Your Life So Much Easier
All featured products are curated independently by our editors. When you buy something through our retail links, we may receive a commission. For more great hand-picked products, check out the Chowhound Shop.
Header image courtesy of KitchenAid.
See more articles