Where Do Hot Dogs Come From?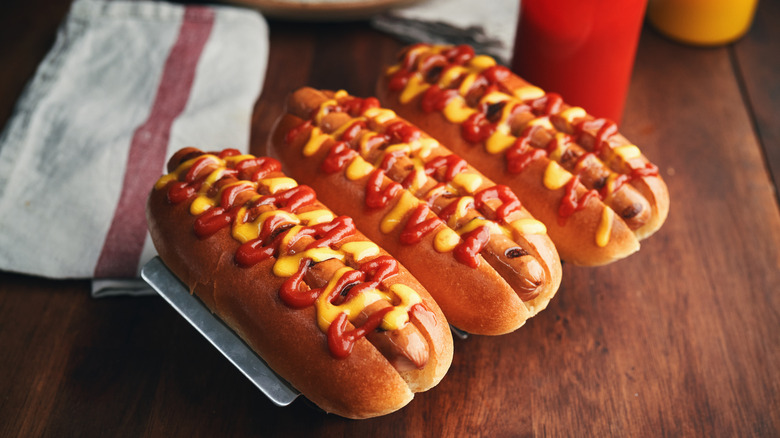 Gmvozd/Getty Images
Let's get frank: "Where do hot dogs come from?" may not be a question you ask yourself often (or ever), but millions — yes, millions — of Google users are curious about the origins of this iconic ballpark handheld. If you are anything like one of the curious cooks turning to the internet for increased hot dog knowledge, we know what you're probably thinking. Many believe hot dogs are ground-up American pork by-products like stomachs, snouts, and hearts molded into an elongated shape.
Advertisement
For that answer, you would be partially correct. Hot dogs were named after a New York Journal cartoon depicting a dachshund nestled between two buns — but some question this origin story. Others claim the term arose from an inside joke between cartoonist Tad Dorgan and sausage vendor Harry Stevens. A similar name for the food, dachshund sausage, is attributed to German immigrants in the 1800s. On the other hand, frankfurter comes from Frankfurt, Germany, the birthplace of the celebrated sausage wiener. But what about the mystery meat?
While ingredients vary by company, most hot dogs start as trimmings. No, your favorite Thanksgiving Day sides aren't combined to create the casing-wrapped, meaty treat. Instead, this refers to meat trimmings from beef, pork, or poultry (depending on the dog), which may include organ meats. However, these ingredients must be labeled. Jonathan Campbell, associate professor at Penn State University and extension meat specialist, told USA Today, "It is impossible to make a high-quality hot dog or frankfurter with sub-par raw materials." 
Advertisement
How hot dogs are made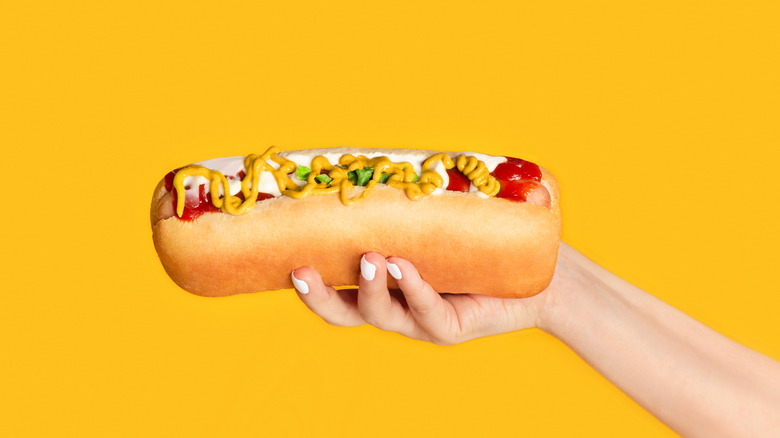 Prostock-studio/Shutterstock
Now that you may be less inclined to turn your nose up in disgust over what goes into a hot dog, we'll discuss how they are made. Once trimmings (pork and beef being of higher quality than mechanically separated chicken and turkey) are pre-cooked to help remove the meat from the bone and eliminate bacteria associated with butchering, they are ground up in a machine, emulsified into a paste, and then mixed with salt, starches, spices, and sweeteners. 
Advertisement
Water is added for a smoother consistency, making the mixture easier to pump into their respective casings, cellulose or natural. Before inspection and distribution, cellulose casings are removed for skinless varieties, while natural casings (the cleaned intestines of the animal) are left intact. This is what causes that perfect snap when you bite into one. 
While beef hot dogs may be the ballpark standard, they are available in many varieties — and endlessly customizable. If you want to think beyond a basic beef dog slathered with ketchup and mustard or a Chicago-style dog with sport peppers and celery salt, there are plenty of other options. Try a chicken hot dog with feta cheese, sauteed or fresh spinach, and tzatziki sauce for a Greek-inspired handheld. Top a beef or pork hot dog with guacamole, salsa, and queso to put a Mexican twist on the American classic. Whatever you do, don't worry about the "mystery meat"; it's not as gross as people have been led to believe. 
Advertisement