All featured products are curated independently by our editors. When you buy something through our retail links, we may receive a commission.
When it comes to food, Easter conjures up images of eggs, chocolate bunnies, candy-laden baskets, and maybe ham and lamb on the dining table, but there's also a rich tradition of Easter bread around the world, well worth exploring.
We rounded up some Chowhound community favorites back in 2008, but decided to revisit them since they never go out of style.
Pane di Pasqua (Italian Easter Bread)
Chowhound vvvindaloo talked about baking an Italian Easter bread: a dense, lightly sweet egg bread with plenty of anise seeds. "The loaves are shaped into dolls for girls, horseshoes for boys, and traditional ovals for those of vvvindaloo's grandmother's generation. They enjoy the Easter bread dunked in a cup of American coffee."
Many of the Italian Easter bread recipes you'll find online are simply shaped into circular loaves, or even individual rolls, often braided around brightly dyed hard-boiled eggs. An egg wash is also often called for to give the bread a high shine.
Try this Italian Easter bread recipe.
Kulich (Russian Easter Bread)
Chowhound Passadumkeg talked about making Russian Easter bread in two-pound coffee cans. "When done, it looks like a mushroom," they wrote. The top is decorated with raisins, icing, and candy, and served as a dessert, while the "stem" is left plain, sliced into rounds, and eaten with sweet cheese or sour cream.
Try this Russian Easter Bread recipe.
Tsoureki (Greek Easter Bread)
Chowhound emilief wrote about this eggy, sweet bread, baked in a braid and decorated with brightly painted eggs at each end. It looks like a lot of the Italian Easter loaves you'll see, but this Greek Easter bread contains maklepi (which can be spelled many different ways), a perfume made from soaking the pits of wild cherries in hot water, along with some grated lemon and orange peel.
Chowhound ziggylu described making a version of tsoureki much more like pane di Pasqua—an anise-flavored bread, but with no egg in the dough (just bright red Easter eggs baked into the loaf itself). We worked up a recipe that includes eggs, almonds, citrus zest, dyed eggs for decoration, and two slightly more exotic ingredients: the aforementioned mahlepi, and powdered mastic (though both are optional, they do lend a special flavor to the loaf).
Get our Greek Easter Bread recipe.
Anatoli Ground Mahlepi, $4.90 on Amazon
Ground wild cherry seeds add a fantastic fragrance to your baked goods.
Buy Now
Chios Mastiha Powder, $19.90 on Amazon
Powdered mastic also adds a unique flavor that's fun to play with in lots of other dishes.
Buy Now
Hot Cross Buns
And Chowhound mrsjenpeters mentioned making hot cross buns for Easter.
These soft little rolls were traditionally eaten to mark the end of Lent, and date back to 12th century England. Made with yeast and studded with raisins or currants, the namesake cross is usually scored into the dough before baking and/or piped on top with white icing once they're cool. If you only know them from the classic nursery rhyme, why not try making the real deal this Easter?
Try this Hot Cross Buns recipe.
Paasbrood or Paasstol (Dutch Easter Bread)
While we didn't have any community members speak up for this one, it's a worthy addition to your Easter bread basket. It's another yeast bread that's speckled with raisins or other dried fruit as well as a good amount of lemon and orange zest, but what really makes it stand out is the core of marzipan (almond paste) running though the center. Some versions have a heavy dusting of powdered sugar.
If that sounds familiar, it might be because it's basically the same thing as German Christmas stollen, which is better known in other parts of the world than this Dutch treat—but this tastes great any time of year.
Try this Dutch Easter Bread recipe.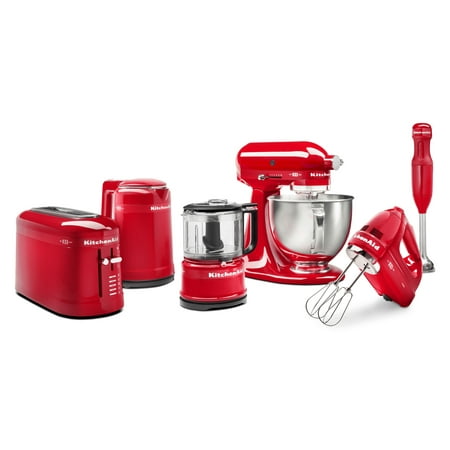 KitchenAid Queen of Hearts Collection, $49.99-$399.99 at Walmart
Browse the 100th anniversary limited-edition KitchenAid Queen of Hearts collection, including the iconic stand mixer to help you knead whatever bread you choose.
Buy Now
All featured products are curated independently by our editors. When you buy something through our retail links, we may receive a commission. For more great hand-picked products, check out the Chowhound Shop.
This post was originally published on March 19, 2008 and was updated with new links, text, and images on April 12, 2019.
See more articles