All featured products are curated independently by our editors. When you buy something through our retail links, we may receive a commission.
We've all seen the emotionally charged trailer and there's no doubt you're ready to binge watch Netflix's third season of the gloriously addictive "Queer Eye" (maybe while doing some serious emotional eating). But before we go down the rabbit hole of the Fab Five's new interior design makeovers and unforgettable quotes, let us not forget the imperative lessons we've learned from our favorite gay men (and heroes) from seasons past on this brilliant television show. Specifically how to make a place setting worthy of Bobby Berk's nod or the kind of can't-stop-eating-this-appetizer Antoni would approve of. Below, we rounded up some of the best lessons we've learned from "Queer Eye" about home entertaining, plus a few reminders of why self-love is what ultimately makes a truly fabulous host. Can you believe?
1. Do You, But Better
The Fab Five always manage to figure out how to deliver a memorable makeover moment via significantly improved fashion and interior design choices without totally overhauling someone's personality or decimating what makes that person unique. Take Tom from season one in "You Can't Fix Ugly." Redneck margaritas weren't going to attract a new beau for this unshaven fella, but a jalapeño-infused margarita and some easy guac won over his lady's heart and taste buds. Proof you can stay true to yourself and still elevate your hosting skills. Plus margaritas are delicious and people always love them—it's a no-fail cocktail for any party.
Antoni in the Kitchen, $21.05 on Amazon
Pre-order Antoni's first cookbook—you'll have to wait til September to get it and see what he does to guac, though.
Buy Now
2. Use Real Ingredients
Who could forget clueless straight guy and star of season one's "Dega Don't" episode? (If you did, he was the police officer with a love for Nascar and mullet wigs whose pantry was stocked with endless generic cheese crackers, chips and even unrefrigerated, opened pickles.) Porowski reminded Dega Do Cory that you can make something easy out of fresh ingredients and showed him how to do elevated fare with this avocado and grapefruit salad.
3. Respect Your Space
Generally, when one has a group of friends coming over, we want our space to feel clean and welcoming. (Even if we tidy up maniacally in less than 45 minutes.)  Bobby Berk takes this a step further in many episodes, especially with the subjects that have children, reminding us we should keep our space clean and well organized out of respect for ourselves, not just when we have guests over.
4. Expensive Doesn't Mean Impressive
In the first season, we meet Bobby, a husband, and father of six children. Predictably, his house is a complete disaster. The Fab Five see that the entire home needs a makeover, but instead of running to Restoration Hardware (not even Netflix has that kind of budget) they buy the food, clothes, and interior accents at good old Target. And truth be told, it looked great. The next time you're looking for that perfect craft or kitschy item to add some class to Sunday brunch hosted in your home, think about looking for high-design that's affordable.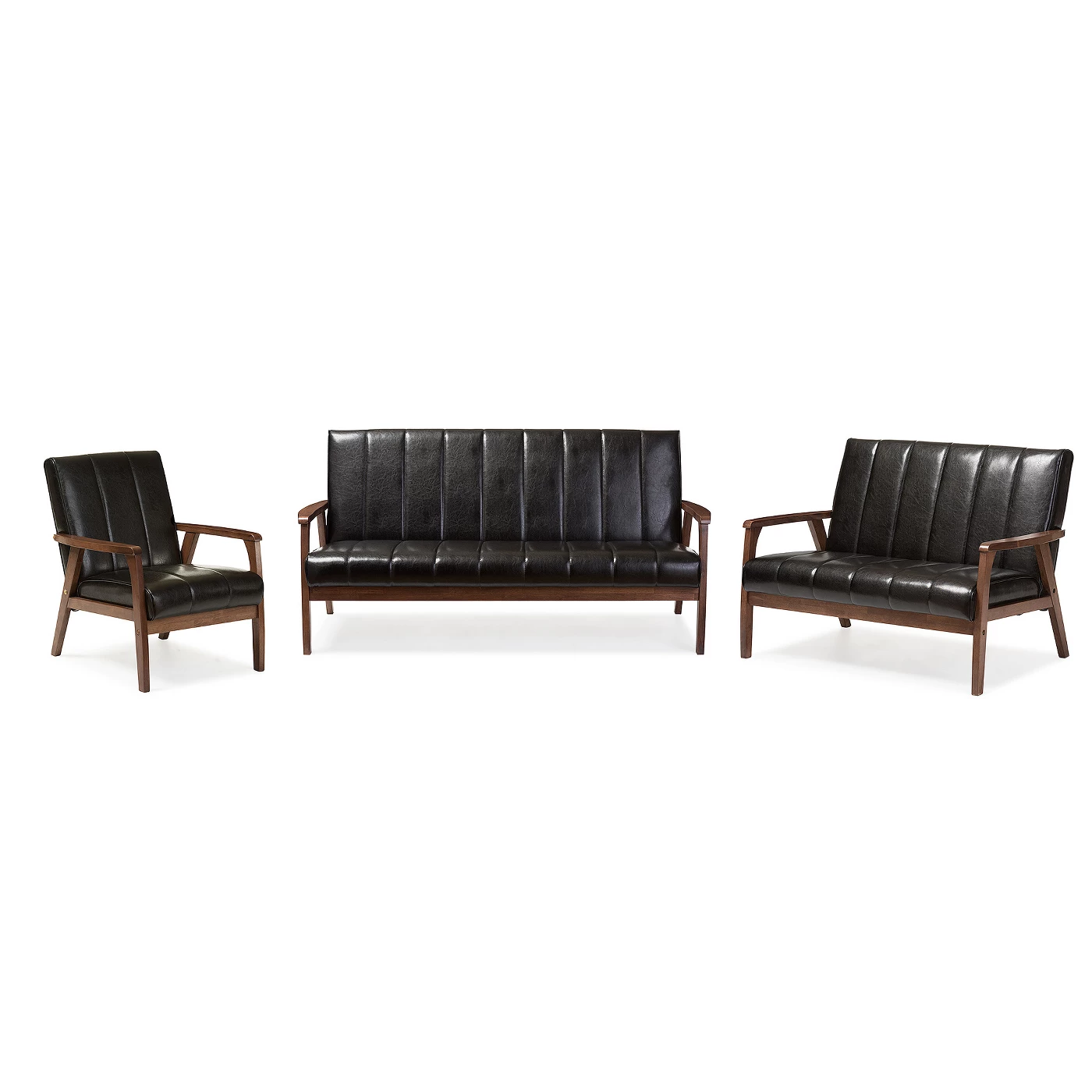 Nikko Mid-Century Modern Scandinavian Faux Leather Living Room, $775.71 on Target
Bobby reminds us we can be chic without breaking the bank!
Buy Now
5. Try New Things
One of this reboot's most memorable subjects is Skyler, a trans man who loves sushi and has no idea how to cook. Antoni being the blessed life coach that he is, teaches him how to use frozen tuna to make a poke worthy of any Japanese sushi chef. We say try this easy salmon poke recipe to make your life a bit easier, but just as decadent!
6. Embrace Your Family History
Season two's woebegone Ari is helped by Porowski to return to his Iranian heritage with a Tahdig dish for his little gathering. Season one's Remy is taught how to make a mac and cheese with Gruyere to honor his late father.  The guys are really into owning your personal and family history. The next time you're hosting an event, try to think of a family recipe you loved as a child and recreate it.
7. Do Your Prep Work
As we mentioned before, nobody wants to be running around with a blow dryer in one hand and a knife in the other, trying to prep for dinner party guests. Which is why in every episode, Porowski shows his subjects how to do the prep work beforehand to ensure said host isn't stuck in the kitchen the entire time. Think about in season 2 when Ted, the youngest mayor in the history of Clarkston, is hosting important international guests from Sierra Leone and the Philippines. The whole point of the gathering is to discuss refugee resettlement in his town, which is quite a bit more important than spending time in the kitchen. So, he prepped some quick fresh recipes, like this one, long before any of his guests arrived. Antoni knows, the key to a calm host is a prepared host.
8. Repurpose Important Pieces
Whenever Bobby is redesigning a home, he makes a point to keep something that means a lot to the homeowner and figure out another use for it. Repurposing wood pieces and various furniture from Remy's grandma's 1970's home into a living room set allowed him to keep a piece of her with him while still feeling modern. From highlighting youngin' Sean's instruments in his new bachelor pad or displaying Cory's American flag upstairs, and not in the basement, the guys know that reusing things you care about around your home will make guests feel more at home as well.
9. Take Care Of Yourself Before Hosting Your Friends
Jonathan Van Ness, our grooming guru and style expert, reminds each subject that no matter if you're gay or straight, you are worthy of love and self-care. Whether it's a facial with a fireman or some topical cream for Tom's eczema, the guys make a point to ensure the host feels good. Could single handyman Jason have thrown a bash for his buds without realizing even men who love Burning Man deserve a kickass wardrobe? Absolutely not.
Queer Eye: Love Yourself. Love Your Life, $16.99 on Amazon
Add authors to the list of this fab five's accomplishments!
Buy Now
Check out our other favorite Netflix food shows! And if you like to listen up, see our list of the best food podcasts.
All featured products are curated independently by our editors. When you buy something through our retail links, we may receive a commission. For more great hand-picked products, check out the Chowhound Shop
Header image courtesy of Gavin Bond/Netflix
See more articles