All featured products are curated independently by our editors. When you buy something through our retail links, we may receive a commission.
When you hear "KitchenAid," you almost automatically think about the stand mixer that home cooks and bakers have come to covet. But the brand is actually so much more than just mixers. It includes blenders, toasters, cookware, and other appliances and tools. And some of these products are absolutely worth saving your hard-earned money for. Check out some of our favorite KitchenAid items that are totally worth the splurge.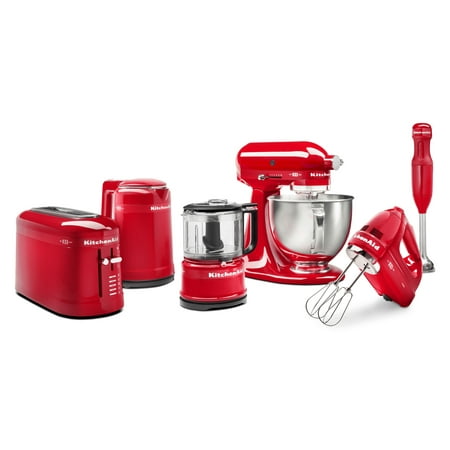 KitchenAid Queen of Hearts Collection, $49.99-$399.99 at Walmart
Browse the 100th anniversary limited-edition KitchenAid Queen of Hearts collection, including the iconic stand mixer, of course.
Buy Now
Bonus: Use code CHOWHOUND10 to get 10 percent off everything on KitchenAid.com! Or enter our KitchenAid Queen of Hearts giveaway by 4/30/2019 for your chance to win* a prize package that includes a stand mixer, food chopper, immersion blender, and more!
Siphon Coffee Brewer, $259.99 at KitchenAid
Not only is this a work of art that deserves a spot on the countertop, but it's perfect if you need a perfect cup of coffee in the morning. Made of glass, it uses precise temperature and vacuum technology for a complex and velvety cup of coffee. The brewer is also automated, so no need to manually press start, and can make between two and eight cups.See It
Multi-Cooker with Stir Tower Accessory, $519.99 at KitchenAid
A serious splurge at $519.99, this 4-quart multi-cooker is a must-have for anyone who loves to cook but doesn't have the time. With more than 10 functions, this multi-cooker can make risotto, rice, soup, and yogurt, and has the capacity to sear, sauté, simmer, boil, steam, and slow cook high and low. If that's not enough, KitchenAid says it can keep food warm for up to 24 hours, too. The stir tower alone, which is included to mix, flip, and stir ingredients, is worth the extra money.See It
Gourmet Pasta Press For KitchenAid Mixer, $239.99 at KitchenAid
Designed to fit all KitchenAid mixers, the gourmet pasta press comes with six different discs for creating different types of pasta. With a flip of the disc, you can make spaghetti, bucatini, rigatoni, fusilli, large macaroni, or small macaroni. It also comes with a storage case to keep all parts together and stored neatly.See It
Tri-Ply Polished Stainless Steel Roaster, $159.99 at KitchenAid
Being able to cook an impressive piece of meat is all well and good, however, being able to showcase one in an equally impressive roaster is, well, better. KitchenAid's Tri-Ply polished stainless steel roaster is built in three layers—two layers of thick polished stainless steel surrounding an aluminum core. And not only does it look good and heat well, but it can also go in the dishwasher for easy clean-up.See It
Professional Series Cutlery, $389.99 – $519.99 at KitchenAid
KitchenAid's Professional Series kitchen knives are ice-tempered and hardened to reinforce blade strength, the company says. Made from German steel and with a triple rivet handle for a comfortable grip, the 7-piece cutlery set has all of the knives you'll need to chop, slice, peel, filet and more. If you've got some more money in the bank, or just like investing in kitchen knives, there is also an 11-piece set. Bonus: The die cast cutlery block can be colored, too, to coordinate with a KitchenAid Mixer or just to make a statement in the kitchen.See It
Pro Line Series 5-Speed Cordless Hand Blender, $389.99 at KitchenAid
Whether you're looking to make a hearty soup or just froth coffee, the KitchenAid Pro Line Series 5 cordless hand blender can do it all and make it look easy, too. The line comes with several bell assemblies which can be changed easily to fit the job at hand. Additionally, it comes with five attachments and a 12-volt rechargeable lithium ion battery so there is no need to worry about a cord. It, too, is available in a variety of colors.See It
Related Video: 6 Essential Kitchen Tools Under $50 That Will Get Your College Kid to Cook
All featured products are curated independently by our editors. When you buy something through our retail links, we may receive a commission. For more great hand-picked products, check out the Chowhound Shop.
Header image courtesy of KitchenAid
See more articles