All featured products are curated independently by our editors. When you buy something through our retail links, we may receive a commission.
If you're a food lover without a millionaire's bank account—like most of us—then you've surely spent time dreaming about having top of the line cooking equipment. Maybe you've found yourself drooling over the multiple ovens and industrial kitchens "Top Chef" contestants get to enjoy. Or turned green with envy when you saw an HGTV kitchen renovation with the kitchen island and fancy appliances you've been lusting after.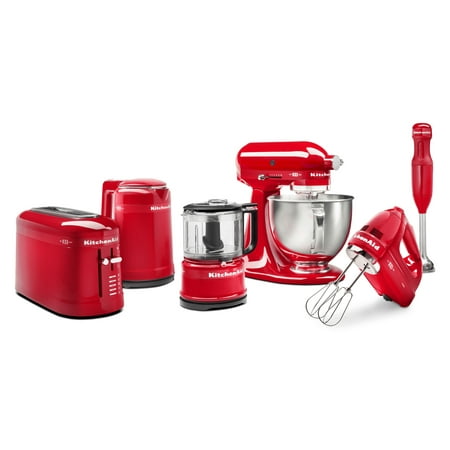 KitchenAid Queen of Hearts Collection, $49.99-$399.99 at Walmart
Browse the 100th anniversary limited-edition KitchenAid Queen of Hearts collection, including the iconic stand mixer, of course.
Buy Now
The good news is, though, even if you don't get to enjoy the spoils of reality TV living, you can level up in the kitchen—for less than 50 bucks. Here are the best KitchenAid items you can buy with a Ulysses S. Grant bill.
KitchenAid 5-Speed Ultra Power Hand Mixer, $45.99 on Amazon
It's time to put down the whisk. Whip ingredients in a flash and save your energy for actually eating the pancakes or cookies you're planning on serving up.See It
KitchenAid Prep Bowls with Lids, 4 for $11.00 on Amazon
Make your Sunday food prep instantly prettier with these bowls. Store ingredients you'll need throughout the week in these stackable containers instead of ones repurposed from takeout orders.See It
KitchenAid Deluxe Comfort Anti-Fatigue Mat, $44.60 on Amazon
Spend a lot of time standing while chopping? This mat takes a massive amount of pressure off your joints so you can whip up your go-to fajita recipe and feel no pain after. Your knees and back will thank you.See It
KitchenAid Food Chopper, $17.99 on Amazon
Keep bits of veggies from flying all over your kitchen by slicing with this food chopper. The design makes cutting up harder foods like nuts a breeze, too.See It
KitchenAid Soap Dispensing Sink Brush, $13.39 on Amazon
The worst part of cooking is always the cleanup. So we're all for cutting down on unnecessary steps when washing dishes. With this soap dispensing brush in hand, you can slash the minutes you spend scrubbing pots and pans and spend more time savoring every bite of the delicious dinner you made instead.See It
KitchenAid Gourmet Stainless Steel Electronic Scale, $48.75 on Amazon
Take the guesswork out of cooking. This easy to clean and compact scale makes it easy to measure ingredients, and even automatically subtracts the weight of a container or bowl.See It
KitchenAid Hand Blender, $49.99 on Amazon
Creamy soups and filling smoothies are in your future in 2019. This hand tool makes blending everything from guacamole to baby food no sweat.See It
KitchenAid Streamline Ceramic Casserole, $34.31 on Amazon
The days of showing up at the neighborhood potluck with sad looking aluminum foil containers are over. This bakeware is perfect for throwing in the oven and serving your soon-to-be-world-famous mac and cheese right out of it—while basking in praise at the same time.See It
KitchenAid 3 Piece Classic Forged Series Starter Brushed Cutlery Set, $39.99 on Amazon
Slice and dice your way through any recipe with this trio of knives. The set includes a paring knife, chef knife, and serrated utility knife—the three most commonly used cutting utensils.See It
KitchenAid 7-Piece Essential Tool and Gadget Set, $34.49 on Amazon
They don't call it "essential" for nothing. This set is an ideal starting point for a new kitchen and includes basics like a spatula, vegetable peeler, and grater.See It
Round Electronic Device Holder and Cutting Board, $21.35 on Amazon
Keep your electronics debris-free with this device holder. You'll be able to tote your phone or tablet into the kitchen and follow your favorite Chowhound recipes without any issues now.See It
Exclusive Discount: When you shop on KitchenAid.com, you can use the code CHOWHOUND10 to get 10 percent off everything. Or enter our KitchenAid Queen of Hearts giveaway by 4/30/2019 for your chance to win* a prize package that includes a stand mixer, food chopper, immersion blender, and more!
Related Video: 5 Gadgets Healthy Cooks Have in Their Kitchen
All featured products are curated independently by our editors. When you buy something through our retail links, we may receive a commission. For more great hand-picked products, check out the Chowhound Shop.
Header image courtesy of KitchenAid/Amazon.
See more articles