All featured products are curated independently by our editors. When you buy something through our retail links, we may receive a commission.
When you imagine "breakfast burrito," you might imagine something different than the person next to you imagines. Your perspective depends a lot on where you grew up, what you think is spicy, and especially what you consider to be "breakfast potatoes." In its shapeshifting, the breakfast burrito is a true rise-and-shine dish: It allows you to choose your own adventure every time the sun comes up.
The history of the breakfast burrito isn't fully certain, but you can be fairly sure it's an American thing. Most believe the dish was first served in the 1970s in New Mexico, where it was long popular to eat your morning eggs and bacon alongside a flour tortilla. Some believe the breakfast burrito evolved from the (corn tortilla) breakfast tacos of Austin. Others think the breakfast burrito was just the result of traditional burritos getting eaten earlier and earlier in the day across the entire country.
Roll With ItWhat Is the Difference Between a Burrito and an Enchilada?As for traditional burritos, most people date their invention to the turn of the 20th century in Sonora, Mexico. Flour tortillas were used because Sonora produced a lot of wheat. Early adopters threw leftovers of rice and beans into flour tortillas and carried them about their days. Even in the beginning, it was a true kitchen sink mentality.
The burrito took off in the U.S. in the 1950s. It was then that frozen burritos were invented by the same guy who sold frozen burgers to McDonald's. The popularity of burritos in the U.S. first took hold in Southern California.
A restaurant in Santa Fe, N.M. claims to have been the first to put the words "breakfast burrito" on its menu in 1975. I spoke to Nick Maryol, owner of Tia Sophia's, about what, if anything, constitutes a breakfast burrito. His father, Jim, was the man who unofficially coined the concept.
"A breakfast burrito is any style of burrito you have for breakfast," Maryol concedes, concretely, after a bit of pondering. "I would hate to say, 'This is a breakfast burrito and this isn't.'"
The child of Greek immigrants, Jim Maryol grew up in Albuquerque. After serving in Vietnam, he moved back to Santa Fe to open Tia Sophia's. His son, Nick, says both Greek and Latino cultures influenced Jim's perspective and his restaurant.
In the early days of the breakfast burrito at Tia Sophia's, Jim Maryol made eggs optional. He basically sold people traditional burritos in the morning—but added hash browns.
"I guess the big thing that makes a breakfast burrito a burrito is the potatoes—the big heaping mound of hash browns," says Nick Maryol. He says he has a repeat customer who often orders a breakfast burrito with ground beef and hash browns, but without eggs.
Tia Sophia's has maintained its basic model since 1975, but has added more and more options for consumers. The restaurant sells many "breakfast burritos without tortillas," which Nick Maryol admits "are really just breakfast bowls." Recently the restaurant added a local favorite to include in its offerings—fried bologna.
Maryol believes what makes New Mexico breakfast burritos distinct from those across the country is their chili: One of Tia Sophia's most popular burritos is a Christmas Burrito, a large burrito covered in a festive mix of red and green chili.
A few other regional styles dominate the American West. Here's a rundown of some of the most notable ones:
The Mission Breakfast Burrito (San Francisco)
Mission burritos tend to be overstuffed with rice and beans, and the breakfast kind are no different. Wrapped in flour tortillas, some offer multiple meats rolled into in one (bacon, chorizo, and ham). Unlike in New Mexico, potatoes tend to be traditionally cubed breakfast potatoes, not hash browns.
The California Breakfast Burrito (San Diego)
San Diego is responsible for putting french fries in burritos, so you'll find a handful of those types in breakfast burritos too. Hash browns and steak comprise many great San Diego breakfast burritos—and many come with spicy chipotle sauces.
The Colorado Breakfast Burrito (Denver)
In 2017, the Mayor of Denver declared the second Saturday of every October be Breakfast Burrito Day. That's how much Coloradans, like myself, appreciate one of our favorite morning meals. Colorado's breakfast burritos run the gamut, but many are served wet in green chili and cheese. Expect few spins on eggs or potatoes. Most burritos are packed in scrambled eggs and cubed breakfast potatoes, not hash browns.
The Cofax Breakfast Burrito (Los Angeles)
L.A. has always been a burrito city: The word "burrito" first showed up in the Los Angeles Times in 1958. As for breakfast burritos, L.A. celebrates a swarm of styles. One of the most popular is from Cofax, a small coffee shop in the Fairfax District where they stuff burritos with potatoes and tortilla chips. Eggs can be made whichever way you prefer. In recent years they brought pastrami to the menu, adding a tempting alternative to bacon. Of course, most breakfast burritos in L.A. will come with optional avocado. There's no way around that.

So, no. There's nothing that particularly distinguishes a breakfast burrito from its posers. As long as you're creating something hot and fueling that brings you joy, you're in the clear.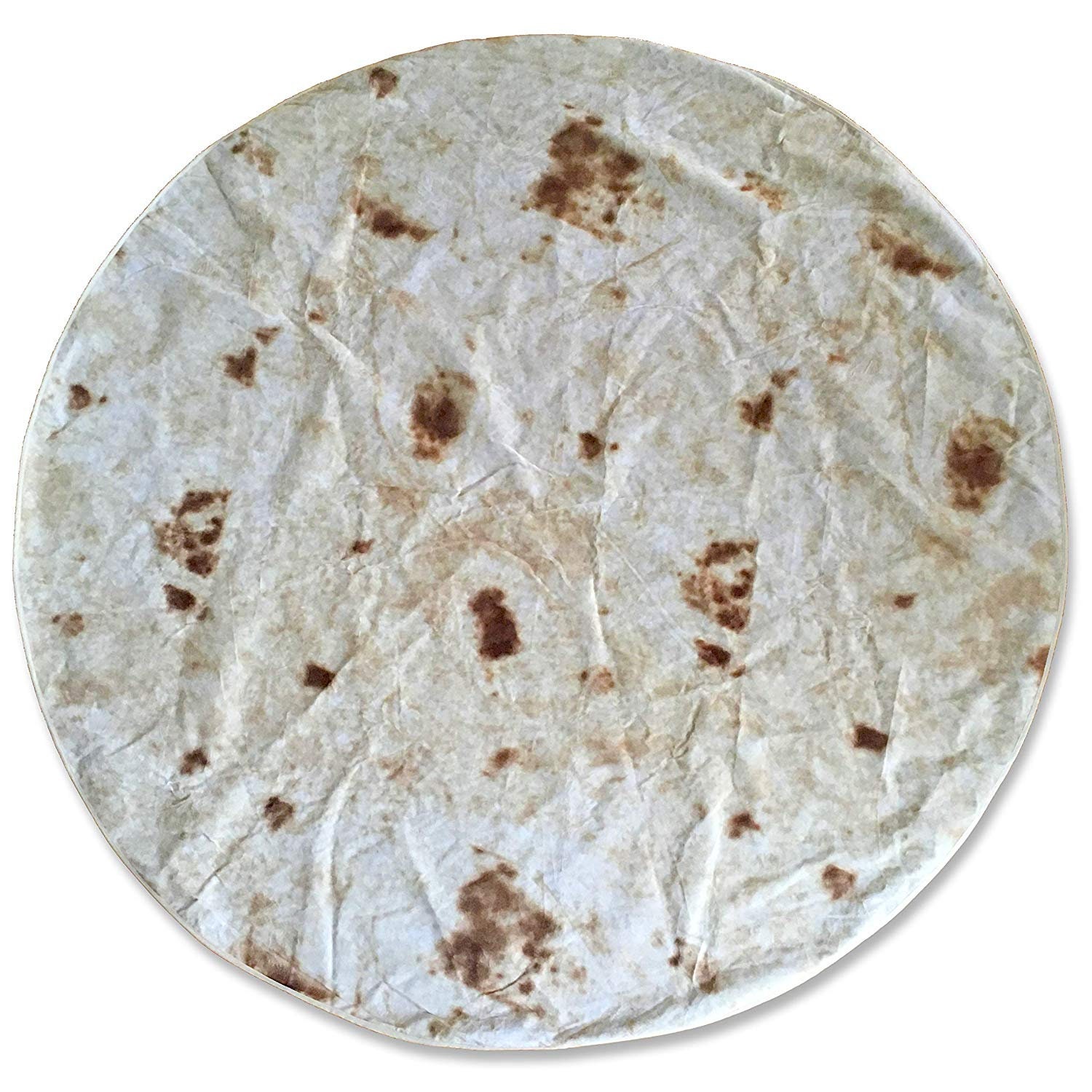 Vesaints 59-Inch Burrito Blanket, $41.62 on Etsy
Be a burrito any time of day when you wrap yourself in this tortilla-print blanket.
Buy Now
All featured products are curated independently by our editors. When you buy something through our retail links, we may receive a commission. For more great hand-picked products, check out the Chowhound Shop.
Header image by Chowhound.
See more articles