All featured products are curated independently by our editors. When you buy something through our retail links, we may receive a commission.
With just a few days left before the big game, you're probably in the middle of whipping up a killer Super Bowl spread (if not, better put these easy Super Bowl party shortcuts in your metaphorical back pocket now). As we scour the internet for last-minute recipes for wings, chili, pizza, and beer cheese dips, Google has once again released some interesting insights regarding our collective football-themed menu planning, by compiling a list of the most uniquely-searched Super Bowl recipe for each state. Let's just say, buffalo chicken dip and cakes are having a moment.
What may shock you is the significant ground lost by old favorites chili and jalapeño poppers. The overall results indicate, in some instances, that specific diets are gaining ground (keto and gluten-free among them), but also that comforting baked goods are skyrocketing in popularity.
And a few states still have some…interesting requests. We've rounded up the list of this year's standouts and compared each state's result with their top-searched term from last year (because science?). See how your Super Bowl plans stack up (or don't), and get some delicious ideas while you're at it!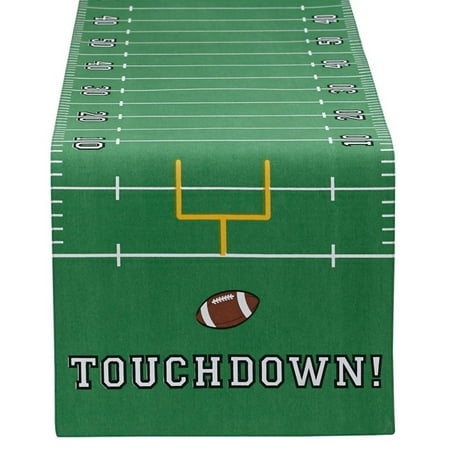 70-Inch Field Green Football Table Runner, $35.19 at Walmart
Turn your table into a level playing field for all your favorite snacks.
See It
Last year's top result in Alabama was just plain "chicken"—so clearly, they've stepped up their game.
This makes total sense—yet it's so mainstream, especially compared to last year's oddly specific result out of Alaska ("dill pickle dip with dried beef").
Arizona: Cake
Hm, okay. Cake is obviously great! But 2018's "green chicken enchilada" definitely felt a little more Super Bowl-appropriate.
In Arkansas, wings unseated "five bean chili" in the top search spot. Maybe a lot of folks are having a keto Super Bowl in 2019?
Clearly, Cali is taking healthy Super Bowl food to heart; at least last year's state fave "fried rice" had "fried" in the name.
A respectable choice, but a definite underdog compared to last year's Colorado favorite, "baked chicken wings."
Here's one state that hasn't shifted its affections; "buffalo chicken dip" has retained the top spot two years running in Connecticut.
Sounds like the just the thing to serve after last year's Delaware champ, "stuffed peppers!"
D.C. favored "pizza bites" in 2018, but they're still psyched for snacks (and rightly so).
Florida: Cake
Cake is creeping up all over this list, but last year, Florida went HAM for "shrimp."
Here comes buffalo chicken dip again, giving cake a run for its money; the dip is certainly less involved but just as satisfying as last year's top Georgia result: "ham bologna turkey sub." (If you're lucky enough to be in-state for the big game, be sure to consult our Super Bowl Dining Guide to the Best Restaurants in Atlanta!)
Hawaii is keeping things super festive, but pivoting from savory "nacho" in 2018 to sweets (yes, you are sensing a trend).
Just plain "salads" seems somehow so wrong. Last year's "potato" may have been stereotypical, but seemed more fitting for the occasion. At least combine them into potato salads (without mayonnaise, if you're trying to be healthy about it).
Last year's "Philly cheesesteak" was clearly inspired by the Eagles, but this year's most-popular popper is just your classic snack game superstar.
Maybe a lot of California folks relocated to Indiana since last year, when "chicken" reigned supreme in the Hoosier state?
Seems like Iowa is getting a jump on St. Patrick's Day; at any rate, cozy Irish stew has unseated last year's Italian "stromboli."
Buffalo chicken dip's third time on the list (but not the last)—and this time it's knocking out another Italian fave: "calzone."
For the Super Bowl, taco salad seems more fitting than Kentucky's 2018 pick ("fondue"—but that definitely deserves to make a comeback for Valentine's Day, which is close on the heels of the big game).
Sweet, more cake (although in individual form this time)! In Louisiana, it's taking over from last year's decidedly savory"pork tenderloin."
Look at Maine, getting all international, and stepping up their cooking (or at least their Googling) game from ho-hum, if totally traditional, "chicken wing" in 2018.
Pizza is an obvious—and worthy—successor to last year's "chili" (plus, it's definitely the easier option if you order it online)!
Very specific, very appropriate (for a gluten-free Super Bowl or otherwise), and they can share space with last year's "chili," because what's a party without too much food?
As in Maryland, so in Michigan, where "chili" slipped from the top spot in favor of 'za.
Minnesota: Tacos
Another state where "chili" ceded the most-searched honor, this time to Mexican favorite tacos.
Wait, seriously? Granola bars? They are good for easy snacking in front of the TV, probably much more so than last year's top Mississippi result ("green beans with beef broth"), but still, this seems a little lackluster.
Broccoli cheese soup appears for the second time on 2019's list, taking over from beefier "chili" in Missouri.
Well, it's certainly a healthier (if less exciting) choice than "bacon shrimp."
These feel right at home with last year's "cream cheese jalapeño hamburger" that topped the charts in Nebraska. We're sensing a fantastic food mash-up idea in here too…
Nevada got much more specific—and sporty-sounding—compared to 2018's top result ("potato"), although they might be a little bit…confused about the whole vegan thing (unless, of course, we give them the benefit of the doubt and assume they meant vegan bacon).
Yet another state skews sweet, veering from 2018's savory and singular "chicken wing" to not one but two types of dessert.
New Jersey remains loyal, just like Connecticut; "buffalo chicken dip" was tops in 2018 too, in both states.
Um, granola bars suddenly make way more sense. And this peppery pick (which, honestly…we're not 100 percent sure what it even is), is especially inexplicable compared to last year's "ranch spinach dip" that won out in N.M.
Aha, seems spinach dip just migrated to New York, though without the ranch; at any rate, New York isn't feeling "chili" this year.
Now this salad makes sense, seeing as it's loaded with bacon, turkey, cheese, and eggs, although it is certainly a less predictable choice than 2018's "jalapeño poppers."
North Dakota's looking for a full dish this year (last year the top term in the state was simply "pizza sauce").
Another case where an Eagles-inspired "Philly cheesesteak" query in 2018 was replaced by a timeless choice that's good regardless of who's playing in the game.
It must be cold in the Sooner State; last year they were having "French onion cream dip," but classic comfort food earns the top honor in 2019.
Perhaps 2018's "clam chowder" was inspired by the Patriots, but if so, the Pats lost their sway this year, as Oregonians are doing their part to boost baked goods' popularity.
The Keystone State has swapped out one classic Super Bowl staple (that'd be "chili," again) for another long-time favorite in 2019.
It's a multilayered classic, and probably still quicker to make than last year's "baked ziti."
While "crab dip" is fabulous, this year's turkey chili seems much healthier, heartier, and more Super Bowl-appropriate.
Seriously, people are really into baked goods right now; "marinara sauce" is so 2018.
Tennessee: Cake
The domination of baked goods continues apace, and in Tennessee, cake has overshadowed classic "jalapeño poppers."
'Tis a sad day when "chili" can't even retain its foothold in its home state, but spinach dip is pretty great. Just have them both on offer at your Super Bowl party.
We can get down with this Super Bowl snack, either instead of or in addition to last year's winner, because "jalapeño poppers" are too delicious to ever be passé.
More comforting and better suited to feed a crowd than last year's "chicken breast tender" choice. (Good job, Green Mountain State!)
Old Dominion's allegiances have stayed true, just like its more northerly neighbors' (Connecticut and New Jersey, to save you the trouble of scrolling back up); buffalo chicken dip keeps its top-Googled spot in 2019 in yet a third state.
Washington: Cakes
Sorry, "jalapeño popper." You just can't compete with sweets, at least not in Washington (or in Tennessee).
West Virginia joins the crowd of buffalo chicken dip devotees—and while we love it too, we'd also like to hold onto their 2018 champ, "pork carnitas tacos."
It truly is the year of buffalo chicken dip (well, at least when it comes to savory snacks); and once more, "chili" has lost its crown in another state.
Wyoming, like so many other places, is all about cake; there, it has surpassed that classic chili ingredient, "ground beef."
Clearly, when it comes to Super Bowl food this year, the battle is between buffalo chicken dip and cake—and if you go by the above results, the sweet stuff takes the trophy (with 10 states choosing some variation on cake, plus Oregon's cake-adjacent banana bread). Buffalo chicken makes a solid showing with eight top spots, but we say: why not make both?
Get more Super Bowl recipes and Big Game party tips and tricks at our Super Bowl headquarters, and chat about your Super Bowl menu with other Chowhounds (consider it an interstate exchange).
Don't Feel Like Cooking? Get Caviar!
Caviar restaurant delivery makes dinner easy. Maybe you'll even find a place offering cake.
Order Now
And don't forget to enter our sweepstakes in honor of Super Bowl LIII on CBS! Chowhound has joined forces with CBS Sports, TV Guide, and CNET to offer up a champion prize package including an LG OLED 65-inch TV (courtesy of Daily Steals), a 6.5 Liter Chefman Air Fryer, and $125 in gift cards for CBS All Access! Enter to win before 3:30 p.m PT on February 3, 2019.
Related Video: Los Angeles Rams Inspired Blue Margarita

All featured products are curated independently by our editors. When you buy something through our retail links, we may receive a commission. For more great hand-picked products, check out the Chowhound Shop.
Note: This post was originally published by Jessica Gentile on February 2, 2018 and was updated by Jen Wheeler with new text, links, and images on January 30, 2019.
See more articles