All featured products are curated independently by our editors. When you buy something through our retail links, we may receive a commission.
At Christmas time, there are cookies galore, but true dessert lovers still crave something more substantial after a festive meal. Pie can seem passé post-Thanksgiving, and while snowy Christmas Coconut Cake is a great option, it's a little bit labor-intensive and is best made no more than three days ahead, if that. Homemade truffles are wonderful, but still seem a little snacky compared to a true dessert course. Cue cheesecake—it can be made up to half a year ahead and frozen in the interim (although you'd probably prefer not to plan quite that far in advance), and it's eminently adaptable to holiday flavors, making it a perfect Christmas (or Hanukkah!) dessert.
Cheesecake is also, of course, delicious: sweet and tangy, rich and creamy, fluffy and smooth. There are lots of different styles to suit you, including super easy no-bake options. It's perfect plain, but its simplicity can serve as a sort of blank canvas for your holiday decorating ideas, if you enjoy expressing your inner Martha Stewart. And no matter what kind you make, if you're too full to eat more than a tiny sliver after dinner, cheesecake keeps like a champ in the fridge for about a week, assuming it lasts that long.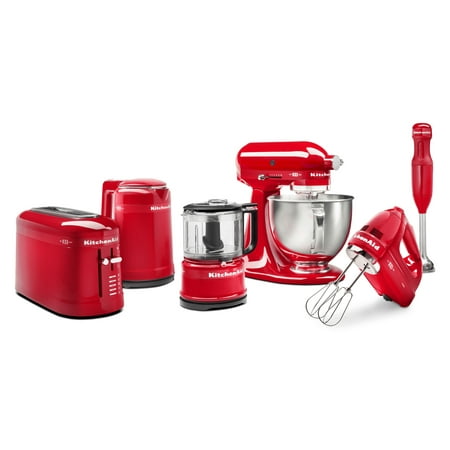 KitchenAid Queen of Hearts Collection, $49.99-$399.99 at Walmart
Browse the 100th anniversary limited-edition KitchenAid Queen of Hearts collection, including the iconic stand mixer, of course.
Buy Now
First Things First: What Kind of Cheesecake Should You Make?
You've no doubt heard of New York style cheesecake, but maybe you're not sure how it's different from regular cheesecake. And what about no-bake? Or cotton cheesecake? We've covered the most noteworthy types of cheesecake to choose from.
Now How Do You Make It More Festive?
No matter which kind of cheesecake you choose, there are lots of easy ways to make even a basic recipe a bit more glitzy and holiday-appropriate, or to change the flavor profile so it's more wintry.
Finesse the Filling
Add seasonal flavor in the form of extracts; peppermint is the obvious choice to sub in for the usual vanilla extract. Straight-up eggnog makes another great wintertime addition to cheesecake. For very merry flavor and appearance, you could swirl a homemade cranberry sauce throughout the filling, or if you're not averse to more texture, mix in crushed candy canes or even brandy-soaked fruit. Conversely, if you want a super-smooth and classically flavored cake with a bit more visual pop, use a little food coloring to give it holiday cheer.
Change Up the Crust
Swap out the usual graham cracker or vanilla wafer crumbs in the crust for crushed gingersnaps, Biscoff cookies, sugar cookies, Oreos, shortbread, or snickerdoodles. A peanut butter cookie crust would be great for a chocolate cheesecake. If you're making a no-bake cheesecake, you can opt for more delicate cookies like coconut macaroons or ladyfingers—which also happen to be good choices if you're celebrating Hanukkah and keeping kosher. Pulverized nuts like almonds, pecans, and pistachios make great crunchy bottom layers if you're gluten-free. If not, and you want something chewier, try gingerbread or brownies.
Decorate for Christmas (or Hanukkah, or Winter in General)

This is where you can really get creative, whether you want to transform the entire cake or just add a little sophisticated touch of holiday flair. You can do something as low-key as placing a few artfully arranged holly sprigs on top (à la Christmas pudding), scattering some crushed pistachios and dried cranberries around the perimeter, or get way more elaborate. There are lots of great ideas below, but if you get a bit antsy when it comes to making things perfect and pretty, you could just embrace the ugly Christmas sweater aesthetic (à la this Ugly Sweater Cake) and arrange all sorts of cookies and candy on top of your cheesecake, the brighter the better. Think rows of gumdrops and teddy bear graham crackers and candy canes and those red-and-white-striped Hershey kisses and…well, you get the idea. If you're celebrating Hanukkah and aren't up for frying dessert, you can still take inspiration from sufganiyot: make a New York style cheesecake with a doughnut crust and fruit jam topping. Or make a chocolate cheesecake, cover the entire thing with edible gold luster spray, and say it's a giant piece of gelt!
Honestly, your options are almost limitless, but check out these holiday cheesecake recipes for more inspiration.
If you can't choose between red and green, divide the filling and mix each color into separate portions, then swirl 'em together; use a few more drops for more intense shades, and feel free to use whatever crust you like. (If you go with a Japanese cheesecake, you can tint it green—maybe even with matcha—and bake it in a Bundt pan for an edible Christmas wreath! Unfortunately, that won't generally work so well for other styles, although they they do exist.) Get the Christmas Swirl Cheesecake recipe.
Cheesecake bars require careful cutting if you want perfect squares—while it might seem obvious and/or too fastidious, you can literally use a ruler to measure them out and lightly score where-to-cut marks with a small paring knife before breaking out the big blade (running said blade under hot water for a few seconds also helps with clean, even slices). As for decorating them, just use icing, melted chocolate, or candy melts to pipe a couple lines (one horizontal, one vertical) and a little bow on each, and voila, they're miniature gift boxes to present to your guests! Christmas sprinkles optional. Get the Red Velvet Cheesecake Bars recipe.
Gingerbread is a classic Christmas flavor—and this cheesecake incorporates it in the crust, in gingerbread swirls throughout the filling, and in the topping too. Gingerbread men make adorable decorations that add even more festive flavor. Get the Gingerbread Cheesecake recipe.
Of course, candy canes are another iconic Christmas taste sensation, and make an equally perfect addition to cheesecake. Even if you skip the food coloring swirl, peppermint extract brings a tingle to the filling, and crushed candy canes look great against the shiny chocolate ganache glaze. Get the Candy Cane Cheesecake.
This cheesecake uses sugar cookies for the crust, and amps up that flavor with a cookie-flavored creamer in the filling and lush top layer. Feel free to get as creative as you like with the decorations, or keep it simple and sleek. Get the Sugar Cookie Cheesecake recipe.
No-Bake Sparkling Cranberry Orange Cheesecake
A spill of sparkling sugared cranberries is elegant on any cheesecake, but this no-bake option is especially easy, and brings bright citrus to the mix with orange zest and juice in the filling. Get the No-Bake Sparkling Cranberry Orange Cheesecake recipe.
This cheesecake brings a tropical twist with coconut cream and coconut rum. Shredded coconut on top stands in for fluffy drifts of snow (but you could try grated white chocolate for a similar effect). Take the winter wonderland look to the next level by adding some edible pine trees too; candy melt Christmas trees, spun sugar Christmas trees, and rosemary Christmas trees are all great options. Or you could go with edible chocolate pinecones. Get the Coconut Cheesecake recipe.
While strawberries aren't in season, they do make fetching Santa hats on cheesecake bites (or you can make a ring of strawberry Santas around a full-size cheesecake). Try glazing them with melted strawberry jam to intensify their flavor and give them a little shine, or sprinkle with some powdered sugar snow. Get the Santa Hat Cheesecake Bites recipe.
Eggnog Cheesecake with Piloncillo Cookie Crust
Christmas stencils make for an appealingly minimal seasonal look, no matter the flavor of your cake. You can use regular powdered sugar or cocoa to make designs on nearly any cheesecake, or if the taste will work well with your chosen cheesecake, use green matcha powder, red freeze-dried fruit powders (raspberry, cherry, strawberry)—or make your own tinted powdered sugar for neutral sweetness in any shade you desire. Get the Eggnog Cheesecake with Piloncillo Cookie Crust recipe.
A uniform shiny mirror glaze (red, green, or otherwise) covering the whole cake is impressive and not nearly as difficult as the end result suggests, but for a similar stunning and surprisingly easy-to-achieve effect, you can make a glossy gelée layer, and stud it with candied citrus slices for extra oomph. Get the Blood Orange Cheesecake recipe.
Mini Cranberry Pistachio Cheesecakes
Individual cheesecakes are perfect for parties since no one has to cut a cake; people can just pick one up whenever they want to eat dessert. Plus, they evoke Christmas ornaments, especially when they're brightly colored. A little luster dust or gold leaf would not be amiss. Get the Mini Cranberry Pistachio Cheesecakes recipe.
Another entirely appropriate choice is to embrace the general excess that—for better or worse—accompanies the holiday season, and make the most decadent cheesecake you care to, like so. Get the Turtle Brownie Cheesecake recipe.
For more holiday hacks, tips, tricks, and recipes, check out our Ultimate Guide to Christmas and Holiday Entertaining Headquarters.
Related Video: How to Make Chocolate-Peppermint Cheesecake
All featured products are curated independently by our editors. When you buy something through our retail links, we may receive a commission. For more great hand-picked products, check out the Chowhound Shop.
Header image courtesy of My Baking Addiction.
See more articles