All featured products are curated independently by our editors. When you buy something through our retail links, we may receive a commission.
If there's one aspect of pancakes we love more than any other, it's the cake part. Seriously, it's a series of cakes made in a pan. And you get to have more than one cake at a time, sometimes more than three if you're feeling ambitious. So you not only can, but you should, go crazy with the flavors and add-ins in this weekend breakfast and brunch staple. Whether it seems more or less acceptable than breakfast pizza, it's definitely delicious, and you could always serve these for dessert if that seems more fitting.
All you need is your basic nonstick pan or a well-seasoned cast iron skillet, some oil or butter, a good spatula for peeling off the hot cakes, and some patience in your flipping skills. It'll pan out after the first couple tries (pun intended). And then you can move on to souffle pancakes, and other pancake variations…because you can never have enough.
But there's more to pancake perfection than a good batter and proper technique—there are also toppings. Don't stop at syrup and butter. Not even at berries and other fruit. Consider cocktail-inspired combos (for instance, mai tai pancakes), or pour on some chocolate sauce. You can basically let your imagination run wild—but if you need some inspiration, try some of these creative pancake recipes that go beyond typical twists and will make mornings extra sweet. And if you're more of a waffle person, you can use the same ideas with your waffle iron too.
Take the ingredients you love in carrot cakes and put them in your breakfast cakes—makes sense, right? Yep. Grated carrots join with apples in this batter, but then you also can lap up that cream-cheese frosting-like syrup, if you can call it syrup. More like heaven. Get our Carrot Cake Pancakes recipe.
These thick and jiggly pancakes are just as enchanting in person as they are on Instagram. You incorporate some souffle techniques (namely, folding whipped egg whites into the batter) to achieve that puffy height and hypnotizing wiggle. Top with chocolate sauce and berries for a change of pace. Get the Fluffy Souffle Pancake recipe.
Bananas Foster is a classic New Orleans dessert, and New Orleans is home to Mardi Gras, which is also known as Fat Tuesday—which is also known as Pancake Tuesday, so this just makes perfect sense. Fluffy buttermilk pancakes are topped with a mixture of brown sugar, maple syrup, molasses, spiced rum, and half and half, plus sliced bananas covered in the sauce, of course. And optional additions of chopped pecans and whipped cream (or even vanilla ice cream—hey, it is the traditional accompaniment to bananas Foster). Get the Bananas Foster Pancakes recipe.
Strawberry shortcake is already kind of acceptable for breakfast (there is fruit in it, after all), but turning it into pancakes makes it even more so. The streusel baked inside each one is a sweet surprise. Get the Strawberry Shortcake Pancakes recipe.
Dense, fudgy pancakes definitely seem to scream dessert (and "Eat me immediately"), even louder when they combine chocolate and peanut butter and have a peanut butter cup melting on top. However, these are also vegan and gluten-free, making them healthier than they appear. Get the Chocolate Peanut Butter Cup Pancakes recipe.
These are pretty healthy too, as far as pancakes go, packed with good nutrition and vanilla protein powder. The creamy filling is made with mashed banana and cottage cheese, which really does the trick. Cocoa dust finishes it off. No guilt, all the decadence. Get the Tiramisu Protein Pancakes recipe.
Rainbow-colored jimmies (sprinkles) tossed into the batter take your regular buttermilk pancakes from good to great, from brunch to birthday brunch. Try this recipe especially if it's a little girl's or boy's birthday, although any day is a good reason to inject more color and festivity into your life—and adults will love these too. In any case, you must sprinkle more jimmies into the sweetened whipped cream on top, of course. Get our Birthday Cake Pancakes recipe.
This might be one of the most American styles of pancakes—native American that is. Cornbread-filled cakes (aka johnnycakes) doused with maple syrup infused with pecans and butter is quite the locally sourced breakfast item. If local is anything that can be sourced in the United States. Get our Cornbread Pancakes with Maple-Pecan Syrup recipe.
Guys, spicy chocolate pancakes would be enough awesomeness, but then this recipe had to go and add this other component, that sweet caramelized milk topping with a sprinkle of salt, like a frosting from the gods. Who cares if you follow the paleo lifestyle or not? Delicious is delicious, and we should all be stocking almond flour in our fridge. Get the Paleo Mexican Hot Chocolate Pancakes with Salted Dulce de Leche recipe.
Squeezing a swirl of cinnamon filling on top of pancakes as they hit the skillet and drizzling them with a maple cream cheese glaze once they're done is so much easier than making cinnamon rolls, but tastes just as good. Get the Cinnamon Roll Pancakes recipe.
These dense, sweet pancakes are packed with ground oats, coconut flakes, and banana, and with the caramelized banana on top, it's a filling treat that's great for people who need to eat gluten-free or paleo. Or for people who just love coconut, bananas, caramel, and general deliciousness (and maybe want something a little healthier than the bananas Foster option up top). Get the Flourless Banana Coconut Oatmeal Pan-Cakes with Caramelized Banana recipe.
How about chocolate with a side of chocolate, dotted with chocolate, drizzled with chocolate ganache? OK. This is for the die-hard chocoholics, and it is a full-fledged binge. Get the Double Chocolate Chocolate Pancakes recipe.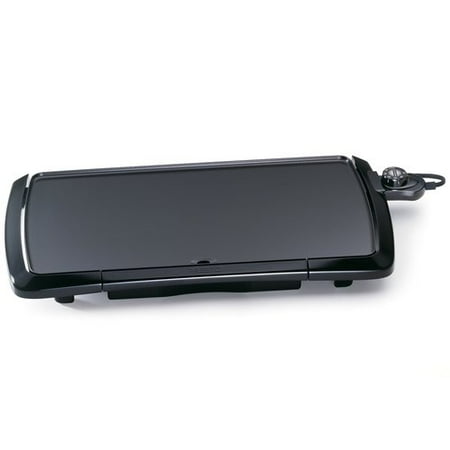 Presto Cool-Touch Electric Griddle, $29.99 at Walmart
Some people swear by griddles for perfect pancakes, and they're also great for cooking lots of other things.
Try It
Header image courtesy of Away from the Box.
See more articles