All featured products are curated independently by our editors. When you buy something through our retail links, we may receive a commission.
Incredibly simple and versatile, soufflés are a great secret weapon to keep in your back pocket when you want a quick and delicious dinner or dessert option any time of year (though they naturally lend themselves to romantic occasions, like Valentine's Day). They seem fancy and maybe fussy, but they're really just delightful. If you're still afraid of soufflés, just keep these tips and tricks in mind:
1. Don't over-whip your egg whites. Yes, you want billowy clouds, but they should still be moist and soft. To help them achieve those lofty peaks, make sure there's not a trace of fat (butter, egg yolk, etc.) in the bowl with them.
2. Use a light touch when folding in the whipped egg whites so they stay fluffy.
3. Don't open the oven door during baking, no matter how tempting it is!
4. Use a parchment or aluminum foil "collar" to help the souffle rise up above its baking dish if you like.
5. Above all, don't stress, and know that even the airiest soufflé will deflate as it cools—and will still taste delicious!
Bellemain Porcelain Ramekins, 6 for $12.95 on Amazon
Individually portioned souffles are classic, and so are these simple ramekins for baking and serving them.
Buy Now
Pair your savory soufflé with a simple salad or any vegetable side and you've got a protein-filled dinner that you can make with whatever you find in the fridge (as long as you've got a few eggs). The sweet versions can stand alone, or be accompanied with fresh whipped cream and a fruit sauce or fresh berries. Check out these 11 soufflé recipes for an elegant and easy meal you can have on the table in almost no time.
Dusting the ramekins with grated parmesan makes these soufflés extra special, but the blend of sweet leeks and sharp feta is stellar to begin with. Make the leeks ahead of time and these will come together even quicker. Get the Leek and Feta Cheese Soufflé recipe.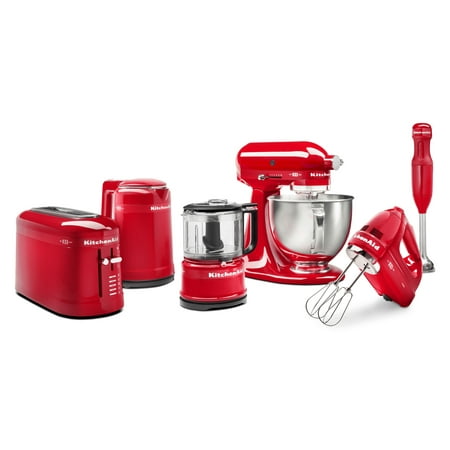 KitchenAid Queen of Hearts Collection, $49.99-$399.99 at Walmart
Browse the 100th anniversary limited-edition KitchenAid Queen of Hearts collection, including the iconic stand mixer for whipping egg whites in no time.
Buy Now
Forget basic mashed potatoes—fluffy, egg-enriched potato soufflé is the way to go (sweet potato soufflé is great too). Loaded with cheddar cheese and fresh chives, this is an amazing side dish that pairs well with any grilled or roasted meat, or simply a green salad, sharply dressed. Get the Cheddar and Chive Potato Soufflé recipe.
This is an easy soufflé recipe that you can have for breakfast, lunch, or dinner (try adding green chilies, avocado, and cilantro for a full southwestern soufflé). Grits lend texture, and whole eggs mean there's no whipping whites involved, but these unconventional soufflés still puff up in golden clouds. Use any sharp, aged cheese you like to switch up the flavor. Get our Jack Cheese and Grits Soufflé recipe.
Creole seasoning, andouille sausage, and sauteed bell peppers and onions give this large-format souffle a kick, just as welcome at brunch as at dinner. Feel free to cook it in individual ramekins if you prefer. Get the Cajun Soufflé recipe.
This light and creamy vegetarian soufflé starts with a classic béchamel and whipped egg white base, but adds roasted cauliflower and goat cheese for a tasty twist. Get the Roasted Cauliflower and Goat Cheese Soufflé recipe.
Di Oro Silicone Spatula Set, 3 for $29.97 on Amazon
Use a light touch and a silicone spatula to fold the whipped whites into the other ingredients so they don't deflate.
Buy
Havarti, scallions, and dill give this soufflé a Nordic nuance. Make this recipe in one large soufflé dish or several smaller ramekins—and you can throw in any vegetables you have on hand, like roasted bell peppers or broccoli, to make it more substantial. Maybe even a little flaked smoked salmon… Get the Havarti Soufflé with Scallions and Dill recipe.
Okay, so soufflé without eggs is a little tricky. You can try substituting aquafaba (as in this vegan chocolate soufflé recipe), but another option is to simply evoke the look and feel of a souffle using a pretty nifty pastry trick. Make an airy croissant-inspired vegan and gluten-free dough, then wrap it around a blend of artichoke hearts, onion, garlic, spinach, bell pepper, and firm tofu, with nutritional yeast for a cheesy flavor. Bake until it's puffed and golden, and dig in. Get the Vegan Spinach Artichoke Soufflé recipe.
Just as you can use different types of cheese in cheesecake, soufflés welcome all kinds too. This light and fluffy ricotta-based soufflé brings sweet green peas into the mix, for a healthy but still satisfying rendition of a classic that's full of fresh flavor. Get the Pea and Ricotta Soufflé recipe.
Dessert versions of soufflé are just as adaptable as the savory sort. Fresh raspberries lend sweet-tart flavor and a naturally rosy hue to these treats. In an inversion of the classic chocolate-soufflé-with-raspberry-coulis pairing, try topping these with bittersweet chocolate sauce. Get the Raspberry Soufflé recipe.
Slightly less fruity, more floral, and with their own natural zing, Meyer lemon soufflés shine like warm winter sun. (When Meyer lemons aren't in season, try this recipe with regular lemons, but know that you might need a bit more sugar.) A simple dusting of confectioner's sugar is all this light, bright, lovely dessert needs—except for a spoon, of course. Get the Meyer Lemon Soufflé recipe.
OK, we can't resist the classic. Try a milk chocolate soufflé if you want something a little different, but if you're a dark chocolate lover, this one's for you. Get our Chocolate Soufflé recipe.
This post was originally published in 2015 and has been updated with new images, links, and text.
See more articles