All featured products are curated independently by our editors. When you buy something through our retail links, we may receive a commission.
Yes, yes, of course you can still eat it with a spoon, straight out of the jar. No one's suggesting you give up that good habit. But if you're a bit more skilled in the kitchen or looking for creative ways to get your recommended daily allowance of Nutella, et voila. A jar of Nutella is sold every 2.5 seconds throughout the world, according to sources we're not sure are very reliable, and there are lots of ways to use it.
That smooth, thick texture is a boon to many recipes, but you can absolutely make your own homemade Nutella as long as you have a food processor. (The more powerful the motor, the smoother yours will be.) However you come by it, here are 15 delicious ways to eat it.
Nutella 35.3-Ounce Jar, $17.58 on Amazon
This jumbo jar should last you a while.
Buy Now
Say you've given up all forms of chocolate just to see if you can. If you're going to fall off the wagon, fall big with this cheesecake-meets-chocolate torte. The crust alone–a buttery blend of chocolate wafers and hazelnuts–is knee-weakening, but the Nutella ganache topping is deadly. Get our Nutella Chocolate Cheesecake recipe.
Nordic Ware 9-Inch Leakproof Springform Pan, $16.92 on Amazon (originally $17.60)
A springform pan is essential for cheesecake; this one has a 10-cup capacity and nonstick coating.
Buy Now
As one reader commented, "Using Nutella in recipes is always gonna win…it's sort of cheating." If you've never tried it, roasting the bananas is a revelation because it concentrates the sweetness and banana-y-ness of fresh, under-ripe bananas (in case you don't have a stockpile of overripe ones sitting in your freezer). Take the advice of one commenter and heat the Nutella slightly before piping it into the batter. Get our Roasted Banana-Nutella Quick Bread recipe.
Pastry chef and dessert cookbook maven Alice Medrich called the namesake ingredient in her Nutella Bread Pudding recipe an "accident" substituted out of necessity. But it's clearly one of those happy accidents that leave you feeling like you just found a random $20 in your back pocket. Sweeeet! Just like these brownies, inspired by that bread pudding, and even easier—just whisk eggs into Nutella straight from the jar (you'll use the whole thing), then fold in some flour, baking powder, and a pinch of salt before popping them in the oven. Get our Easy Nutella Brownies recipe.
For the diehard Nutella eater, making this shortcut fudge is the next best thing to eating it straight from the spoon. Just melt butter and chocolate, then stir in cream and Nutella and chill in a pan; no candy thermometer required. Toasted hazelnuts pressed on top lend nutty crunch and rustic appeal. Get our Easy Nutella Fudge recipe.
You'll want to be sure your cookie dough and the Nutella are both fairly stiff and cold before you attempt to "stuff" these guys, or you'll end up with a Nutella-swirled cookie instead. Honestly, though? Either way is a win. Get the Nutella Stuffed Peanut Butter Cookies recipe.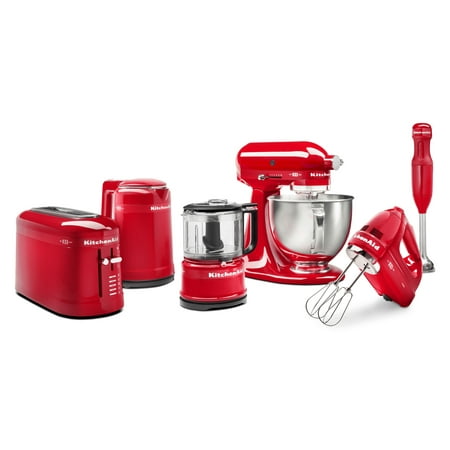 KitchenAid Queen of Hearts Collection, $49.99-$399.99 at Walmart
Browse the 100th anniversary limited-edition KitchenAid Queen of Hearts collection, including the iconic stand mixer, of course.
Buy Now
Somewhere out there is a scientifically documented study of the Pavlovian response associated with the words "Nutella", "brown butter", and "sea salt" when they appear together in dessert form. You need to make these now. Get the Nutella Stuffed Brown Butter and Sea Salt Cookies recipe.
This boozy, rich chocolate-hazelnut hot cocoa is just the thing for a cold winter night. Get our Tipsy Hazelnut Hot Chocolate recipe.
Who doesn't want to eat like they're eight years old again? Answer: No one. And if you're willing to go to such great lengths to recreate your Saturday-morning-cartoons-watching-while-the-parents-are-still-sleeping breakfast of champions, you totally deserve every ounce of joy these homemade toaster pastries will bring. (But see a shortcut version with pre-made pie crust if you don't want to work quite so hard.) Get the Nutella Brown Sugar "Pop Tarts" recipe.
Of course there's zero to no chance you'll have salted caramel or hazelnut ganache hanging out in your refrigerator to inspire this recipe like food writer Andrea Weigl, but that doesn't mean you have any less of a sweet tooth. The headnote warns that this tart is "very rich so cut thin slices." Yeahhh, right. Get the Chocolate Hazelnut Ganache and Salted Caramel Tart recipe.
There's more than one way to justify eating Nutella for breakfast (the French do it; nuts are good for you; at least it's not chocolate cake), but this crunchy, Count Chocula-esque cereal is one of the most ingenious. Get the DIY Nutella Cereal recipe.
Not that eating 1/4 cup of Nutella with a spoon right out of the jar is the worst idea, but this way just seems so much more sophisticated. Get the Nutella Cappuccino recipe.
If you have an ice cream maker, this is your next project, and you're welcome. Be sure to follow those "manufacturer's instructions" for your machine closely–you've got to get that ice cream insert rock-hard, frozen-solid cold (think: overnight in the freezer, not 30 minutes before you start the recipe), or the ice cream won't set. Get the Egg Nog Nutella Ice Cream recipe.
Nutella's not just for crepes (obviously). Try it stuffed inside crisp yet fluffy French toast so it oozes out onto the plate. Breakfast has never been so luscious. Get our Nutella-Stuffed French Toast recipe.
Gooey, salted caramel-y, and charged up with a hint of coffee, these brownies risk overshadowing the real star of the recipe (hint: NUTELLA). Have a gigantic glass of ice-cold milk at hand when you crack into these. Get the Salted Caramel Mocha and Nutella Brownies recipe.
If you haven't jumped on the salt-in-your-coffee bandwagon yet, this Nutella-spiked, frothy latte is the perfect gateway cup. Bonus points if you can pour a latte foam rosette on top. Get the Salted Nutella Latte recipe.
All featured products are curated independently by our editors. When you buy something through our retail links, we may receive a commission. For more great hand-picked products, check out the Chowhound Shop.
Colleen Rush is a food and travel writer who eats, drinks, cooks, and writes mostly in New Orleans, but also … everywhere else. She is the author of "The Mere Mortal's Guide to Fine Dining" (Broadway Books, 2006), and coauthor of "Low & Slow: Master the Art of Barbecue in 5 Easy Lessons" (Running Press, 2009) and the upcoming "Low & Slow 2: The Art of Barbecue, Smoke Roasting, and Basic Curing" (Running Press, 2015). Follow her on Twitter or Instagram.
See more articles